It's Memorial Day Weekend, which in my mind is the start of summer, which also is the the true start of baseball.  This is the time of the year where trade rumors start to begin and teams start to pull away in the standings.  One player that should be on the move is Jeff Samardzija.  He is 1-6 on the season and I have ripped on him this year.  However he is 1-6 because his team is awful, he is 2nd in the league in strikeouts, would be first if Sale wasn't a Greek God.  The Giants should look to the rebuild mode and Samardzija could help out a lot of contenting teams.
Last night we had an average night in the MLB, nothing too crazy.  The Boston Red Sox tied the MLB record for strikeouts in a game.  Between the 5 pitchers for Boston they fanned 20 batters.  There are only 27 outs in a baseball game so just think about that for a second.
Other than that nothing crazy happened, we have a great slate of games today so let's jump right into it.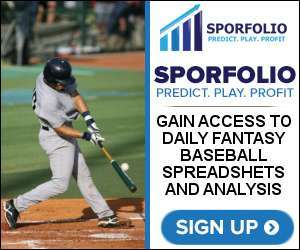 Low-Scoring Plays
New York Mets @ Pittsburgh Pirates – deGrom takes the mound for the Mets who is the only bright part of the Mets' season. deGrom is 5th in the league in strikeouts, and playing against the Pirates. As a team Pittsburgh is batting .236 with only 45 home runs. deGrom should dominate this game and strike out double digits.  deGrom is a must have in your lineup today. The Mets' offense has been up and down, Bruce and Conforto are the only players that can produce for this team.  I don't like the price point for both of those players, I think you can get more value in another player than you can with these two.
Targets: deGrom
San Diego Padres @ Washington Nationals – Just like the Mets game, we have another strong pitcher going up against a weak offense.  Max Scherzer is tied with deGrom for 5th in the league in strike outs.  After today's start both deGrom and Scherzer should move up to 2nd and 3rd in strike outs.  Scherzer has a WHIP of .989 which is ridiculous.  When pitching at home Scherzer averages 4 strikeouts for every walk.  San Diego is the 4th in the league for most strikeouts.  Scherzer should have a strong day, he is an expensive play, but it will be worth it.
Targets: Scherzer, Harper
St. Louis Cardinals @ Colorado Rockies – The Rockies are the hottest team in baseball and look to be in this race for the Division crown.  Senzatela takes the mound for the Rockies who is 6-1 on the year.  He has an ERA above 3, which isn't great however he has a great team behind him to help him pick up wins.  The Cardinals aren't a strong ball club so the rookie pitcher should have a strong day.  Senzatela is pitching at home where opponents are only hitting .243 off him.
Targets: Senzatela, Story
High-Scoring Plays
Seattle Mariners @ Boston Red Sox – Boston comes off a series where they dismantled the Rangers.  They now welcome in the Mariners who are also a ball club that is struggling.  Boston should be ashamed if they lose this game, however, I think the Mariners will score more in this one than they have been. Bogaerts finally hit is his first home run which is a good sign for Boston. He is one of the hottest players in the league right now.  Over the last week he is .321 with 1 home run and 5 RBI's. David Price is coming back Monday so good things are brewing in Boston.  Eduardo Rodriguez takes the mound for Boston today who had a tremendous outing in his last start.  I like Boston to complete the sweep to get the fans excited that the team is back.  That will all come crashing down when Price gets rocked in a couple days.  Moreland has been swinging the bat well, and Pedroia is having another strong season.
Targets: Bogaerts, Betts, Benintendi
Oakland Athletics @ New York Yankees – Tanaka is 5-3 on the year however that number doesn't tell you the entire story.  He has been ice cold over his last 3 starts going 1-2 with an ERA above 13.  Oakland has been able to crush the long ball this year which doesn't go well for Tanaka.  Playing in Yankee Stadium the ball should be flying for Oakland.  However despite these terrible stats Tanaka still has a wining record.  The Yankees show up to play when Tanaka is on the mound and I like them to win today.  Their lineup is great even with Headley – who is supposed to be a staple in the lineup – struggling.  I like this game to be the high scoring game of the day, but the Yankees to prevail at home.
Targets: Judge, Sanchez
Undervalued Plays
Leon/Vazquez – BOS – C – I like either Boston catcher in this game.  They both have been playing better of late and scoring runs for Boston.  In a day where there are high-priced pitchers, saving money on catchers is a must.  Check which one is starting and take them, it will be a solid play.
Longoria – TB – 3B – Longoria is having a bouncy year.  He shows signs of being a star, then strikes out 4 times the next day.  I love the play of Longoria in this game. He is hitting below average but has 6 home runs on the year which isn't terrible.
Werth – WAS – OF – I love Werth in the Nationals' lineup.  He is hitting just below .300 with 7 home runs.  Playing in the Nationals' lineup is a lock as he can score runs and drive them in.  Werth and Benintendi are the most underrated plays for outfielders in my opinion.
Sign up for Sporfolio to gain access to NFL picks and DFS, NHL DFS, and MLB DFS spreadsheets (picks from the Pitcher Breakdown Spreadsheet is 10-6-2 over the last five days).
Featured Image Credit: By Keith Allison (001H0783) [CC BY-SA 2.0], via Wikimedia Commons