Now, it gets tricky.
Despite our best statistical week against the spread of the season – based on differing websites, this ranged anywhere from 10-5-1 to 12-4 – Week 12 surprisingly did little to establish a trend or direction. Indeed, the Patriots and Cowboys – two of the 'easiest' teams to pick, generally – finally failed to cover spreads – conveniently, on the same week – but nearly every other trend was balanced.
What did end up working in Week 12 is more of what has been the norm for 2016 – a relatively high amount of randomness. Both favorites and underdogs enjoyed success at different times – all five underdogs the played in the late afternoon on Sunday, Sunday night, or Monday night beat the spread while favorites owned Thanksgiving and the early afternoon games on Sunday. Without trends, we are forced to pick on a game-by-game basis which, contrary to what common sense would suggest, is not the best way to approach a full weekend worth of NFL action.
Thankfully, Week 13 appears to be an even mix of the aforementioned random, sporadic 'toss-up' matchups with some excellent 'traps' laid out. In fact, a thorough review of the entire slate as a whole suggests that we might have our best group of 'traps' in a long time, even though there still appears to be no pending shift in the momentum.
Below are predictions for each game against the spread. Spreads have been taken from various websites and are subject to change. The spread in parenthesis denotes the selected team. An asterisk denotes a confidence pick.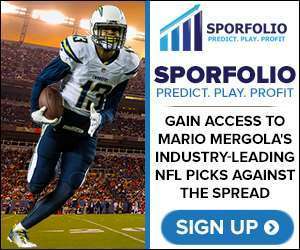 *Confidence Picks – 2016 Season: 38-41-2 (Last Week: 3-4)
(2015 Season: 69-45-2) (2014 Season: 61-46-2)
All Picks Against Spread – 2016 Season: 81-90-6 (Last Week: 11-5)
(2015 Season: 143-117-7) (2014 Season: 149-114-4)
Detroit Lions (+6)* at New Orleans Saints
We almost always prepare for an extended streak of any sort to snap, but sometimes the matchup forces our decision. In the case of the Detroit Lions, is it really possible for them to play a twelfth consecutive game decided by seven points or fewer?
Detroit's ability to stay in every game – and win seven of them – is rivaled only by New Orleans' inability to choose a direction for its season. It is clear that the Saints are not dead yet, but will they emerge from the depths of the NFC South or float for the next few weeks?
Amazingly enough, the most impressive aspect of New Orleans' resilience has been the undeniable improvement of the team's defense. The Saints have not allowed more than 27 points in a game since Week 6 – after once averaging 33.6 points-per-game to opponents – and were victimized by two of the most unpredictable 'fluke' plays in back-to-back weeks where New Orleans allowed a blocked kick to get returned once for a 'two-point return' and another into New Orleans territory for what turned into a touchdown one play later. Both of these games resulted in heart-breaking losses.
The Saints aren't the only team enjoying recent defensive success, as the Lions have now allowed 20 points or fewer in five consecutive games. Granted, its offense has also stalled a bit, but Detroit went against some of the toughest defenses in the league over the past few weeks – Houston, Jacksonville, and twice against Minnesota. As well as the Saints' defense has played, it is a significant cut below the aforementioned group.
As a pure football game – without spreads and predictions – we should be in store for one of the best, most competitive matchups of the weekend. As a result, Detroit will keep its streak alive of playing close games – especially since New Orleans is ill-equipped to prevent a fourth quarter surge from the Lions' offense. However, as noted earlier regarding the two crazy plays – one that directly resulted in a loss – the Saints are a much better team than their record shows. Good enough to beat a Lions team coming off another improbable victory – this one on national television.
Detroit's offense keeps the pressure on New Orleans' defense long enough to beat the spread, but the Saints win by four points.
Miami Dolphins at Baltimore Ravens (-3)
At different points of the season, both the Miami Dolphins and Baltimore Ravens were considered a hot, but 'unsustainable' team. For Baltimore, the 3-0 start to the season proved to be too much to handle, as the Ravens promptly lost their next four games. Miami has taken the opposite approach, winning six consecutive games to erase a 1-4 record to begin the year. But, since the Dolphins already had their poor stretch of football, are they now susceptible to another dip or immune to it?
As impressive as a six-game winning streak is, it is almost impossible to obtain without a few key plays and fortunate breaks. Miami's 6-0 run has been no exception, as each of the last four games have been nail-biters. After returning a kickoff and interception for touchdowns in consecutive weeks – against the Jets and Chargers, respectively, in what proved to be the deciding points for each contest – the Dolphins needed a miraculous comeback to escape Los Angeles with a win, then thwarted a potential 17-point comeback attempt by the 49ers with a last-second stop on Miami's own two-yard line. Fortunate to be 4-0? The Dolphins are fortunate to not be 2-2 under those circumstances, let alone perfect.
The issue, therefore, is in the spread. A field goal worth of points is asking a lot of a Ravens team that has scored more than 20 points only twice in the past five games and ranks 24th in points and 23rd in yards. Thankfully for Baltimore, the key to the team remains its outstanding defense – ranked second-best in yards and fourth-best in points allowed. Both the run and pass defenses rank in the top-four of efficiency statistics – per-attempt – and the only team that has scored more than 14 points against Baltimore in the last four weeks is the 10-1 Dallas Cowboys.
Miami may be surging, but a misstep is in its future. With an offense that still ranks only 25th in yards – and just beat up the league's worst defense – a trip to Baltimore will finally spell the end of the Dolphins' winning streak.
Baltimore holds down Miami and secures a six-point victory, covering the spread.
Click here to sign up for Sporfolio to get more NFL Picks Against The Point Spread, Daily Fantasy Football advice and Daily Fantasy Hockey Picks
Featured Image Credit: By Kelly Bailey [CC BY 2.0], via Wikimedia Commons