We are about to reach a tipping point. It may not happen this week, precisely, but it's coming.
Nearly halfway into the season, we have repeatedly looked back on trends that have produced winners in the past and find that they are flat-out under-performing. Through countless bouts of assessment and re-assessment and re-re-assessment, we continue to conclude that these misses are nothing more than that: anomalies. They don't redefine trends. Neither do we.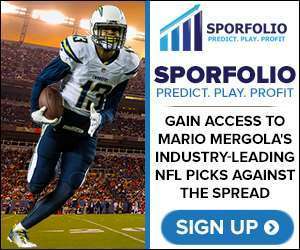 Still, the weeks have ticked away and we have all been subjected to hearing the voices that remind us how 'easy' this football season has been. For once, these voices aren't sarcastic. They are spoken of truth. At least, truth in belief.
This sparked a separate thought. One that emerges almost every season. That is, why are people suddenly of the belief – falsely – that picking games is now easy, especially when these same people have often said the opposite? In fact, we almost always hear an over-abundance of the phrase, "You just can't figure out the NFL."
Isn't that interesting?
The same throwaway line that is used to dismiss picking games by proclaiming that it "cannot be figured out" is now replaced with how many people actually figured it out.
Let's not be so foolish.
In fact, let's see what happens when the spreads are basically removed from the games. Is it still simple when no game has a spread of seven points or higher? After all, everything is essentially a toss-up.
Week 8 is the first effort to re-balance a league of against the spread performances that do not align with consistent success. If small spreads don't do the trick, you can bet another method will be utilized, next week.
The tipping point is coming.
Below are predictions for each game against the spread. Spreads have been taken from various websites and are subject to change. The spread in parenthesis denotes the selected team. An asterisk denotes a confidence pick.
*Confidence Picks – 2016 Season: 23-25-1 (Last Week: 3-4)
(2015 Season: 69-45-2) (2014 Season: 61-46-2)
All Picks Against Spread – 2016 Season: 50-55-2 (Last Week: 6-9)
(2015 Season: 143-117-7) (2014 Season: 149-114-4)
Seattle Seahawks (-2.5) at New Orleans Saints
If we needed to find a takeaway from Sunday night's tie in Arizona, it is that Seattle's performance was clearly a function of opponent. Entering the game, the Cardinals' defense was already fantastic. It showed its complete domination through basically 70 of the 75 minutes the two teams played.
When the Seahawks travel to New Orleans, they will find an entirely different defensive unit waiting for them. One that might not show up to the game, at all.
Seattle's offense is anything but explosive – the team has scored the fifth-fewest points in the league – but it will face the league's worst scoring defense. Almost universally, there is nothing the Saints' defense does particularly well and almost everything is horrible. After struggling to a total of three points in regulation – which came via a blocked punt that game the offense great field position – Seattle will look to finally get its offense working properly. Specifically, where will it turn to generate such offense?
Look no further than tight end Jimmy Graham, formerly of the New Orleans Saints before getting traded away to Seattle prior to last year – arguably in the middle of his athletic prime. Besides the obvious 'revenge play,' Graham is the catalyst for Seattle's offense rising, as he has received no fewer than eight targets in each of his last four games, but has not caught a touchdown since the end of September – his only one on the season. With Seattle's defense completely swallowing opponents – fewest points allowed in the league – Seattle's offense only needs a slight boost for the team to get the edge.
The Seahawks win by four and cover.
Arizona Cardinals (+3)* at Carolina Panthers
Bye weeks are funny things. Too often, we look at a team's schedule, see that said team has extra week to prepare, and assume that it is an added benefit. Not quite. Not always.
Extra time to reflect on mistakes and work on weaknesses is, indeed, welcomed by a team like the 1-5 Panthers – more on the other team coming off a bye week, later – but does it actually fix these flaws? Of course not. Especially when we have actual evidence that not every team uses its bye week properly – Panthers head coach Ron Rivera is 1-4 following a bye, with the single win by only four points.
Bye weeks don't always have to have an effect on the game that follows. Sometimes, teams are looking ahead to the extra week off, and how it responds to a pending vacation is equally as telling. For a team like the Panthers – to which everything appeared to come easy, one year ago – a future bye week preceded yet another loss. But, for the Cardinals – continually clawing their way back to .500 on a repeated basis – the game before a bye is an all-or-nothing effort that can be recouped with extra time. In Bruce Arians' previous three seasons as Arizona's head coach, his teams have won all three games prior to its bye week by no fewer than nine points.
Taking things further, the Cardinals are the team to buy following last week's action, as they had countless opportunities to win their Sunday Night Football game, yet blew it, each time. Against a horrible Panthers defense – allowing the fourth-most points in the league – the Cardinals will immediately welcome the change from Seattle and enjoy a road victory.
The Cardinals win by a touchdown and beat the spread.
Click here to sign up for Sporfolio to see the rest of Mario Mergola's NFL picks against the point spread. Mergola finished with the highest total of correct NFL picks against the spread for the past two seasons – tracked by NFLPickwatch, and finished 2015 with an accuracy of 60.53% for his confidence picks.