Not quite. After proclaiming in our Week 4 NFL Picks against the point spread column that underdogs had become over-extended and favorites were about to reclaim some of the glory, the shift occurred. Only in the wrong places. Eight favorites did cover the spread – including all three night games for the first time, this season – but the number should have arguably been higher. The next week or two will help determine if we just saw the beginning of a changing trend – leading to favorites winning some weeks in the near future – or a small 'reset period' where underdogs can continue their climb.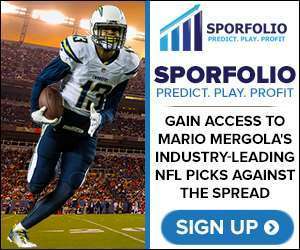 After assessing Week 5 against the spread, it appears as if the latter is in the works. The ebb-and-flow from week-to-week has provided a roller coaster effect where teams commonly accepted as 'good' – Pittsburgh, Arizona, Carolina, Houston – took a beating, then sorted themselves out in the encore – Pittsburgh and Houston recovered, while Arizona and Carolina continued to fall.
Not surprisingly, the Cardinals and Panthers – yet to overcome early-season woes – carry the largest baggage into Week 5. Concussion protocols for both teams' quarterbacks put the spreads and projections at risk. We often argue that a single player – even a quarterback, on most teams – is hardly a reason to buy or sell a team, so we will need to approach each game from multiple angles.
Below are predictions for each game against the spread. Spreads have been taken from various websites and are subject to change. The spread in parenthesis denotes the selected team. An asterisk denotes a confidence pick.
*Confidence Picks – 2016 Season: 15-13 (Last Week: 2-5)
(2015 Season: 69-45-2) (2014 Season: 61-46-2)
All Picks Against Spread – 2016 Season: 34-29 (Last Week: 6-9)
(2015 Season: 143-117-7) (2014 Season: 149-114-4)
Philadelphia Eagles at Detroit Lions (+3)*
Rookie quarterback Carson Wentz will look to overcome any potential loss of momentum from a bye week and continue his fantastic start to his career via a trip to Detroit. Are the Eagles and Wentz legitimate? It certainly appears so. But are they ready to take a 3-0 record on the road after a long layoff?
The Eagles ensured that the football-watching world took notice in Week 3 when obliterating the Steelers – a win that looks even more impressive after Pittsburgh crushed the Chiefs one game later – but painted a proverbial target on the team's back in doing so. Suddenly, Philadelphia is not just a team grabbing low-hanging fruit – Cleveland and Chicago – but one that deserves attention. Make no mistake, the Eagles have everyone's attention, now.
Philadelphia is not only 3-0 overall, but a perfect 3-0 against the spread. As we have suggested on numerous occasions, the spread for a team currently perfect would likely be large if it needs to try to give the underdog an edge and help move the favorite – Philadelphia – closer to a more reasonable record. But when the number is small, it is both a combination of lack of belief in the favorite and a perfectly-laid trap. In fact, the writer of this column appeared as a guest on ESPN New Hampshire earlier in the week and mentioned how likely it is that we will be selling Philadelphia. At least, in the short-term.
Thankfully, the side we wish to buy is in a favorable position, as the Lions have now lost three consecutive games, including back-to-back divisional matchups on the road. Returning home for only the second time, this season, Detroit is a prime 'bounceback' candidate on Sunday.
Statistically, the Lions are all over the map, but generally – and not surprisingly – utilize an above-average passing attack, while struggling defensively against the run. Philadelphia may appear to have an excellent run game via the league's ninth-most yards and third-most touchdowns, but the Eagles also are third in the league in attempts. More importantly, Philadelphia is a sub-par 21st in yards-per-rushing attempt.
The Eagles have trailed for a total of 11 minutes and 13 seconds on the entire season. They currently lead league in point differential – with 65 – by 18 points over the Broncos. Adversity has not yet struck the Eagles. That changes on Sunday.
Detroit pulls off the home upset win via a four-point victory, beating the spread.
Tennessee Titans at Miami Dolphins (-3.5)
Both the Titans and Dolphins have faced their share of difficult defenses – Minnesota, Seattle, New England, Houston – and their respective offenses simply aren't talented enough to break through. But, however inept Tennessee's offense has been, isn't Miami's worse? Technically, yes, but the matchup isn't.
The Titans clearly prefer to run the ball, as nearly every rushing statistic is in the upper half of the league while the passing numbers trail significantly. More importantly, the Titans have trailed in most of their games, forcing them to pass, yet they are still a run-oriented team. Miami's relative strength on defense is in stopping opponents' run games, specifically keeping them out of the endzone. Through four games, the Dolphins have allowed only two rushing touchdowns,
Miami's struggles on offense have come directly from an inability to hold onto the football. The team's nine turnovers are the fifth-most in the league, but the Dolphins also have the fewest plays-per-drive and plays-per-game of any team with 4.54 and 55.8, respectively. Shockingly, their 5.9 yards-per-play ranks them fifth in the league.
The last team to finish a season with fewer than 55.8 plays-per-game was the 2005 San Francisco 49ers. San Francisco averaged a dismal 4.1 yards-per-play in that 4-12 campaign.
Miami's offensive efficiency proves that it is capable of being dangerous if it can remain in control. Against a Titans' offense that is hardly threatening, the Dolphins will not need to fight for the advantage. They will grab the lead and not look back.
Miami wins by two touchdowns and covers.
Click here to sign up for Sporfolio to see rest of Mario Mergola's NFL picks against the point spread. Mergola finished with the highest total of correct NFL picks against the spread for the past two seasons – tracked by NFLPickwatch, and finished 2015 with an accuracy of 60.53% for his confidence picks.
Featured Image Credit: By Keith Allison (Flickr) [CC BY-SA 2.0], via Wikimedia Commons