In week 4 I was on all the right guys, but I didn't put together the strongest NFL DFS lineup that I could have. I made a late change in my cash game team that made me lose a bit of money instead of profiting handily. It was too bad, but I learned, which is something I encourage everyone to do week to week. Look back on your cash game and GPP lineups and see what you did right and what you got wrong. Compare your guys to the pool of players top DFS players in the industry used. Reverse engineer what they were thinking and compare it and contrast it to your own strategy and process. This is something I do every week, whether I profited or took a loss, and I think it has greatly helped me over the years to become a better DFS player.
Cash Game Plays
($6,900/$5,100)Ryan Fitzpatrick @ PIT | -7 PIT, 48.5
Let's be honest, Fitzmagic has not been blowing our minds lately, but this is far too low of a price for the caliber of player he is. I started Brian Hoyer at $5K, Marcus Mariota at $5.9K, you can bet the house I will play Fitzpatrick at $5.1K in cash. I believe the poor production in 3 of the last 4 games is more due to matchup than anything. He has faces KC, SEA, and CIN, all top 8 defenses overall and in the one decent matchup with Buffalo he put up 26.1 DK points. Yes, I understand Eric Decker is hurt and that has a possibility to hamper his output, but Quincy Enunwa(great football name) has proven to be a decent number two option and they also have Austin Sefarian-Jenkins on board now. It also helps Fitz isn't afraid to run with the ball and is a decent bet for a cannon ball into the end zone. I like his chances of scoring over 15 DK points easily with upside for 30, and with what this unlocks, I love Fitz. I didn't even mention Pittsburgh allows the 3rd most passing yards per game.
($8,000/$6,900)CJ Anderson vs CHI | -4 IND, 47.5
Week 1 and 2 darling CJA returns to the grace of DFS players across the land in a stellar matchup with the Atlanta Falcons. He is the best option to pay up for at the running back position this week and you couldn't paint the scene better yourself if you were Van Gogh. Atlanta allows the 5th most DK points to the RB position and CJA is tied for the 6th most carries in the league thus far. The spread indicates that Denver will be playing from ahead, which is what I expect as well, leading to a positive game script for Anderson to garner extra carries. I like the idea of pairing him with the Denver defense in cash and GPPs.
($7,600/$7,100)Brandon Marshall @ PIT | -7 PIT, 48.5
Marshall is locked into over 10 targets with Eric Decker being injured and all but assured to miss week 5. In a game vs Seattle where the Jets struggled to move the ball, Marshall still ended up with 12 looks. This game I can't see a scenario in which he gets under 15 because the Jets should certainly produce more offense here. This is one of those high floor high ceiling plays that I may have across the board, in GPPs and cash games.
($5,400/$3,300)Hunter Henry @ OAK | -3.5 OAK, 50
The tight end position is downright ugly this week. Antonio Gates is not expected to play and Henry will be an every down player. He received 5 and 7 targets the past 2 weeks, sans Gates, and is facing the Raider's defense that is perennially vulnerable to tight ends. This game is very likely to shoot out which should lead to more opportunities for targets.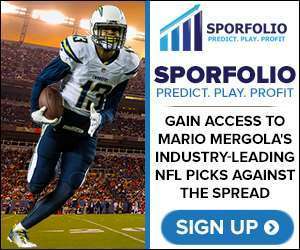 GPP Plays
($7,700/$6,000)Eli manning @ GB | -7.5 GB, 48
Peyton's little brother is sure to be low owned after a poor Monday night performance. GB will be putting points on board keeping Eli throwing. It also helps that Green bay is a funnel defense. They are allowing the 4th most average pass yards per game at 307.3 and the least rush yards per game in the league at 42.7. Eli Will be chucking the ball all day and I like pairing him with Odell Beckham Jr.
($8,400/$7,200)Demarco Murray @MIA | -3.5 MIA, 43.5
Demarco has yet to score less than 20 DraftKings points and is still at an affordable price. I guess Derrick Henry won't be stealing his job. Miami has allowed the 4th most rush yard per game at 129.8. He is averaging 5.25 receptions per game which provides a high floor and ceiling. It also helps he just keeps finding the end zone scoring 5 touchdowns through 4 weeks due to his large workload in the redzone, getting 10 carries thus far there.
($7,000/$6,700)Julian Edelman @ CLE | -10.5 NE, 46.5
I LOVE this play. Edelman has been reduced to dirt with Jimmy Garopolo and Jacoby Brissett manning the helm. He has yet to eclipse 80 yards and get in the endzone. If you didn't know Julian Edelman and Tom Brady are best friends, on and off the field. The way Edelman is used when Brady is present is a completely different animal.
As you can see above filtering with and without Brady this year and last, Edelman averages about 10 more PPR points, almost 3 targets, .8 touchdowns, and about 28 more yards with Brady than not. In terms of averages, those differences are astounding. You can also bet Brady is going to get comfortable in his first game back by looking to his favorite target early and often. Edelman will score 2 to 3 TDs this week vs the lowly Browns secondary.
($5,600/$3,500)Zach Ertz @ DET | -4.5 IND, 47.5
I wanted to put Zach Ertz as the cash TE, but figured it would be good to wait until after his first game back in case of any lingering injuries. Ertz should instantaneously resume the number 2 pass catcher role in the Philadelphia offense. We have seen Carson Wentz have success moving the ball in Doug Pederson's system, a system that historically involves heavy TE use in the pass game. I think many people have forgotten the dominance displayed by Zach Ertz late last year in which he put up several top 5 performances on the week. Ertz also has the best matchup he will this season vs Detroit who has allowed the most passing touchdowns(6) to Tes and the second most fantasy points to the position.
Featured Image Credit: By Marianne O'Leary (Flickr: Eli Manning is back to pass in warm ups.) [CC BY 2.0], via Wikimedia Commons