Boom! Week 2 was a great week for me with a lot of my calls coming through. Jacob Tamme went off, who I touted on twitter and FanVice Live and the NO vs NYG game hit the under, as I saw it as a less optimal fantasy game in general than the field. We are truly in the mix now, and while sample sizes are still small, trends are developing. The role in offenses of players are becoming clear and targets and touches will be normalizing more and more. In addition, the injuries are hitting hard opening up a ton of value. I think there will be a ton of bad value plays that people will be on to squeeze these top end wide receivers in this week. While playing with lineups so far, I have noticed a few things. On FanDuel there is less of a difference in pricing between average plays at quarterback and top end plays than so on DraftKings. I think this leads to paying down on DK and up on FD at the position. In addition, top tier RBs are several thousand less than top tier WRs on DK, but the pricing is closer between those positions on FD. This creates completely different strategies on the two main sites. FanDuel pricing facilitates paying up at WR and DK pushes you to paying up at RB … but it may be advantageous to do the opposite in GPPs to have a contrarian lineup. Let's get to the picks.
Cash Game Plays
($7,700/$5,900)Marcus Mariota vs OAK | -1.5 TEN, 47
I have been trying to pay down as much as I can in cash if I think it's a play that can still go off(no I didn't play Dak). The Raiders have allowed 7 passing touchdowns through two games, and the tales of this stout secondary built by the Raider's coaching staff in the off season is not coming to fruition. Mariota has scored 17.6 and 18.7 DraftKings points in his first 2 weeks respectively, and that would have been enough with what his salary allows you to do else ware in your lineup. I think this beautiful match up allows Mariota to get closer to his ceiling than these acceptable performances.
($8,800/$7,500)Deangelo Williams @ PHI | -3.5 PIT, 46
Although I have recommended Deangelo Williams the first two weeks as well as I will this week, it would be a disservice to your fantasy lineups to not put him in there. He had 32 touches week 1 and followed that up with 36 FREAKING TOUCHES week 2. The role of the workhorse in the Steeler's offense is unfadeable. You need him in your lineups again this week in cash games and probably tournaments too. The match up with Philadelphia is a huge plus as well as they allowed the most rushing yards per game last season. While they may not end up at that low mark by end of season, the unit that was gashed for 120 yards by the lowly Browns in week 1 is nothing to be afraid of.
($9,500/$9,600)Antonio Brown @ PHI | -3.5 PIT, 46
You just forget about last week and play him if you can. The Bengals did well against him as they typically do. Hopefully his bad performance will have folks looking at Beckham more due to recency bias, but AB is in a far better spot. I will say it is extremely hard to fit Brown in this week, unless you punt a position or pay down at RB.
($5,600/$3,700)Eric Ebron @ GB | -7.5 GB, 48
The Green Bay Packer defense is looking like a far better unit this year than last, but they have one glaring weakness. Right up the middle. In the first two games this season they have allowed one touchdown per week to the tight end position and 95 total yards. While the yards were not immense these were with TEs that are not a huge part of their team's passing attack. In addition, both came in the red zone and Ebron is probably the best red zone target the Lions have. He has 3 red zone targets through 2 weeks. This week's Jacob Tamme.
GPP Plays
($9,000/$7,900)Drew Brees vs ATL | -3 NO, 53.5
Drew Brees at home vs the Atlanta secondary in the highest total of the week at 53.5 is the stone nuts. I fully expect him to be the highest scoring quarterback this week. Atlanta has allowed 7 touchdown passes through 2 weeks, and that was to the lesser QBs than the ilk of Brees, Derek Carr and Jameis Winston. There is one caveat, you can only have so much exposure with the DraftKings and now FanDuel main slates not including the Monday games. I plan on having extra action on the Thursday-Monday contests just to play Brees in the perfect spot.
($7,100/$5,800)Melvin Gordon @ IND | -3 IND, 52
Danny Woodhead went down Sunday in the first quarter and is out for the season with a torn ACL. Enter Melvin Gordon who has looked good in the first two games, but had work volume concerns with Woodhead dominating the snaps, especially in the red zone. Those are now gone. Gordon went on to end the game with 24 carries and even 3 receptions. Gordon looked comfortable and skilled catching the ball and it seems the Chargers are starting to feel good about using him in that way. In addition he has 5 red zone carries thus far, tied for 3rd most RZ touches in the league. A workhorse back at $5,800 is insane and provides a ton of upside for your lineups. Did I mention he is facing the Colts? The Indianapolis defensive front is made of butter, and Gordon will be playing the hot knife role. Dexter McCluster's threat of stealing a sizable chunk of work from Gordon is minimal. Gordon is a far better player and McCluster doesn't know the playbook yet. This game has the highest total on the main slate.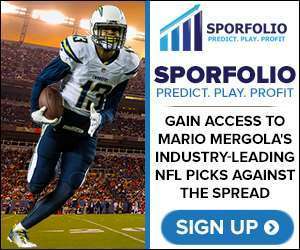 ($7,600/$6,900)Larry Fitzgerald @ BUF | -4.5 AZ, 47
I know I know. Fitzgerald seems like more of a cash game play, but if you look at how he is being used the first two weeks you may be able to get on board with me. First of all, he has 21 targets through 2 games, tied for 9th most in the league. Second, 6 of those are red zone targets which is a league leading mark. He has caught 4 of those for 3 touchdowns through two games. Carson Palmer is looking at Fitz early and often especially when it counts. The Bills defense can certainly be had, as they were 13th worst last year in terms of pass yards per game allowed and even worse thus far this year. The name value of the Bills defense will keep DFS players from targeting them, but this is not a strong unit due to player turnover and injuries. The spread is close enough in this game I believe Tygod and the Bills will be able to put enough points on the board to keep the Cardinals throwing the ball.
($7,500/$6,500)Jordan Reed @ NYG | -4.5 NYG, 46.5
I wrote up a whole paragraph about Delanie Walker and then I realized Reed is a much better play. With Tajae Sharpe becoming the main guy in Tennessee there are not as many targets for the old go-to in Delanie. He has only 11 targets through 2 games while Reed has 18. Reed has yet to have his coming out party this season, but the Giants interior defense in the secondary may be the party bus of deliverance. Reed is the number one guy in Washington and Cousins loves him. I think he is a great pivot for a couple reasons. Number one, everyone will save $1,500 on Walker vs the Raiders and he should be fairly low owned with everyone dropping down. Second, the fantasy population in general is down on Cousin's, which they will link to Reed's possibility of success, also causing an ownership drop. If you can squeeze some extra money out of your lineup, pay up for Reed. I also like using him in the flex, as his upside this week is that of wide receivers that cost thousands more than him.
Lines from Westgate as of 9.20.16