A full night of baseball is ahead, highlighted by the Major League debut of Lucas Giolito. After Monday's somewhat shaky crop of pitchers, Giolito is only one of many valid arms to throw on Tuesday night.
Currently, we are using xFIP and wOBA simply to compare one pitcher's performance against another – especially against opposite-handed hitters. We aren't using these numbers for calculation. To help with some calculations, we have assumed that each hitter and pitcher has played at least one game. Each pitcher was assigned an innings total relative to his average projection.
Check the starting lineups and weather reports prior to making any plays, as these change without notice.
Get the latest MLB Odds on XN Sports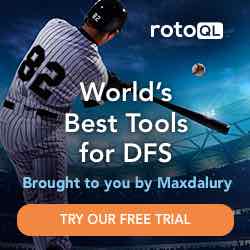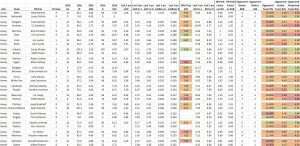 Projected Low-Scoring Games
Philadelphia Phillies at Arizona Diamondbacks – This column continues to lean on Jerad Eickhoff and the Phillies' starting pitcher continues to deliver. After the Diamondbacks' offense suffered a shutout on Monday night, there is an inherent risk that more productive bats appear on Tuesday. Regardless, Eickhoff's 2.01 ERA in June should tell the story of how excellent he has been. Amazingly, Eickhoff is topped in June by his opponent, Zack Greinke. The Diamondbacks' 'ace' is sporting a 1.47 ERA over his five June starts, with his slow start to the year a distant memory. Against a low-scoring Phillies offense that just popped for eight runs, Greinke should dominate.
Targets: Jerad Eickhoff and Zack Greinke
Boston Red Sox at Tampa Bay Rays – Monday night's matchup between the Rays and Red Sox did not yield the pitcher's duel this column expected, but it sets up nicely for a low-scoring affair in the encore. Porcello draws the Rays' strikeout-happy offense one day after a 13-run outing, where the right-handed pitcher should continue returning to form – Porcello holds a 3.44 ERA over his last three starts. Chris Archer is still searching for the magic of 2015 that carried him to a 3.23 ERA, but he now has six consecutive starts of at least six innings pitched with four earned runs or fewer. In that same span, he has struck out 43 batters in 39-and-two-thirds innings, proving that his high strikeout rate is able to be maintained.
Targets: Rick Porcello and Chris Archer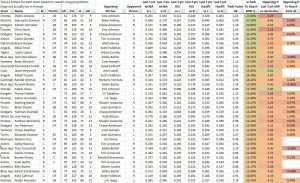 Projected High-Scoring Games
Miami Marlins at Detroit Tigers – After a surprisingly solid start to the 2016 season, Mike Pelfrey has effectively crumbled. His 4.91 ERA is, in itself, deceiving, as Pelfrey tossed four-and-one-third scoreless innings in relief to lower the already-high statistic from 5.19. Adam Conley has been far more effective, but enters Tuesday on the heels of an eight-inning scoreless performance. Unfortunately, said gem was thrown against the lowly Braves. The Tigers average 1.4 more runs-per-game than the Braves, and will be hosting Conley in their American League ballpark. In Conley's brief career, his ERA against American League opponents is 4.42, compared to his career average of 3.65.
Targets: Miami Marlins and Detroit Tigers Hitters
Toronto Blue Jays at Colorado Rockies – Once again, there are no surprises when selecting Toronto and Colorado as two potentially high-scoring lineups. Eddie Butler's 6.71 ERA should leave Blue Jays hitters drooling, while J.A. Happ's lack of consistency – two starts in which he allowed two runs or fewer and two starts in which he allowed four or more runs in June – does not bode well for the pitcher in the hitter-friendly ballpark of Colorado. Specifically, the southpaw Happ has allowed a slugging percentage more than 100 points higher to right-handed batters as compared to lefties.
Targets: Toronto Blue Jays Hitters and Right-handed Rockies Hitters
Undervalued Plays
Lucas Giolito – While rookies generally carry a risk for a number of reasons – namely, a lack of reliable data and a potentially low pitch cap – Lucas Giolito stands as the next top prospect ready to make his Major League Baseball debut. Thankfully, Giolito faces the strikeout-prone Mets one day after the team tallied fourteen hits – ten of which came against Nationals' starting pitcher, Joe Ross. Giolito is an obvious bargain because of the aforementioned risks, but his status as one of the best pitching prospects in the game suggests that he is ready for the spotlight.
Minnesota Twins Hitters – After Jose Quintana's ridiculous start to 2016, the month of June has not been as kind – a 5.61 ERA. While the Twins' strikeout-prone offense is normally the cure for such struggles, Quintana is still trending well beyond his career averages. Minnesota is poised to take advantage of any further slippage by Quintana, especially in a hitter-friendly ballpark after an off-day.
Photo Credit: Keith Allison/Flickr C.C 2.0