A full night of baseball is ahead, with a few 'aces' toeing the rubber. Thankfully, there will be no shortage of options, as there are more than a few top matchups for both pitchers and hitters on Friday.

Currently, we are using xFIP and wOBA simply to compare one pitcher's performance against another – especially against opposite-handed hitters. We aren't using these numbers for calculation. To help with some calculations, we have assumed that each hitter and pitcher has played at least one game. Each pitcher was assigned an innings total relative to his average projection.
Check the starting lineups and weather reports prior to making any plays, as these change without notice.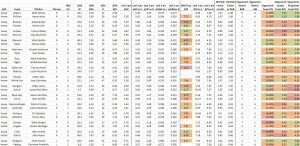 Jake Arrieta/Corey Kluber – Although pitching in different games, the two top 'aces' of the day are in surprisingly similar situations. Both sport high strikeout rates – a little fewer than one strikeout-per-inning – but face relatively explosive offenses that rarely strike out. Simply put, if Jake Arrieta and Corey Kluber didn't have such impressive track records, both would be avoided on Friday. Instead, they both gain a recommendation for use based on their ability to dominate a given contest. Arrieta has the added bonus of playing in an extremely pitcher-friendly ballpark, but Kluber and the Red Sox are both still off their projected paths. As both revert, Kluber should emerge as the 'ace' of Friday.
Gerrit Cole – After a relatively slow start – delayed by injury – Gerrit Cole has seen his numbers correct and he now touts an impressive ERA and strikeout rate. At first glance, facing the high-scoring Rockies would appear to be the next speed-bump for Cole, but he is fortunate enough to host Colorado's offense in the pitcher-friendly ballpark of Pittsburgh. Suddenly, the Rockies' threats are weakened, and Cole's basement is raised. If Cole can push Colorado's low strikeout rate higher, the sky is the limit.
Matt Wisler – The emergence of Aaron Nola as one of the game's top young arms will undoubtedly overshadow the matchup with Matt Wisler, but the Braves' starter is actually the pitcher to target on Friday night. Philadelphia's offense has returned back towards the bottom of the league, and the gap between the Phillies and Braves – the league's worst offense in runs scored-per-game – is closing quickly. Atlanta has finally shown some signs of life at the plate and should carry it into its series in hitter-friendly Philadelphia. Conversely, the Phillies remain an ideal combination of high strikeout rates and low run totals, making Matt Wisler the 'sleeper' of the day.
Anibal Sanchez – The story never changes for Anibal Sanchez. The Tigers' starting pitcher carries a high strikeout rate to go with a high ERA, and enters Friday with yet another chance to return to normal. The matchup with the Rays offers the perfect opportunity for such a recovery, as Tampa Bay is one of the most strikeout-prone teams in the league. In addition, Sanchez's win potential is elevated thanks to his offense's matchup with Matt Andriese – currently pitching to an ERA under 1.00, despite a 4.11 ERA in 2015. Anibal Sanchez is a high risk-reward pitcher with both an unstable floor and virtually unlimited ceiling.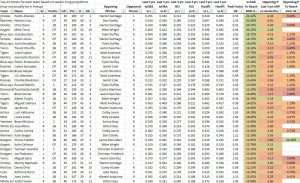 Left-handed Seattle Mariners – Dan Straily has been a target for hitters on numerous occasions in 2016, yet he refuses to completely implode – to date, he has not allowed more than three earned runs in any one outing. He also fails to dazzle, pitching into the seventh inning only one time, and striking out five or fewer batters in every game except one. Straily will not continue to walk the line without a misstep, and the left-handed-heavy lineup of Seattle – in a hitter's park on Friday – will take advantage. Assuming rain does not wash out the game, target the Mariners' left-handed bats.
Nelson Cruz – While the main focus of Straily's weakness rests in his peripherals against left-handed hitters, right-handed Nelson Cruz is the exception. Cruz has ten hits – including two doubles and three home runs – in his last eight games, and is the centerpiece of an offense that is expected to thrive on Friday night.
Bryce Harper – At first glance, Bryce Harper's matchup with left-handed Justin Nicolino appears to carry risk, but it also dilutes Harper's typically-high price to a more reasonable level. More importantly, while Nicolino's peripherals against left-handed bats are not poor, the amount of hard hit contact allowed is exceptionally high. Harper's personal hard hit percentage against left-handed pitchers is almost equal to that against right-handed pitchers, making the Nationals' star a power target for Friday.
Right-handed Dodgers Hitters – After losing back-to-back games against right-handed starting pitchers, half of Los Angeles' lineup will welcome the switch to southpaw Christian Friedrich. Not surprisingly, Friedrich struggles against right-handed hitters, and Justin Turner, Howie Kendrick, Yasiel Puig, and switch-hitting Yasmani Grandal should all be considered. With the exception of Puig – who actually has a higher hard-hit percentage against right-handed pitchers – many of the Dodgers' right-handed hitters carry a discount.
Wil Myers/Matt Kemp – While San Diego still holds the perception of being a pitcher's park, the rumor is only true for right-handed hitting. The shift to Los Angeles provides a slight boost to right-handed power, which plays perfectly into the hands of the Padres' offense – facing southpaw Scott Kazmir on Friday night. After three consecutive losses in which the Padres tallied one run, San Diego's offense is poised for a rebound. Wil Myers and Matt Kemp lead the charge, but any right-handed hitter from San Diego can be considered, as well.
Carlos Correa – While Colby Rasmus almost always draws the attention of this column – spoiler alert: Friday is no exception – Carlos Correa is equally as enticing. Typically batting third in a lineup that is somewhat under-performing, Correa will face Colby Lewis in a hitter-friendly ballpark. Lewis' peripherals are surprisingly bad against right-handed hitters, with his hard hit percentage tantalizingly high. Correa stands to drive the offense forward on Friday night.
Bargains
Be sure to check the above chart for more of the expensive hitters – and the statistics of their matchups. Below, we focus on some of the best upside plays for their price.
Colby Rasmus – By now, Colby Rasmus should be automatic. The Astros' cleanup hitter is facing a right-handed pitcher after given a day off.
Derek Norris – If targeted right-handed Padres on Friday night, look no further than Derek Norris for a discount. San Diego's catcher often bats near the top of the lineup and should be in the mix for a nice fantasy output.
Jake Lamb – While St. Louis' Carlos Martinez is difficult to hit, his production takes a slight dip against left-handed bats. The potential cleanup hitter for Arizona, Jake Lamb crushes right-handed pitching, and provides middle-of-the-order power for a great price.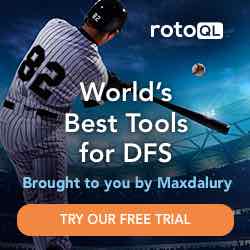 Featured Image Credit: By Johnmaxmena2 (Own work) [CC BY-SA 4.0], via Wikimedia Commons