Thursday's lighter slate of games – beginning in the early afternoon – features the conclusion of most series with a few new matchups sprinkled in. Oddly enough, many of the best pitchers of the day will be facing off against one another, limiting their win potential but allowing hitters to thrive in other games.

Currently, we are using xFIP and wOBA simply to compare one pitcher's performance against another – especially against opposite-handed hitters. We aren't using these numbers for calculation. To help with some calculations, we have assumed that each hitter and pitcher has played at least one game. Each pitcher was assigned an innings total relative to his average projection.
Check the starting lineups and weather reports prior to making any plays, as these change without notice.
Stephen Strasburg/Matt Harvey – So far, the pitching-heavy series between the Mets and Nationals has gone as expected – between the two games, the four starting pitchers have allowed a total of six earned runs. Thursday closes out the series with yet another pitcher's duel, as Stephen Strasburg and Matt Harvey take the mound. Both pitchers are legitimate targets based on the expectancy of a low-scoring game, but Strasburg gets the edge thanks to the Mets' propensity to strike out.
Marco Estrada/Ervin Santana – It was common practice to target starting pitchers against the Minnesota Twins during the first few weeks of the season, but recent signs of life makes the decision a little more difficult. In reality, the Blue Jays have made opposing pitchers more enticing, although it is still unsettling to accept that Toronto's offense is far less threatening than the perception carried over from last season. With that, both Marco Estrada – the Twins do still strike out at a high rate and average 3.62 runs-per-game – and Ervin Santana – not only as a contrarian play, but against Toronto's strikeout-prone offense – are two of the sneakiest plays of the day.
Jeff Samardzija – Like the Twins, the Padres have been incredibly generous to opposing pitchers. San Diego features the perfect combination of offensive ineptitude, with both a team strikeout rate and average of runs-scored-per-game that ranks second-worst among offenses playing on Thursday. Jeff Samardzija's personal strikeout rate is only a hair below his career average, and should only improve after his matchup with the Padres.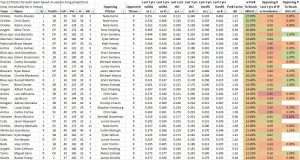 Baltimore Orioles Hitters – Thursday begins in an unusually early matchup between the Orioles and Mariners. If playing an early or all-day slate, Baltimore's offensive weapons need to be considered. At first glance, left-handed hitters would appear to be the target against right-handed Nate Karns, but the Mariners' pitcher actually has worse numbers against right-handed bats. Regardless, the usual top producers of Chris Davis, Manny Machado, Mark Trumbo, and Adam Jones are on the radar, with Joey Rickard reaping the rewards if the game gets out of hand.
Left-handed Dodgers Hitters – Unlike the reverse splits of Nate Karns, there is no denying that right-handed Jhoulys Chacin is downright awful against left-handed bats. Chacin was recently acquired by the Angels and thrust into the rotation. Chacin survived his first encounter with the left-handed-heavy lineup of Seattle, but is walking into a potential disaster on Thursday night. Especially after a pathetic one-run showing on Wednesday night, the Dodgers' offense – specifically, the left-handed hitters – are ready to explode.
Left-handed Pirates Hitters – Although his career sample size is significantly smaller than that of the aforementioned Chacin, Mike Foltynewicz is still trying to bring his peripherals against left-handed bats into the realm of respectability. His efforts have not been entirely wasted, as the Braves' starter has now posted back-to-back gems after a disastrous season debut, however, this could just as likely be a temporary stall before another decline. After the Pirates were completely shut down by Julio Tehearn on Wednesday, Thursday affords an immediate 'bounceback' opportunity as Foltynewicz regresses.
Nelson Cruz/Mike Trout – Mike Trout delivered again on Wednesday, and still sits near the top of the list of hitters to target thanks to his matchup with rookie Ross Stripling. Nelson Cruz is in a similar position against Tyler Wilson – also listed as a rookie despite pitching in 2015 – although both starters' peripherals are based on sample sizes too small to take seriously. Regardless, Trout and Cruz are positioned in the center of lineups that are expected to runs on the scoreboard on Thursday.
Josh Reddick/Stephen Vogt – Finally, the Athletics will face a right-handed pitcher. Snapping a streak of four consecutive games in which Oakland's opponent started a southpaw, right-handed Ivan Nova will take the mound for the Yankees on Thursday night. Josh Reddick and Stephen Vogt – presumably disappointed in this week's matchups, so far – will likely be drooling at the opportunity. To his credit, Reddick has singled in each of the last four games – including a pinch-hit appearance – and his production should only increase with the shift to Nova.
Bargains
Be sure to check the above chart for more of the expensive hitters – and the statistics of their matchups. Below, we focus on some of the best upside plays for their price.
Atlanta Braves Hitters – While the initial focus of the game between the Braves and Pirates lands on Pittsburgh's hitters, Atlanta's offense is in an equally intriguing position. Opposed by Jeff Locke and his 5.45 ERA – the third-highest among Thursday's starters – the Braves should collectively provide a cheap source of runs. Surprisingly, the southpaw, Locke, is bad against left-handed hitters, although he sports a low enough hard hit percentage that home runs from the left side of the plate should not be expected.
John Jaso – The usual leadoff man for the Pirates, left-handed hitting John Jaso is the perfect inexpensive target against the aforementioned Mike Folynewicz. Jaso's power upside is limited, but it won't matter if the Pittsburgh offense takes off.
Yasmani Grandal – Like Jaso, Yasmani Grandal gains the same benefits as his left-handed teammates from Los Angeles, but has the added bonus of power. Unfortunately, Grandal often bats in the lower half of the lineup, but a big day from Dodgers' bats will negate any concerns for placement in the batting order.
C.J. Cron – C.J. Cron was on an absolute tear – 10-for-26 with two home runs and two doubles – before hitting a recent skid. Wednesday night helped Cron get back on track, and it should spill into Thursday if the Angels can get to Ross Stripling.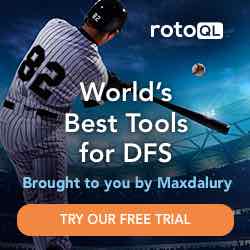 Featured Image Credit: Flickr user slgckgc. C.C. 2.0