The second half of the season gets underway after a nice All-Star Break.  The MLB is lucky the Home Run Derby was a success because the All-Star game itself was extremely boring.  We are kicking this second half the right way with Free Line Up Friday.
Click here to find out who gets my midseason awards and rest-of-season predictions. Otherwise, keep reading for my DFS picks.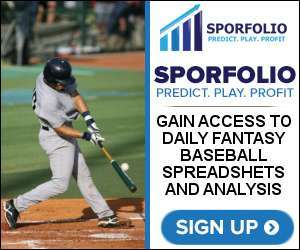 Low Scoring Plays
Colorado Rockies @ New York Mets – The Rockies are not one of the teams that I talked about in my other post but they are not a team that is out of the division race, but I don't think they are all that is cracked up to be.  deGrom gets the call for the Mets who is coming off a ton of rest with the break and pitching at home.  Citi Field should be packed as baseball will begin to take the headlines of news in New York.  The Mets have some fire power as do the Rockies, but you saw it in the All-Star Game, great pitching will always triumph great hitting.  To say either side is a GREAT hitting ball club is a stretch.  The Rockies are good, but great I won't be willing to say just yet.  deGrom will be a great play and should have a huge game.
Targets: deGrom, Duda
New York Yankees @ Boston Red Sox – This is the biggest series of the year in the league so far as it will dictate if the Yanks are buying or staying put.  Drew Pomeranz takes the mound for the Sox who is playing out of his mind right now.  This is the type of player the Red Sox were expecting when they traded for him.  He took a full year to get there but he is here.  I am a firm believer that the Home Run Derby screws up the players in it, especially the winner.  Pomeranz has given up the long ball a lot early this season, but in a big series at Fenway, I'll side with Pomeranz over Judge.  Bogaerts got snubbed out of the All-Star game look for him to have a huge second half of the season.
Targets: Pomeranz, Betts, Bogaerts
San Francisco Giants @ San Diego Padres – Before the break, Cueto was a late scratch on a game that I picked him in to go low scoring.  With even more rest he will be a force to be reckoned with in this game.  Cueto's ERA is near 5 which isn't usually like him, but playing the Padres he shouldn't have anything to worry about.  These are two of the worst offenses in the league squaring off in this one and should be the low scoring game of the day.  The Giants randomly break out for 11 runs in a game and you'll look at the top guy in your league and he will have every Giants player.  Nothing pisses me off more than that but there is nothing you can do about it.  The Giants won't show up more times than they will show up.  Cueto for a huge game and will be an auto lock for one of my pitchers.
Targets: Cueto, Posey
High-Scoring Plays
Arizona Diamondbacks @ Atlanta Braves – The Diamondbacks are having a great year and are not out of the race in the west as they currently sit in second place.  If they want to make a push they will need Greinke, Owings, and Goldschmidt to continue to play well.  No way to start off the second half of the season than going up against R.A. Dickey.  He actually has a lower ERA than Cueto this year but I don't care.  He has more seasons where he ERA has been above 6 than he has had an ERA lower than a 3.  So this world you live in where you think R.A is good, get out of it.  At this point of his career he is a 4 or 5 starter.  If you asked me if I wanted R.A. on my staff or Bartolo, I would take Bartolo, same production and more promotional games/ticket sales.  Goldschmidt will hit a ball to the moon in this game and I love the D-backs big.
Targets: Goldschmidt, Owings
Washington Nationals @ Cincinnati Reds – The Nationals are a great team and have their division won already.  Coming off a nice break look for them to have a huge game.  They aren't a team that needs to get into a grove and find their way like Boston is.  They are always locked in and loaded.  Harper is the face of baseball for a reason-his great hair- only kidding, the guy is freak and can do what ever he wants.  If he wants a double he will get one, if wants to take a nice stroll he will hit a home run he's that good.  Around him he has phenomenal talent.  Losing Turner hurts but Rendon, and Murphy continue to play well and will be his partners in crime until Turner comes back.  Nationals by a million in this one.
Targets: Rendon, Harper, Murphy
Toronto Blue Jays @ Detroit Tigers – There are two storylines coming from this game that make me want to side with the Blue Jays here.  If you can remember way back to the beginning of the season the Blue Jays were terrible. Got off to an awful start and I thought they were done.  They are still in last place but are only 8.5 out of the division lead.  The Orioles fell off and the rest of this month will be crucial for them, but the Blue Jays are a team that I think can make some noise this second half of the season.  If the Yankees don't pick up an arm they can fall off, the Orioles are falling as I said, and I'm not ready to believe in the Rays whats so ever.  With Donaldson back the Jays can win some series and climb their way into the division or the wild card at the very least.  Justin Verlander is pitching who isn't having a Justin Verlander year.  Since pitchers pitch every 5 days I don't think the added rest from the break will do anything for Verlander.  He has been great through out his career and is used to 5 days rest so the rest isn't the problem.  Some times players just don't have it and I don't see it from Verlander this year.  He will make me eat my words and toss a no hitter now, but I still love the Jays in this game, and in the second half of this season.
Targets: Donaldson, Bautista, Tulowitzski
My Line Up
SP-Cueto-SF
SP- Pomeranz-BOS
C-Martin-TOR
1B-Goldschmidt-ARI
2B-Cano-SEA
3B-Donaldson-TOR
SS-Bogaerts-BOS
OF-Harper-WAS
OF-Kemp-ATL
OF-Shwarber-CHC
Sign up for Sporfolio to gain access to NFL picks and DFS, NHL DFS, and MLB DFS spreadsheets.
By Arturo Pardavila III from Hoboken, NJ, USA (#WorldSeries Game 2: Jacob deGrom) [CC BY 2.0], via Wikimedia Commons