What if I told you Alex Wood picked up a win, Aaron Judge hit a home run, and the Phillies lost a game? You would say it was just another night in the MLB-which is absolutely correct.  Not many stories coming out of the league except that Morrison and Sanchez are arguing who should be in the Homerun Derby.  I agree with Morrison that Sanchez should not be in the derby, mainly because Judge is there already representing the Yankees.  However I don't think Morrison should be in the Derby either.  That spot should have went to Thames, who has exploded onto the scene this year, and is a international star as well.
It doesn't matter, Stanton will win the Derby at home so let's just focus on today's games.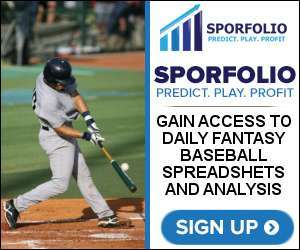 Low-Scoring Plays
San Francisco Giants @ Detroit Tigers – Johnny Cueto gets the call for the Giants as they face the Tigers. Cueto hasn't been up to his normal numbers this year.  He is 2-4 over the last 6 games and you can't blame his offense on that.  He has been shelled and let up a plethora of runs.  Look for Cueto to have a bounce back game here.  The Tigers aren't great on offense, which favors Cueto obviously.  Even though Cueto just signed with the Giants, he could be a piece on the move.  Theo Epstein has a ton of prospects in Chicago, and a need for starting pitcher so a trade there could benefit both sides big time.  Regardless of that, Cueto should have a monster game and will be a lock in my lineup.
Targets: Cueto, Posey
Boston Red Sox @ Tampa Rays – Sale takes the mound against a rising Rays team.  Sale has owned the Rays throughout his career holding them to a batting average of .191.  In 157 at bats the Rays have hit 3 home runs while striking out 62 times.  I don't think Tampa is a legit team just yet, they should dwindle off and finish in the bottom of the AL East.  Sale should have another monster strikeout game here and finish the first half of the season off strong.
Targets: Sale, Betts, Benintendi
High-Scoring Plays
Houston Astros @ Toronto Blue Jays – Houston has been red hot over the last week.  Over the last week, Altuve is hitting .444 with 9 RBI's, Springer is hitting .467 with 2 home runs, Reddick is hitting .480 with 12 RBI's, Correa is hitting .500 with 3 home runs and 10 RBI's, and finally Gurriel is hitting .467 with 11 RBI's.  A lot of numbers to take in there but they are flat out ridiculous.  Look for them to continue the hot streak and beat up on the Blue Jays in this one.  You can take any player on the Astros and be alright.
Targets: Altuve, Reddick, Springer
Milwaukee Brewers @ Chicago Cubs – The Cubs are sending Mike Montgomery to the mound who is having a less than stellar year.  He is 1-5 and the Cubs need the All-Star Break more than any other team in the league.  The Brewers will have a great game today.  It's an afternoon game so the wind should be calm which allow balls to leave the park.  Thames and Shaw will have a great day and are plays that I always like.
Target: Thames, Shaw
Extra Innings
Robbie Ray will be a play that is undervalued.  He is pitching against the Dodgers who have been lights out at home. However they have to cool off at some point and lose a game.  The D-backs haven't been hitting well so look for them to come out swinging and help Ray pick up the win in this one.  He strikes out a ton of batters and will shut down this Dodger offense.  We saw it last night with the Red Sox who were on fire but were no hit through 5 last night.  Sale will be very highly owned so it might not benefit you to take him.  Taking Ray will save you some money and allow you to take higher valued position players.
Sign up for Sporfolio to gain access to NFL picks and DFS, NHL DFS, and MLB DFS spreadsheets.
Featured Image Credit: Buck/Flickr C.C. 2.0