Chris Sale set the record for the Boston Red Sox for the most double digit strikeout games before the All-Star Break.  Only Nolan Ryan and Randy Johnson had more that Sale does.  However after missing his target a couple of times Sale gave up two long balls that ended up forcing him to get the loss.  The Red Sox are now 0-3 when Sale strikes out more than 10 batters and walks none-which has to be one of the most bizarre stats ever.
If you haven't seen it by now, go look how Andrew Knapp scored from first on a pick off play.  A bat flew into the stands which took everyone's attention off of the ball except the catcher.  He launched the ball to first as it then rolled to the right field corner.  It's unfortunate, if the 1st baseman was aware, Knapp would have been gunned down.  The Phillies struggle to hit the ball so they said screw the hit-and-run and took it to a lunch a run.  Not a bad play if you ask me.
It's Friday and All-Star weekend already half way through the baseball season, let's break it down.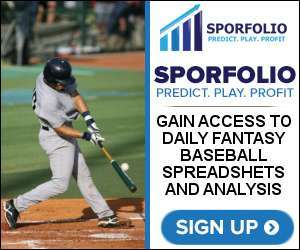 Low-Scoring Plays
Atlanta Braves @ Washington Nationals – Max Scherzer is pitching against a division opponent that is behind them in the standings.  There is something about division games where I like star pitchers to shine even more.  They know these are the most important games as it can separate you or help you catch up easily.  Also division opponents are the ones you play the most so you will have the most scouting reports for the games.  Atlanta isn't great offensively, they now have Freeman back but Scherzer has been too dominant holding the Braves to a batting average of .191.  Pitching at home 15 strikeouts behind Sale, I think Scherzer can turn out one of the best pitching performances we've seen so far this season.
Targets: Scherzer, Murphy
New York Mets @ St. Louis Cardinals – The Cardinals have had a disappoint season so far this year and if the Cubs were playing up to their potential the nail could be in the coffin for their season.  However the division is still up for grabs as they are in 3rd and only 5.5 games out of the lead.  Today won't be easy for them as deGrom is pitching for the Mets.  deGrom has had one of the most quiet years for star pitchers.  You hear about Sale, Scherzer, and Kershaw, but due to the Mets' injuries they have been written off and deGrom hasn't gotten the recognition of how good he is actually pitching.  He is very pricey but if you need a couple extra bucks for your position players, scratch Scherzer and take deGrom.
Targets: deGrom, Bruce, Duda
Cincinnati Reds @ Arizona Diamondbacks – Arizona is coming off a tough series where they had to face both Kershaw and Wood in which they were shut down.  Look for them to come back big in this series and finish into the All-Star break hot.  Greinke gets the call for the Diamondbacks who is one of the most underrated pitchers.  He should have a massive game in this one as his stats are incredible at home.  He is 8-0 at home averaging 6.4 innings per start while striking out 8.4 batters in those starts.  Greinke at home is like Kershaw at home and should be a lock for your lineup.
Targets: Greinke, Owings, Goldschmidt
High-Scoring Plays
Boston Red Sox @ Tampa Rays – Boston was red hot but has put up two stinkers in a row.  This is too good of a team to put up 3 bad games in a row.  They will score runs in this one which will be a slap in the face to Sale as he pitched a gem yesterday and couldn't pick up the win.  Pomeranz is pitching for the Sox who has turned his season around as he has thrown a couple of good starts together in a row here.  Look for him to give up some runs in this one as the Red Sox will match the Rays runs and win this game for Pomeranz who won't pitch nearly as well as Sale did.  Bogaerts got snubbed out of the All-Star game as he should have been on the roster from the beginning not even up for the final spot vote.  Look for him to elevate his game even more and be the X-factor Boston needs (see what I did there…. Xander the X-Factor).
Targets: Bogaerts, Moreland, Bradley Jr.
Milwaukee Brewers @ New York Yankees – Two slugging ball clubs square off in the baseball stadium build for high schoolers.  Yankees have all these home run hitters in Ruth, A-Rod, and Judge, yet I'm sure I could hit one and I got cut from my middle school team.  Now it isn't their fault for the dimensions and they are all incredible players.  The Yankees coming back from a day off is a play that I love.  Even if they are losing you can always find Judge hitting a meaningless home run in the 6th inning.  However I don't think the home run today will be meaningless.  Look for the Yankee's to have a big day, maybe a grand slam for Judge? I can see it, and would debate of walking him if he came up with the bases loaded.
Target: Judge, Didi, Carter
Pittsburgh Pirates @ Chicago Cubs – The Cubs have been called out by Theo Epstein when he was asked if they were going to make moves at the deadline.  He said no and the current players just have to player better.  They have a ton of young players coming off the best achievement ever winning a World Series for the Chicago Cubs, so a slump is understandable.  Schwarber was sent down to AAA to get is head right where he hit .375 with three home runs.  He was brought back up and played yesterday and went 0-4.  Look for him to come back today as he is a great talent and just needs to find his swing.  If I were Shwarber I would be reaching out to Bonds as you saw him turn around the Marlins hitting last year, and some reason still got fired. Regardless the Cubs should make some noise in the second half of the season and a team I like to go into the All-Star Break hot.
Targets: Baez, Rizzo, Bryant
My Lineup
SP-Scherzer-WAS
SP-Hammels-TEX
C-Ramos-TB
1B-Carter-NYY
2B-Villar-MIL
3B-Bregman-HOU
SS-Reyes-NYM
OF-Judge-NYY
OF-Cespedes-NYM
OF-Jones-BAL