A lot of action occurred last night around the league on Independence Day.  Kershaw and Price looked like the stars that they are, Judge hit a laser of a home run, and the Astros put up a ton of runs.  Nothing too surprising there, but what has to be the most surprising, or disappointing thing was the Indians game.
Corey Kluber went 8 innings allowing 1 run, striking out 10 and picked up the loss.  Kluber set a Cleveland record with his 5th double digit strike out game in a row.  That's a tough loss for Kluber to pick up.  Manager Terry Francona was not at the game as he was in the hospital with lightheadedness and complications with his heart.  This game would not have made his heart feel any better as you can't lose a game 1-0 with your ace on the mound.  Not to mention you're playing the Padres.  Aside from the game we hope Francona is alright as he is easily the best manager in baseball.
David Price looked strong last night against the Rangers as the Red Sox won their 6th in a row and now has a 4 game lead in the AL East.  If Price gets it together Boston will be a force over the 2nd half of the season.  Their 3rd pitcher will be Porcello who won a Cy Young last year.  Yes, he's having a down year, but as a 3rd pitcher where I always said he would be would be a great position for Boston.  Mookie's numbers are almost identical to last years numbers at this point in the season, so if history repeats itself, Mookie should have a monster second half of the season.  With Trout being out for a while, Mookie could be a favorite to win MVP.  I don't think it will happen now that Houston is an AL team, Correa will most likely be your MVP.
That's all a long way off as we are nearing the All-Star Break.  We have a full slate of games today with some afternoon games so get those lineups in.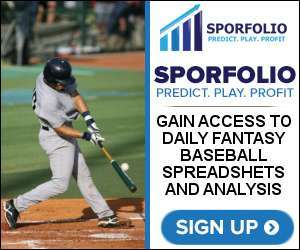 Low-Scoring Plays
New York Mets @ Washington Nationals – The Nationals beat the Mets down yesterday as Daniel Murphy yet again punished his old team.  Today should go better for the Mets as deGrom takes the mound for them.  The Nationals scored 11 last night so I will be surprised if they score more than 4 tonight off of deGrom.  There is always two players are year on the Nationals that are Met killers.  This year Murphy and Rendon have been playing great against the Mets.  I think they will be great plays again.  deGrom will be a great pick, however I don't think he will pick up the 4 points for the win.
Targets: deGrom
Arizona Diamondbacks @ L.A. Dodgers – The Dodgers are 20 games over .500 at home.  They are one of the best teams in baseball and easily the best team at home.  Alex Wood takes the mound for the Dodgers who is 9-0.  Somehow he is not on the All-Star team but he deserves to be.  Look for him to get his 10th win on the season.  The Diamondbacks haven't scored more than 6 runs in their last 10 games so I don't think they will score in this one either.
Targets: Wood, Turner, Bellinger
Kansas City Royals @ Seattle Mariners – Vargas gets the call for the Royals out in Seattle.  Vargas is 12-3 on the year with the 3rd best ERA in the majors.  His ERA is a 2.22 beating out Sale who is having a Cy Young type year.  Cano has been hot for the Mariners as he has bounced back huge from injury.  However the Mariners don't have the firepower that a team like Houston or Boston does.  Therefore I like Vargas in this game.  One of the best pitchers in the league and a team that isn't incredible on offense makes a good recipe for the Royals.
Targets: Vargas, Moustakas
High-Scoring Plays
Houston Astros @ Atlanta Braves – The Astros have been on fire, as they had another massive game last night.  Their offense is too powerful to quiet an will make some more noise tonight.  The Braves aren't a strong team and aren't pitching an ace.  The Astros are too good of a team, Correa is batting .320, Altuve is batting .330 and Springer is batting just under .300 with 25 home runs.  There is a reason they have a 16 game lead in their division and are 30 games over .500.
Targets: Altuve, Correa, Springer
Boston Red Sox @ Texas Rangers – Boston has been hot and I like them to stay hot.  Boston's stars weren't that great last night. However, Benintendi, Bradley Jr., Lin, and Vasquez all showed up last night.  The Red Sox have yet to lose with Lin in the line up winning 6 in a row now.  Doug Fister takes the mound who isn't great but will have an okay game here.  Boston has a very strong bull pen so if Fister is bounced out this game early they should be alright and make it out of this game alive.
Target: Betts, Benintendi, Vasquez
San Diego Padres @ Cleveland Indians – The Cleveland Indians got blanked last night and lost a game that they should have won.   Look for them to bounce back today and have a massive game.  I would stack as many Indians players as you can.  They are too good of a team to get shut out by Padres.  Jose Ramirez is batting .333 over the last week with 3 home runs.  Look for him to be the difference in this one as they will have the best game of they day.
Targets: Ramirez, Encarnacion, Lindor
Undervalued Plays
Daniel Norris – SP – DET – Only $7000 he is will be a steal as he's facing one of the worst teams in the MLB.  He is projected to score 28.8 points, which is a steal for a pitcher at $7000.
Freddie Freeman – 1B – ATL – Atlanta will have to score in this one to keep up with the Astros.  Freeman is coming back from injury and should have a big game.  He is very cheap and is actually a steal today.
Jackie Bradley Jr. – OF – BOS – Bradley's price has dropped about this year and should be a lock for your lineup today. He is batting well and has a ton of support around him. He hit a home run last night and has been playing great since benched by Farrell a couple of weeks ago.
Miguel Sano – 3B – MIN – Sano has been raking this year, and is some how still under $4000.  He will be featured in the home run derby.  I hate taking players post home run derby because I do think they tend to slump.  So take Sano now before he goes away for the year.
Sign up for Sporfolio to gain access to NFL picks and DFS, NHL DFS, and MLB DFS spreadsheets.
By Arturo Pardavila III from Hoboken, NJ, USA (#WorldSeries Game 2: Jacob deGrom) [CC BY 2.0], via Wikimedia Commons