Before we take a look back at last night and get into Free Line Up Friday, I want everyone to take a look at my team from last night.  I put in a nice .25 Cent team hoping to win a couple of dollars to play for free today.  I was just outside the money with Judge and Bellinger still playing-both in the bottom of the first when the screen shot was taken-and I didn't win any money.  Two of the best players in the game. The two best rookies in the game. Came up short and made me a loser.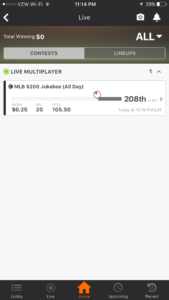 The Nationals bullpen blew another game last night and they have to be searching for the arm at the deadline.  They also lost one of their best players in Turner as he is headed to the DL for an undisclosed amount of time.  The Nationals still have firepower but that is one of the most dynamic players in the game.  However the larger problem may be their bullpen.  There are a lot of teams that are still in contention for the play offs that you thought would be sellers at the deadline-Minnesota, Tampa, Kansas City are all examples.
We have a full slate of games, and it's Free Lineup Friday, Fourth of July Weekend, does it get any better than this?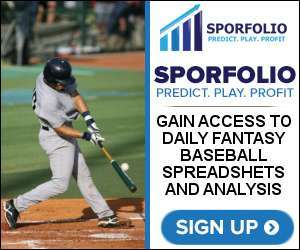 Low-Scoring Plays
San Francisco Giants @ Pittsburgh Pirates – This game looks to be the pitching matchup of the day.  Cueto vs. Cole, there are better pitchers out there today, however with two terrible offenses this game should be the low scoring one of the game.  I like Cueto in this one as he has been a more dominant pitcher over the past couple of years and water always finds its level. Cueto strikes out more batters than Cole and has more of a power arm.  Mad-Bum is coming back soon so if San Fran wants to make a charge it has to start now.  It will have to be one hell of a charge they make but never say never.
Targets: Cueto, Posey
Minnesota Twins @ Kansas City Royals – Another great pitching matchup here as Santana and Vargas face off.  I like this game less than the pitching match up above because these teams are capable of scoring runs.  I have to side with Vargas in this one pitching at home and thinking his team will show up and score.  Vargas has an ERA of 2.29 and a WHIP of 1.13 which is great.  Averaging 19.2 points per game I love the Vargas play in this one.  The Twins are coming off a series with Boston against Sale, Pomeranz, and Price – his season Vargas is better than Pomeranz and Price so he should have big day if those two were able to pick up the win.
Targets: Vargas, Hosmer
L.A. Dodgers @ San Diego Padres – Alex Wood is 8-0 on the year, still has yet to lose and we are almost half way through the season. He is picking up his 9th win today as the Padres aren't a great team.  The Dodgers were shut down for much of last night's game so they should come back today and score some runs.  They have became one of the best teams in baseball and Wood is a major reason why.  He is the 2nd highest priced pitcher so if you need some money for your lineup scratch him but it if you can make it work, take him.
Targets: Wood, Bellinger
High-scoring Plays
Philadelphia Phillies @ New York Mets – The Mets have low-key been mashing the ball in the month of June.  They are tied for the most home runs in June with the Dodgers at 50, and June isn't over just yet.  That's about two home runs a game. Bruce is 4th in the National League in home runs at 20 and Duda is 7 behind him with 13.  Bruce playing well is big for the Mets because they could flip him for some big time prospects for a team that needs a hitter. The Phillies aren't a good team, it's 4th of July weekend so Citi Field should be filled.  Mets will have a big night.
Targets: Cespedes, Bruce, Cabrera
New York Yankees @ Houston Astros – Two of the best offenses in baseball square off in the Lone Star State.  It is incredible how well the Astros are playing.  George Springer is 3rd in the league in home runs, Correa is a MVP, and it has to be asked, is Correa and Altuve the best middle infielders we could ever see? I say yes. The Yankees were shut down last night so look for them to score some runs tonight.  However I like the Astros in this one at home.
Targets: Correa, Altuve
My Line Up
SP-Vargas-KC
SP-Cueto-SF
C-d'Arnaud-NYM
1B-Moreland-BOS
2B-Altuve-HOU
3B-Machado-BAL
SS-Correa-HOU
OF-Thames-MIL
OF-Gardner-NYY
OF-Reddick-HOU
Sign up for Sporfolio to gain access to NFL picks and DFS, NHL DFS, and MLB DFS spreadsheets.
Photo Credit: Keith Allison/Flickr C.C. 2.0