You never know what you are missing in life until it is gone. Let me tell you, don't take your internet for granted.  I am one to say, "I can live without my smart phone" or " I don't need internet".  Well my internet has been down since Sunday and trust me, you can't live without it. Not looking to the phone bill when that comes in because my data plan is soaring high right now.  Regardless I am back, and ready to get into it.  It's travel day so not a full slate, but a nice handful of games to choose from.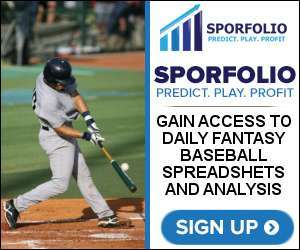 Low-Scoring Plays
L.A. Dodgers @ L.A. Angels – This game is shaped up to be the pitching matchup of the day.  Kershaw takes the mound for the Dodgers and we all know the story with him.  The Angels aren't hitting great this year now that Trout is out.  The player with the next highest batting average on the team is Yunel Escobar at .287.  The game ended last night with a wacky strikeout that got away from the catcher, and then it was thrown away.  Keeping the Dodgers low two games in a row is tough.  However if there is some one that can do it, its J.C. Ramirez.  He has the most wins for the Angels and the lowest ERA at 4.58 – yes the Angels need help at pitching.  I like the Dodgers in this one, but Ramirez should play well going up against a stud in Kershaw and pitching at home.
Targets: Kershaw, Bellinger, Seager
Tampa Rays @ Pittsburgh Pirates – Tampa has turned the corner as they are 3rd in the AL East.  A team that I though would finish last in the division and in the league for that matter.  Still a lot of season left to play but that is where we are at.  Pittsburgh on the other hand has lived up to expectations and hasn't done anything this season.  They are terrible on offense only batting .241 as a team.  Chris Archer should be a lock for your line up.  The Pirates have less of a chance to score runs than the Angels do.  It will be tough to afford Archer and Kershaw but if you can make it work, you're a wizard and a smart DFS player.
Target: Archer, Longoria
High-Scoring Plays
New York Yankees @ Chicago White Sox – A Yankees rookie came onto the scene and had 3 hits and 4 RBI's and it wasn't Judge.  Yes you read that right, the Yankees called up another rookie last night who went 3-4 in his debut with 4 RBI.  Judge also homered in this game making 27 already, we aren't even at the All-Star break yet.  I like the Yankees to score high again.  They have hit a bit of a slump but look for them to heat up going into the All-Star break.  They are playing against James Shields who isn't a solid pitcher, not incredible but definitely better than average.  However the Yankee lineup is too much.  Judge can do what he wants with the ball and will cause a nightmare in the pitcher's head.  If you get around Judge you are bound to have a slip up and screw up a pitch to Sanchez.  Too much firepower by the Yankees for the White Sox to overcome.
Targets: Judge, Sanchez, Gardner
Atlanta Braves @ San Diego Padres – The Braves are a sneaky good team – I'll use "good" lightly here.  However they are able to score runs they just have a tough time on the mound as the team ERA is near 5.  The Padres are sending Dinelson Lamet to the mound who is a young prospect.  He is 2-2 on the year with an ERA above 6!  Stack some Braves in this game as they should be able to score off of Lamet.  The Braves players will be a cheaper option to the Yankees, or Nationals, teams with the top end stars.  The Braves are a team that can always break out for 10 runs when you least expect it.  Then you check who's in first in your DFS game and see they picked all the Braves and you just get angry.  Well let the players get mad at you today as you take some Braves and soar through the standings.
Targets: D'Arnaud, Kemp, Freeman
Extra-Innings
Again this is a new part of the blog coming when there is a smaller slate of games.  Looking at the low-scoring plays you may think that I took the easy way out of taking two of the top pitchers.  I like those pitchers to be locks but Kluber and Ross could have big games as well.  With Kris Bryant going down, Shwarber sent down, Baez having a down year the Cubs are left with Rizzo.  Ross could be a sneaky play against the depleted Cubs.  He is pitching at home and will have run support to help him pick up the win.  If you can't afford a combination of Archer, Kluber, or Kershaw, Ross will be a great play.
David Price also takes the mound, we still don't know what Price is here this season as he has some good starts and some bad.  He is very cheap and can put up big numbers it depends if you want to take the risk or not. If you believe in Price and think he can be your #1 pitcher, look for Ross after that.  It will allow you to afford any other player you want.  A day where I like the Yankees to score you will want the money for Judge and Sanchez.
Sign up for Sporfolio to gain access to NFL picks and DFS, NHL DFS, and MLB DFS spreadsheets.
Photo Credit: Keith Allison/Flickr C.C. 2.0