We end our campaigning of the 2017 Major League Baseball All-Star Game as we focus on the corner outfield positions.
TERMS TO KNOW
We will be using Felipe's Ultimate Baseball Advanced Rankings (or FUBAR for short–a ranking system that utilizes advanced stats almost exclusively).
Here's what we've done so far:
A lot of stats were used for this exercise. For a more detailed explanation on the methodology for this project, please refer back to our most recently released rankings.
In the meantime, here's a quick look at the main categories used in this exercise:
Pu-94: This is our fielding metric
Hit: Our hitting metric
PD: Plate Discipline (rewarding players who draw lots of walks and limit strikeouts)
BsR: Our base running metric. Not the same as Fangraphs' 'BsR' metric.
Ra-88: The sum of all these parts is labeled here as we add up the fielding, hitting, base running, and plate discipline metrics.Now that you know how this works, let's take a look at the rankings:
LEFT FIELD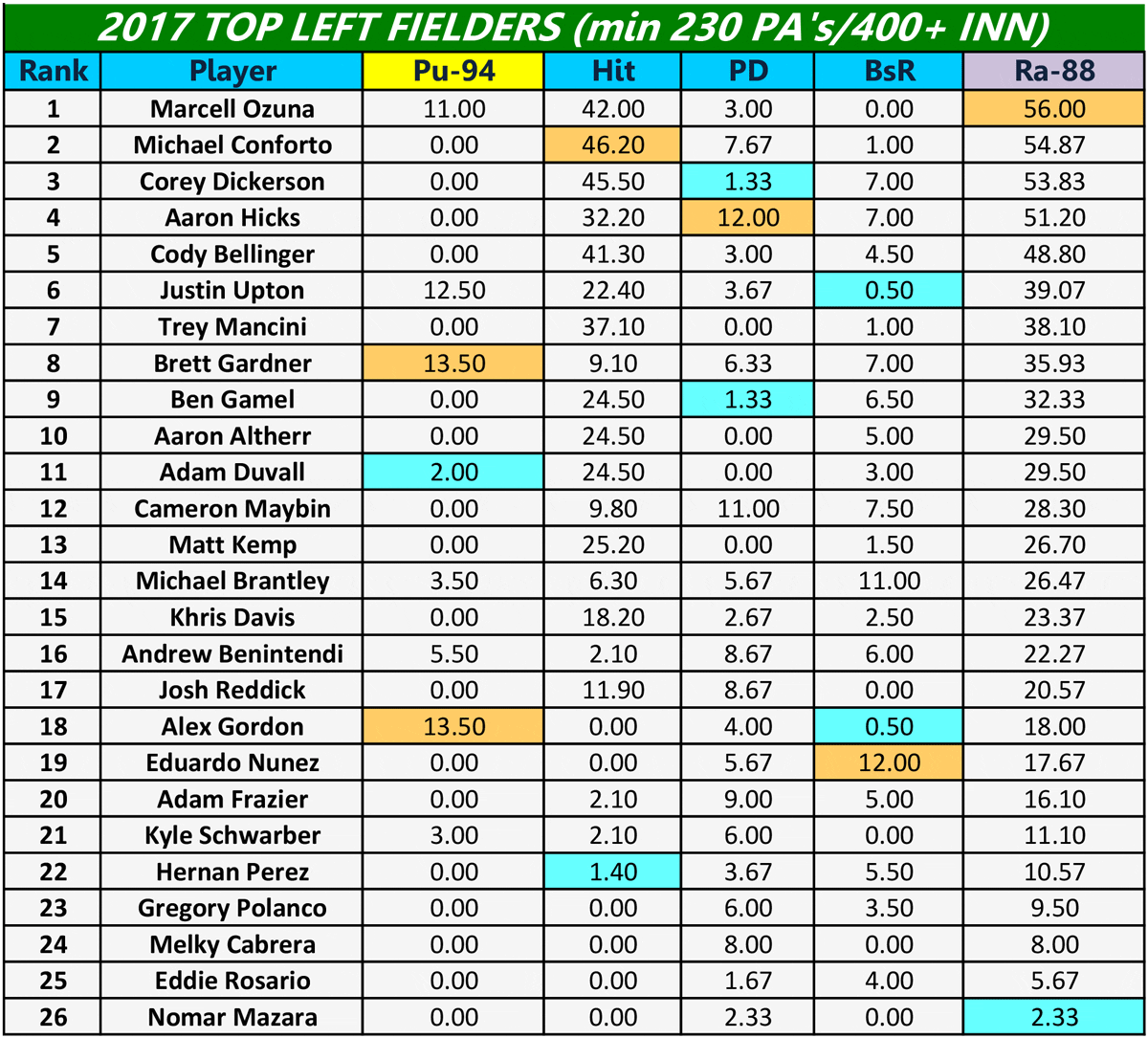 In what turned out to be a very tight race against division rivals, Miami Marlins' outfielder Marcell Ozuna comes out on top and deserves to start in front of his hometown fans in South Florida. Ozuna has the glove, the offensive production, and an improving walk rate to be our best left fielder in our rankings.
The best hitter at the position based on the stats we use for FUBAR goes to Michael Conforto of the New York Mets as he too has shown strides of improvement in 2017 and is definitely a worthy backup to Ozuna.
Another outfielder worth mentioning out of the National League is Cody Bellinger as the phenomenal Los Angeles Dodgers' rookie has simply amazed with his otherworldly power. Bellinger led in Isolated Power at his position.
Over in the American League, another guy who has shown remarkable improvement to his game is Tampa Bay Rays' Corey Dickerson. He's cut back on his strikeouts, but most importantly, he's hitting .344 against left-handed pitching (a 100-point improvement from last season).
Making a second appearance on these rankings is Aaron Hicks as he continues to amaze. Always known for his glove, Hicks is having a career year as his patient approach is finally translating into offensive production. Hicks rated as the hitter with the best plate discipline at the position.
There was a tie for the best fielder at the positions between Brett Gardner and Alex Gordon. Best base runner went to Eduardo Nunez of the San Francisco Giants.
RIGHT FIELD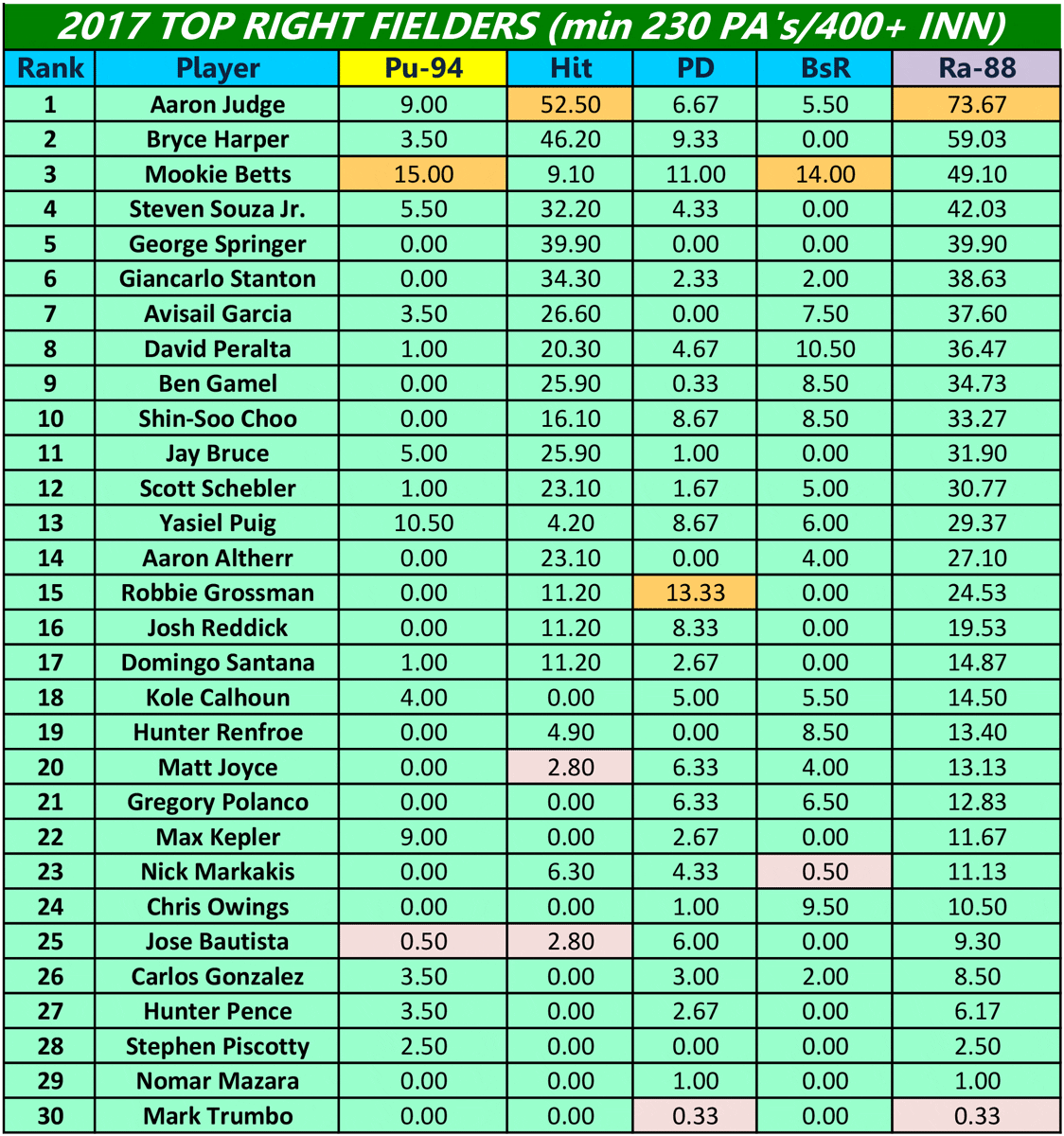 No question about it, Aaron Judge is the best right fielder in the game right now. Not only did he dominate the hitting categories utilized to compile these rankings, but proved he wasn't just a one-hit pony as his fielding has been great, plate discipline has been astonishing despite his large strike zone, and also rated as a pretty decent base runner.
Meanwhile, in Boston, Mookie Betts appears to be having a "down" season as he cedes the top spot to Judge, but Mookie didn't go down without a fight as he rated as the best defensive player at the position as well as the best base runner as Betts proved you can't teach speed and timing. Looking forward to a big second half from Betts.
In the National League, if anybody was doubting Bryce Harper's baseball abilities, they can simply watch in amazement as every plate appearance is appointment television. Harper rated as the second best hitter in these rankings.
Giancarlo Stanton is reminding his critics what he can do when fully healthy as he's once again displaying ridiculous amounts of power this season. If things continue to go this well for him, Stanton can finally reach 40 home runs for the first time in his career.
So here's a final recap of who should be starting in this year's All-Star game according to FUBAR.
NATIONAL LEAGUE
Catcher: Buster Posey
First Base: Paul Goldschmidt
Second Base: Daniel Murphy
Shortstop: Zack Cozart
Third Base: Anthony Rendon
Left Field: Marcell Ozuna
Center Field: Charlie Blackmon
Right Field: Bryce Harper
Starting Pitcher: Max Scherzer
Relief Pitcher: Kenley Jansen
AMERICAN LEAGUE
Catcher: Salvador Perez
First Base: Logan Morrison
Second Base: Jose Altuve
Shortstop: Carlos Correa
Third Base: Jose Ramirez
Left Field: Corey Dickerson
Center Field: Aaron Hicks
Right Field: Aaron Judge
Starting Pitcher: Chris Sale
Relief Pitcher: Craig Kimbrel
Data extracted from fangraphs.com on June 28, 2017
Photo Credit: By Johnmaxmena2 (Own work) [CC BY-SA 4.0], via Wikimedia Commons