Chris Sale took the Phillies into the 8th inning, allowed 4 hits, 1 run, and struck out 10.  Sale picked up the loss in this one as the Red Sox gave him absolutely nothing.  The game was on the line and Sandoval struck out on 3 pitches on what were all atrocious swings.  That's a tough loss for Sale, and the Red Sox have to find a way to manufacture runs. They can't lose that game to the Phillies.
We have a full slate of games and it's Free Line Up Friday so let's get to it.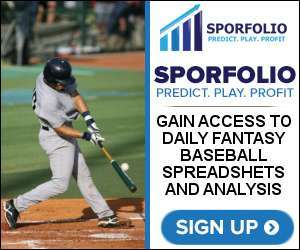 Low-Scoring Plays
San Francisco Giants @ Colorado Rockies – Senzatela takes the mound for the Rockies who is looking to pick up his 9th win on the season.  He should get it today as the he plays at home and the Giants are a terrible offense.  Samardzija is looking to pick up his 3rd win of the season as he is averaging just under 10 strikeouts per game. Either pitcher will be a good play in this one however Senzatela will be a better play.  He won't strike out as many but he should be able to pick up the win and go deep into the game.
Targets: Senzatela, Story, Blackmon
Washington Nationals @ New York Mets – The Mets will struggle in this game as they go up against Scherzer.  Scherzer needs 13 strikeouts to take the league lead over Sale and I think he will do it.  We know about the Mets' streaky offense – they won't show up in this game.  Matz takes the mound for the Mets who should have a good day. He is making his second start so his arm should be fresh.  I think the Nats will take this game however I like it to be the low scoring game of the day.
Targets: Scherzer, Murphy, Harper
High-Scoring Plays
Boston Red Sox @ Houston Astros – Drew Pomeranz takes the mound for the Red Sox who lives for giving up first inning home runs so make sure you take some one in the top of the Astros' line up.  Pomeranz averages 5 innings per start which isn't terrible considering the Sox have a great bull pen.  However, the Astros are dynamic and should run the score up in this one.  If Pomeranz makes it out of the 4th inning I will be shocked.  Take Scherzer and stack the Astros batters then build the rest of your lineup.  As for the other side the Red Sox were shut out last night.  Look for them to have a bounce back night, however, the Astros will take it.
Targets: Altuve, Correa, Beltran
Miami Marlins @ Atlanta Braves – Neither team is pitching their ace in this game so there should be offense on both sides.  Both teams are in the top of the league for team batting average.  I like the Marlins in this one, I was big on them early this season however tailed away from them through out the year.  Stanton and Gordon will be great plays.  Stanton isn't getting the hype that he usually does because Judge exploded on the scene.  However Stanton has had a great season so far as he is mashing the ball.
Target: Stanton, Gordon
My Lineup
SP-Scherzer-WAS
SP-Butler-CHC
C-McCann-HOU
1B-Alonso-OAK
2B-Altuve-HOU
3B-Bregman-HOU
SS-Escobar-MIN
OF-Stanton-MIA
OF-Smith-TB
OF-Cabrera-CWS
Sign up for Sporfolio to gain access to NFL picks and DFS, NHL DFS, and MLB DFS spreadsheets (picks from the Pitcher Breakdown Spreadsheet – all over/unders – are now at 53.3% accuracy since May 21).