Lightning never strikes twice in the same spot, but Gary Sanchez does.  The young Yankee catcher hit two long balls last night in Toronto as he begins to find his groove after coming back from injury.  The Yankees won big over the Blue Jays in a game I thought the Blue Jays would score more.
Corey Kluber came back from injury and it didn't seem like he missed a beat as he came out and pitched a gem.  He was shut down early which is understandable but he threw 5.2 scoreless innings.  The bullpen didn't let him down as they continued his shutout throughout the entire game.
It's Free Line Up Friday so let's get to it.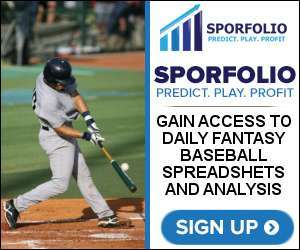 Low-Scoring Plays
Houston Astros @ Texas Rangers – This game looks to be the pitching matchup of the game as these two teams battle for the pride of Texas.  Keuchel hasn't lost a game yet this year but with Houston's offense I think I could have a perfect record pitching for them.  The Rangers are not a strong team and rocked by injuries, Keuchel should have a huge game in this one.  On the other side Yu Darvish takes the mound.  Darvish is one of the best arms in baseball, if you told me that you wanted a game one and can only take one pitcher he would be in the top 10 on my list.  Houston has been red hot so I'll side with Keuchel and the Astros but Darvish won't be highly owned so it wouldn't be a terrible play.
Targets: Altuve, Correa, Keuchel
L.A. Dodgers @ Milwaukee Brewers – The Brewers only scored 4 yesterday against Wheeler and the Mets. I don't think they will have an easier time today going against Clayton Kershaw.  Kershaw is the best arm in baseball there isn't any debate.  Any time he takes the mound you have to have him in your lineup because a complete game isn't out of the question.  If you don't have him and he does go a complete game you will be kicking yourself because it was so obvious to pick him.  I usually like going against the odds and picking low target players to beat the odds and help your self out in the standings, however, passing on Kershaw is just silly.
Targets: Kershaw, Puig
Washington Nations @ Oakland Athletics – Oakland was shut out last night so tonight I would usually like them to score some runs.  However not tonight as Strasburg takes the mound.  Strasburg's last two starts have been insane as he struck out 11 and 15.  Look for him to continue his dominance against Oakland.  He was once thought to be the next big thing – granted he still is a star – I think some of the attention has moved off of him because of injuries.  Well he is in full form now and this is exactly what the Nationals were expecting when they drafted him.  If you can fit Strasburg and Kershaw in a lineup you'll be in great shape.
Targets: Strasburg, Murphy
High-Scoring Plays
Boston Red Sox @ Baltimore Orioles – Porcello takes the mound for Boston who isn't having a year like he did last year.  Now last year would be nearly impossible to replicate but he is struggling.  Baltimore scored 7 last night as Machado broke out of him slump and finally reached base.  Look for Machado to start to get hot and go on a tear these next couple of games.  Boston has been swinging the bats better as well.  They scored 5 last night as JBJ went deep late in the 9th inning.  Sandoval is back for Boston who could be a cheap option for you at 3rd, even though he is a bum.  I like Boston to come back and win this one today after losing yesterday but it should be a slugfest.
Targets: Ramirez, Betts
Pittsburgh Pirates @ New york Mets – Harvey is on the mound so the Mets bullpen should start to warm up in the 3rd and expect to go into this game during the 5th.  The Mets have been shut down the last two games as they haven't been able to generate any offense.  Gerrit Cole is pitching for the Pirates who is a pitcher that I love, however, I don't think the Met bats will be silenced for a third game in a row.  Look for Duda and Bruce to hit the long ball as the Mets should win this one at home.  Harvey will have 0 impact though so if you are thinking of picking him, take three deep breaths and don't.
Targets: Bruce, Duda, Conforto
My Lineup
SP- Kershaw- LAD
SP- Pineda-NYY
C-Molina-STL
1B-Travis-BOS
2B-Odor-TEX
3B-Machado-BAL
SS-Cabrera-NYM
OF-Fowler-STL
OF-Werth-WAS
OF-Frazier-PIT
I tired a line up with Kershaw and Strasburg, it was nearly impossible.  If you can make it work, tweet your line up to me @colincazzetta because that is just impressive.
Sign up for Sporfolio to gain access to NFL picks and DFS, NHL DFS, and MLB DFS spreadsheets (picks from the Pitcher Breakdown Spreadsheet went 4-0 yesterday and are now at 58.7% accuracy since May 21).
Featured Image Credit: By Arturo Pardavila III on Flickr [CC BY 2.0], via Wikimedia Commons