I'm back… huge shoutout to Mario for stepping in for me while I was gone.
I haven't watched a lot of baseball over the last two days, but coming back I can see nothing has changed.  Chris Sale is a freak that can't get any run support from the guys behind him.  The most earned runs Sale has let up this year was 4, which was also his shortest outing of the season.  Boston has him under contract for the next two years. When he becomes a free agent he will be seeking more money than Price got from Boston last year.  Boston needs to start winning for Sale so he will re-sign with them, seeing they gave up the next Mike Trout to get him.
We have some afternoon games happening today so let's get those lineups in early.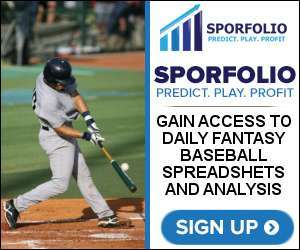 Low-Scoring Plays
Washington Nationals @ Atlanta Braves – Scherzer hasn't gotten a decision in his last two starts, in which he went 6 and 8 innings in those games.  Scherzer is 2nd in the league in strikeouts behind Sale who is having a freak year.  The Braves are in 2nd in the division but are still 6 games under .500 trailing the Nationals.  Scherzer will be expensive but he will be worth it as he's always a threat to strikeout double digits.  Breaking the bank on a pitcher isn't always worth it, however you will be kicking yourself if you don't take Scherzer and he strikes out 15 batters in this one, which isn't out of the picture.
Target: Scherzer, Harper, Murphy
New York Yankees @ Tampa Bay Rays – The Rays strikeout the most in the MLB – almost 70 more strikeouts than the next closest team.  Tanaka should have a big day down at the Trop.  Tanaka's ERA is above 5, but he is 5-2 on the season because of the Yankees' powerful offense.  Tanaka is a better pitcher than one who's ERA is above 5.  He has held the Rays to a collective batting average of .245 and Longoria has only hit .145 off of Tanaka.  The Yankees are 4-6 in their last 10, look for them to come back and win this one while keeping the Rays from doing anything.
Targets: Tanaka, Judge
High-Scoring Plays
Boston Red Sox @ Oakland Athletics –  Drew Pomeranz is pitching for the Red Sox, so you can expect a home run in the first inning.  Oakland is 5th in the league in home runs so this one could get ugly.  The game finished 3-2 last night so I like both teams to come out in this one.  This is the way the Red Sox play,  they can't score for Sale, but they will score 7 plus for Pomeranz.  However I like Oakland to take this one because of Pomeranz.  He has allowed a home run in 15 of his 17 starts since coming over from the Padres.  He just isn't the pitcher Boston thought he was.
Targets: Davis, Alonso
L.A. Angels @ New York Mets – Mike Trout is the hottest player on the planet.  His stats over the last week are out of this world – .381 batting average, 5 home runs, 9 RBIs and 3 stolen bases.  This game was low scoring last night finishing 3-0 in favor of the Mets.  Conforto has been playing well, Bruce has stepped up since Cespedes is gone, but I like the Angels in this one.  Scoring no runs last night, makes me believe they will score 7 plus tonight.  The outfield is huge at Citi Field so look for Trout and crew to be finding the gaps.  Trout is expensive, however, it's like picking Scherzer, it's a lock for points and you'll be mad if he hits 3 home runs because you knew it as possible.  It's not like you picked a below average catcher who went off.  It's the best player on the planet who is playing like the best player on the planet right now.
Targets: Trout
Undervalued Plays
Senzatela – COL – SP – Senzatela has the best record on the day at 6-1.  However his stats aren't the greatest, he just has a great team behind him.  He only averages 13.4 points per game and doesn't strikeout a ton of batters.  He is throwing against the Reds, who are a middle of the pack offense.  If you want to pick Scherzer and Trout, Senzatela would be a good play.
Smoak – TOR – 1B – The Blue Jays have been slowly climbing the latter back into the AL East and Smoak has been a reason why.  Over the last 7 games he is batting .304 with 3 home runs and 7 RBI's.  Smoak is only $4100 which is a steal seeing he is putting up numbers like Goldschmidt.
Rivera – NYM – C – In a day where you want to take Trout and Scherzer, Rivera could be a solid play.  Over his last 7 he is batting .348 with 1 home run and 7 RBI's.  Catchers are always hit-or-miss.  There will be one that hits 2 home runs but they are never on my team.  Scherzer and Trout will make up for the difference if Rivera puts up 0 points.  I don't think he will, but you shouldn't sit Trout in order to afford someone like Posey.
Sign up for Sporfolio to gain access to NFL picks and DFS, NHL DFS, and MLB DFS spreadsheets!