ALL RISE, Court is now is session.  If you haven't seen it by now go and watch the play Aaron Judge made last night.  The kid can do it all, he is Superman. Some how he is making acrobatic plays in the outfield while he is bigger than New England Patriots Tight End, Rob Gronkowski.
We have a small slate of games today so look to stack players.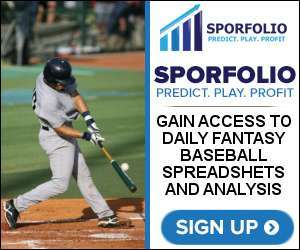 Low-Scoring Plays
Pittsburgh Pirates @ Atlanta Braves – Neither team has a stellar lineup in this game, especially the Pirates.  The Braves aren't terrible, but Gerrit Cole takes the mound. Cole's record doesn't resemble his potential, he has a terrible offense behind him.  I like this game to finish very low, and Cole should be your number 1 play.  I wouldn't go near any batters in this game especially in a small slate, if any one puts up 0 points you could be screwed.
Targets: Cole
San Francisco Giants @ Chicago Cubs – San Fran is one of the worst teams in the MLB.  The offense isn't there, Mad Bum is still out, the only thing they have going is Cueto.  I like this game to be in favor of the Cubs.  Take some Cub batters and John Lackey.  The Cubs' lineup has been down these past couple of weeks but we know the damage they can do.  Look for their stars to come out in this one in a home game against a weak team. Cole and Lackey will be a great pitching duo for your lineup.
Targets: Lackey, Schwarber, Bryant
High-Scoring Plays
Chicago White Sox @ Arizona Diamondbacks – The Diamondbacks are a great ball club with firepower all over the lineup.  The White Sox have been racking up the runs the past couple games and are swinging the bats well.  Greinke is pitching for the Diamondbacks who is a pick that I always love.  He is having a good year where his price has risen a ton on DraftKings.  I love picking Greinke whenever he is on the mound because people still don't think he's great.  However with the hot streak of the White Sox I don't like him today.  There was a reason why he was cheap at the beginning of this season. I am not smarter than the odds-makers in DFS sports so they didn't believe in Greinke at the beginning of this season.  Look for the White Sox to stay hot, but I like Arizona to take the game at home.
Targets: Goldschmidt, Owings
Minnesota Twins @ Baltimore Orioles – Kyle Gibson takes the mound for the Twins, who has an ERA above 8. He has 26 innings pitched in 6 appearance this season. He hasn't gone long into games which will make the Twins turn to the bullpen.  The bullpen isn't great for the Twins either.  Their ERA is a 4.33, and has the 11th highest ERA in the league.  Playing in Camden Yards I like the Orioles huge in this one.  Trumbo, Davis, and Machado have been quiet the past two weeks or so.  After their series with Boston, where all the drama happened, we haven't heard much about them since then.  Look for them to explode onto the scene tonight and destroy the Twins.
Targets: Trumbo, Davis, Machado
Due to the limited amount of games I don't think anyone is really underrated because you could fit all the stars on one team if you want.  If you stack Diamondbacks and Orioles you should be in good shape with Lackey and Cole.
Sign up for Sporfolio to gain access to NFL picks and DFS, NHL DFS, and MLB DFS spreadsheets!
Featured Image Credit: By MBDChicago on Flickr [CC BY 2.0], via Wikimedia Commons