I'm back in the batter's box one more time before he returns to action tomorrow and, like yesterday, I will be basing my picks on the results of my pitcher breakdown spreadsheet – which, I'm proud to say, nailed Sam Gaviglio as a huge bargain play. In addition, the spreadsheet houses my baseball picks, which went 4-1 yesterday – it should have been 5-1, but I did not get my pick in for the Padres and Brewers game in time. I made a whopping eight picks today, which is an uncomfortably high amount, but the numbers dictate that there are plays to be made, so let's make them!
Let's also get a fantasy lineup out there, since it is, after all, Free Lineup Friday.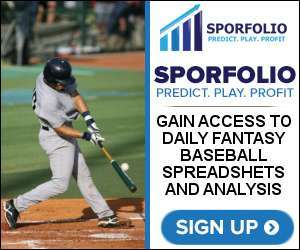 Low-Scoring Plays
Chris Sale – I'll start out with the outlier. I don't like singling out a pitcher, but Chris Sale deserves his own category on Friday. He is simply unhittable, right now, and has struck out at least ten batters in each of his last seven games. His lowest strikeout total was seven. Of equal importance, he get to face an Athletics team that just abused a rookie pitcher making his first career start. Sale's insanely high price is justified.
Arizona Diamondbacks at San Diego Padres – After the standalone Sale, the next highest-rated pitcher of the day is Arizona's Taijuan Walker, and it's easy to see why – a decent ERA and high strikeout rate combined with a positive matchup in San Diego. But, let's not sleep on Jered Weaver. His numbers are relatively poor across-the-board, but a head-to-head battle with Walker in a matchup against a Diamondbacks team that, while dangerous, strikes out a lot slides both pitchers into the mix. Between the two, the arrow clearly points toward Walker, but I would hesitate before loading up on bats from Arizona.
San Francisco Giants at Cincinnati Reds – Matt Moore finally found a little success in his last outing, and he now has the opportunity to build on it in St. Louis. Granted, the Cardinals have turned around a dismal start, but Moore is trying to do the same. Michael Wacha is a rather obvious play worth considering on Friday, simply via pitching against the Giants. San Francisco has scored the second-fewest runs in Major League Baseball, this season.
High-Scoring Plays
Washington Nationals at Atlanta Braves – In one of the few games that I didn't pick – only because Gio Gonzalez's rating was not exceptionally high, but the run total was – there should be plenty of baserunners crossing the plate in Atlanta on Friday night. R.A. Dickey holds the lowest rating of any pitcher throwing at night, and takes on one of the league's best teams coming off back-to-back losses in Pittsburgh. Atlanta's bats are not dead, however, and have gone on a nice hot streak of late. Of course, losing Freddie Freeman is catastrophic, but Matt Kemp has stepped up nicely.
Colorado Rockies at Cincinnati Reds – I generally like Tyler Anderson as a sneaky good pitcher that has value in the right spots. Friday night, however, is not "the right spot." He and Lisalverto Bonilla – don't bother remembering the name – combine for an ERA over 11 and will be pitching in a hitter-friendly ballpark. Indeed, it isn't Colorado, but the Rockies' bats will welcome traveling to Cincinnati.
Cleveland Indians at Houston Astros – Trevor Bauer's impressive strikeout ability makes him a nice play every now-and-then, but his ERA over 6 is indicative of just how much he can struggle. He enters Friday as the second-lowest rated pitcher of the night slate and will face a Houston lineup that doesn't stop producing and is returning from an off day – shortstop Carlos Correa technically had two, as he was held out of Wednesday's lineup. Cleveland also had a day to rest and recover, and needed it after back-to-back home losses to Tampa Bay.
Undervalued Plays
Jose Abreu/Melky Cabrera – Never does my spreadsheet give me an opportunity to buy bats from the White Sox – usually, it tells me to pick against them – but Friday is an exception. It's not surprising, since southpaw Ariel Miranda has some odd splits against opponents – statistically, he does poorly against left-handed bats, but his peripherals suggest he should get crushed by right-handed hitters. Either way, Jose Abreu and Melky Cabrera will be in my lineup, especially since the White Sox failed to win on Thursday night after eliminating a 4-0 deficit only to lose via a walkoff single.
Trevor Williams/Jeremy Hellickson – Want another pitcher like Gaviglio? How about Trevor Williams? In fairness, he is rated far lower than Gaviglio was on Thursday, but the pair of Williams and Jeremy Hellickson is actually in a favorable position. I wanted to list these pitchers under the "low-scoring plays," but it is inconceivable to think that anyone would use Williams unless salary restrictions were insanely tight. If this is the case, however, Williams and Hellickson can be found in the bargain bin.
Bradley Zimmer – This will probably be the last daily fantasy column I write for a while, but it won't be the last time you see me write about Bradley Zimmer. In his two Major League games, he has hit at the bottom of the Indians' batting order, but that should be the only limiting factor to prevent you from racing to a computer and adding him to your lineup. Regardless, his price is currently low. It won't be for long.
My DraftKings Lineup
SP – Taijuan Walker
SP – Jeremy Hellickson
C – Even Gattis
1B – Jose Abreu
2B – DJ LeMahieu
3B – Nolan Arenado
SS – Carlos Correa
OF – Melky Cabrera
OF – Carlos Gonzalez
OF – Bradley Zimmer
Sign up for Sporfolio to gain access to NFL picks and DFS, NHL DFS, and MLB DFS spreadsheets!
Featured Image Credit: By EricEnfermero (Own work) [CC BY-SA 4.0], via Wikimedia Commons (cropped)