I'll be pinch-hitting today for Colin and, really, returning to my former role – I wrote the MLB DFS columns here on XN Sports, last year. This year, I have been honing my pitcher breakdown spreadsheet – just released on Monday – which I use as the foundation of my daily fantasy baseball lineups. Every one of the games listed below is shown to have a solid setup according to that spreadsheet, and I will add to this column over the course of the day if better plays arise.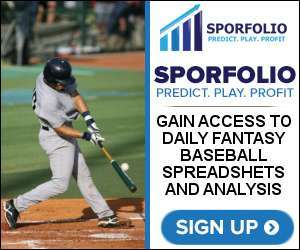 Low-Scoring Plays
New York Yankees at Kansas City Royals – With how powerful the Yankees' lineup has proven to be, it is dangerous to recommend using any pitcher against it. Of course, taking the Yankees' name at face value means that the talent of Danny Duffy may go overlooked. He is easily one of the better pitchers in the sport, but has not won a game since April 14th. More importantly, he has been lights out in his last two starts, allowing a total of three earned runs over 13.2 innings. New York's Jordan Montgomery may be a rookie – and, thus, may always be approached with caution – but he has proven capable of handling Major League hitters. Moving from his typical hitter-haven ballpark to Kansas City only increases his value on Thursday.
Targets: Duffy, Montgomery
Toronto Blue Jays at Atlanta Braves – Julio Teheran has quietly been one of the best pitchers in the league over the last few years, and it appeared as if he would finally receive proper recognition in 2017. Of course, he promptly had a few shaky starts before recovering. Now back to his dominant ways, he faces a hit-or-miss – no pun intended – Blue Jays lineup. On the other side of the game, Marcus Stroman tries to cool off a Braves offense that has been scorching of late, but the two pitchers squaring off against one another should be enough to elevate their respective games.
Colin listed the Rockies/Twins games from Wednesday to be low-scoring and, with the rainout, the same matchups are in store for Thursday. Here is his write-up:
Colorado Rockies @ Minnesota Twins – There are so many good pitchers throwing today I keep getting more and more excited as I write about each game.  Ervin Santana is on the mound for the Twins who is coming in with a 6-1 record.  Santana is 2nd in the league in WHIP at .81 which is just silly.  You can double his WHIP and it would still be considered good.  He averages just under 7 innings per start, and has an ERA of 1.50.  The Rockies are a strong team, but they strike out a ton.  Pitching at home Santana should be a surgeon and carve apart this Rockies lineup.
Targets: Santana, Sano
High-Scoring Plays
Washington Nationals at Pittsburgh Pirates – The Nationals were absolutely stymied by Gerrit Cole on Wednesday, and they get a far more forgiving matchup when Tyler Glasnow takes the hill. The young right-handed pitcher has been a disaster, so far and, while he simply cannot continue to perform this badly – some sort of regression is likely – his two critical flaws form a worrisome combination. That is, he has control issues and simply cannot keep baserunners from stealing against him. With that, Trea Turner is an absolute must-play, and I would be targeting whichever batter is hitting in front of Harper on Thursday – probably Jayson Werth.
Targets: Trea Turner, Jayson Werth
Philadelphia Phillies at Texas Rangers – I'm never one to pile on either an extended streak or a team that has a history of playing poorly, but the Rangers and Phillies are too ripe for the picking. The Phillies have now lost 11-of-their-last-13 games, while the Rangers are riding an eight-game winning streak. Thankfully, it won't matter who wins the games, as both teams should bring their bats to the ballpark. At the time of this writing, Nick Pivetta and Martin Perez have the lowest combined pitcher rating for Thursday, according to the aforementioned spreadsheet – things may change, as updates are expected. After scoring only four combined runs over the last two games – while watching Texas put up 14 runs – Philadelphia will undoubtedly come out swinging. I'll be using hitters from both sides of the matchup, but leaning more heavily on those from the Phillies.
Targets: Odubel Herrera, Tommy Joseph, Cesar Hernandez, Rougned Odor, Mike Napoli, Joey Gallo
Undervalued Plays
Sam Gaviglio – SEA – SP – Who? Just kidding. But it is not inconceivable that many daily fantasy owners will question – or better yet, target against – Gaviglio. Believe-it-or-not, he is currently the top-ranked pitcher from my spreadsheet. More amazingly, his team is the second-highest ranked by the odds. In the introductory paragraphs to my spreadsheet, I wrote about how flawed it was to use odds blindly, but it is fantastic when they align with my own calculations. Such is the case here.
Josh Bell – PIT – 1B – Josh Bell was one of my favorite 'sleepers' coming into 2017, and he was a complete disappointment. But, in the blink of an eye, he tallied eight home runs in an offense that finally stabilized. Three of the these home runs were hit over the course of his last five games, during which he's batting .333.
Giancarlo Stanton – MIA – OF – He certainly isn't cheap, but Stanton is 'undervalued.' Why? Because the Marlins simply cannot keep sinking without showing some signs of life. Against the southpaw Ryu, Stanton is poised to break out of his slump – a .250 batting average with no home runs over his last eight games.
Sign up for Sporfolio to gain access to NFL picks and DFS, NHL DFS, and MLB DFS spreadsheets!
Featured Image Credit: By Arturo Pardavila III on Flickr [CC BY 2.0], via Wikimedia Commons