I'm not even going to waste your time with a recap from last night. Madden got his 1000th win, and that's the headline.  Wednesday is where the stars align on the mound.  There are so many good pitchers taking us into the day, I'm licking my chops looking at them. Buckle up, enter multiple teams, here we go, in for a great day of baseball.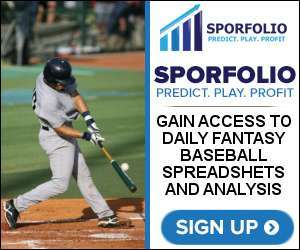 Low-Scoring Plays
L.A. Dodgers @ San Francisco Giants – We have the pitching matchup of the day here, maybe the pitching matchup of the season.  Kershaw vs. Cueto are two of the top four arms in the game right now in my opinion.  Usually picking two pitchers in the same game is a no no as one has to lose and so on.  However I don't hate that play with these two pitchers.  It will be hard to fit both into your lineup but tinker with your lineup and see if you can.  If I had to pick one I am picking Cueto.  The Giants aren't good and Kershaw should dominate them.  However I think Cueto can you get you more bang for your buck pitching at home.
Targets: Cueto
New York Yankees @ Kanas City Royals – Vargas has been impressive this season, he is always a great play as he isn't as expensive as pitchers like Cueto and Kershaw.  He leads the MLB in ERA at 1.01, and a WHIP of .92.  The Yankees' bats have gone cold, Aaron Judge has fallen back down to earth. The Yankees are 9th in the league in strikeouts with 320 in 1200 at bats.  At that ratio if Vargas pitches the entire game he will strike out at least 7 batters – we rounded up.  However Vargas is an above average pitcher so striking out double digit batters isn't out of the question.
Targets: Vargas
Colorado Rockies @ Minnesota Twins – There are so many good pitchers throwing today I keep getting more and more excited as I write about each game.  Ervin Santana is on the mound for the Twins who is coming in with a 6-1 record.  Santana is 2nd in the league in WHIP at .81 which is just silly.  You can double his WHIP and it would still be considered good.  He averages just under 7 innings per start, and has an ERA of 1.50.  The Rockies are a strong team, but they strike out a ton.  Pitching at home Santana should be a surgeon and carve apart this Rockies lineup.
Targets: Santana, Sano
High-Scoring Plays
New York Mets @ Arizona Diamondbacks –  Matt Harvey is back on the mound for the Mets.  I was off the Harvey Train, jumped back on last week, well I'm now off it again.  Harvey's time in NY is done. The Diamondbacks should destroy him and knock him out of the game early.  The Mets bullpen is nothing great and will also have a hard time getting the Diamondbacks out.  Stack some Diamondbacks batters in this one as they should cruise to another win in this young season.
Targets: Goldschmidt, Owings
Philadelphia Phillies @ Texas Rangers – The Texas Rangers' lineup is depleted, as Gomez is sent to the disabled list for 4-6 weeks with a hamstring injury.  However they still have firepower with Napoli and Odor.  Pitching for the Rangers is Cashner who is 0-3 on the season.  His ERA isn't too high, just under 3 so he just isn't getting the run support.  However he made 6 starts this year and has only pitched 33 innings.  He isn't a threat to go long into ball games.  The Phillies should take advantage of this and score some runs in this one.  I don't think they will score enough to keep up with Odor and Napoli but they should make it a close game.
Targets: Odor, Napoli.
Milwaukee Brewers @ San Diego Padres – The Brewers are a homerun hitting team that can absolutely mash the ball.  Eric Thames has forearms the size of my body if he makes contact that ball will fly, we've see that this year.  Chacin has an ERA above 5 and does not strike out a lot of batters so the ball will be in play in this ball game.  The Padres have the worst batting average in the MLB so I don't see them making any noise in this game.  If you can stack some Brewers with some Diamondbacks players you should be in good shape.
Targets: Thames, Shaw, Braun
Sign up for Sporfolio to gain access to NFL picks and DFS, NHL DFS, and MLB DFS spreadsheets!
Featured Image Credit: By Arturo Pardavila III on Flickr [CC BY 2.0], via Wikimedia Commons