DraftKings has introduced a new mode called "Arcade Mode".  It is a unique game mode that I don't hate.  In arcade mode you pick only 1 pitcher and 5 hitters.  The hitters can be any position, 5 outfielders, or 5 catchers what ever you want to do.  However you can't stack players you can only take two hitters per team.  The price for per players have rose which makes sense, so you can't get the top player on every team.  We know the baseball season is long so this is a nice curve ball that DraftKings gave us.
We have a full slate of games today so let's get to it.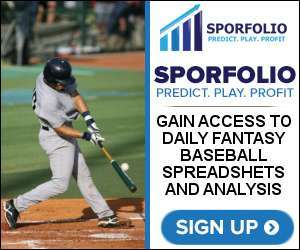 Low-Scoring Plays
Washington Nationals @ Pittsburgh Pirates – Stephen Strasburg takes the mound against the Pirates who are terrible.  Strasburg has dominated the Pirates as they have only hit .171 off of him.  On top of the low batting average, Strasburg has been better on the road this season.  On the other side Chad Kuhl is pitching for the Pirates.  He is a young pitcher that may have trouble with the Nationals' lineup.  However, since the Nats scored 23 on the Mets, they haven't scored more than seven runs in a game.  I don't think Kuhl will get the win in this game but he could keep the Nats from scoring a plethora of runs.
Targets: Strasburg, Harper
New York Mets @ Arizona Diamondbacks – The NL East looked to be wrapped up already.  The Mets are in second place and are 5 games under .500.  The Nats are the only team with a winning record in that division.  Arizona should dominate the Mets in this game.  Greinke is throwing for the D'backs and should be licking his lips at this game.  Jay Bruce has been playing well since Cespedes has been out, however Greinke is one of the most underrated players in baseball.  The Mets should be shut down in this game but the D'backs might be able to put up some runs in this one.  Tommy Milone is thrust into the Mets rotation taking place of one of the many injuries they have. The Diamondbacks are one of the best offenses in baseball that should take advantage of Milone.
Targets: Greinke, Goldschmidt
Houston Astros @ Miami Marlins – Dallas Keuchel is looking for his 7th win on the season and he should get it with the offense from behind him.  The Astros can beat you from every batter in their lineup – from 1-9 they are stacked.  Keuchel is having a great season,  and should continue the run against the Marlins.  Keuchel will be a great pick for your lineup today.  His last outing was his shortest of the season at 6 innings as he averages just under 8 innings per start.  He hasn't had a ton of strikeouts but his plethora of innings should make up for that.
Targets: Keuchel
High-Scoring Plays
Oakland Athletics @ Seattle Mariners – Chase De Jong, is pitching for the Mariners who is 0-3 on the year.  The rookie has an ERA above 7. Oakland is one of the highest hitting home run teams.  They should dominate the Mariners in this game.  The Mariners have had some injuries occur the past couple of weeks.  If Cano is in the lineup he won't be a bad play now that Cruz is out.  However I would side more with Oakland in this game and stack your lineup with them.
Targets: Alonso, Lowrie
Boston Red Sox @ St. Louis Cardinals – I've given up on picking Boston players this season, when I think they will do well, they don't.  When I stay away from them they play great.  Mookie Betts won AL player of the week as his bat has heated up and he now leads the team in home runs.  Bogaerts continues to hit, however they are all singles.  He doesn't have a home run on the year, and 33 of his 43 hits have been singles.  Rodriguez is pitching for the Sox who has been okay this year – not great but not bad.  I like the Cardinals to take this game.  They are hitting .261 as a team which is less than the Red Sox but still isn't terrible.
Targets: Carpernter, Fowler
Philadelphia Phillies @ Texas Rangers – The Rangers have been plagued by injuries this season.  They were the best team in the AL last year, and now will have their work cut out to try and win their division.  Eickhoff is pitching for the  Phillies who isn't having a great season.  The Rangers still have enough fire power to win this game big.  Napoli, Odor, and Gallo are strong enough to carry this team until Beltre and Gomez get back into the lineup.  This is in the high-scoring plays, but Yu Darvish wouldn't be a bad pick either.  He is a star pitcher that could dominate this weak Phillies team.
Targets: Napoli, Odor, Darvish
Undervalued Plays
Sabathia – NYY – SP – The Yankees are pitching against the Royals today who are not a great team.  Sabathia has had some starts this year where he looked like his old self.  He has also had some starts where he looked awful.  I think Sabathia will dominate this game.  He is cheap so he will allow you to take a top price pitcher and now ruin your lineup.
Pujols – LAA – 1B – Pujols is having a quiet season, but a solid one.  He is batting .234 with 6 home runs and 29 RBI's.  Trout is on a tear with a home run in his last 4 games.  Pitchers will look to avoid Trout and pitch to Pujols, so pitchers will have to give Pujols something to hit.  Pujols will be a great play today.
Ellsbury – NYY – OF – Ellsbury looked to be a terrible signing by the Yankees in his first couple of years in New York.  He has stepped it up this year and is playing well.  Against a team that isn't strong I like Ellsbury to get on base and steal a couple of them.  The Yankees' bats have been quiet so small ball will be the play with them trying to get runs across the plate.
Sign up for Sporfolio to gain access to NFL picks and DFS, NHL DFS, and MLB DFS spreadsheets!
Featured Image Credit: By dbking (IMG_6927) [CC BY 2.0], via Wikimedia Commons