Not many headlines coming from the league last night, so we will take a quick look at Chris Sale's start from two nights ago.  I didn't write about it yesterday because Jeter had the day, but Sale had another double digit strike out game.  He now has 85 strike outs in 8 games this year and is 4-2 on the season.  When the trade for Sale occurred, I thought Boston gave up way too much – gave up top prospect Moncada. However, Sale has been a monster and has proved his worth.  I thought he was another David Price, who is great but not incredible.  Sale's control right now is on another level and just impressive.  If the season ends today, Sale wins the Cy Young easily.
We only have a few games today, with one starting at 6 so look out for the correct tournament to enter.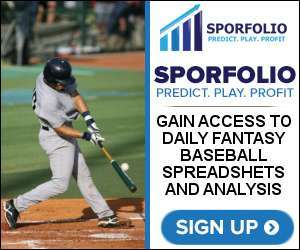 Low-Scoring Plays
Milwaukee Brewers @ San Diego Padres – Chase Anderson is pitching for the Brewers who is 2-0 on the season.  He has an ERA of 2.97 and a WHIP of 1.32 which is around the average you want a pitcher to be.  The Padres aren't a great team so Anderson should have a strong outing.  He has a strong offense behind him so he should be able to pick up the win in this game and score you some extra points.  As a team the Padres have hit around .260 off of Anderson with a very low slugging percentage of .300.  The Brewers are a strong batting team and they could score some runs in this game so taking some position players on top of Anderson wouldn't be the worst move.
Targets: Anderson, Thames
Tampa Bay Rays @ Cleveland Indians  – This game should be the best pitching match up of the day.  I like Carrasco and the Indians to outduel the Archer and the Rays.  Archer has been having a solid season this year and is the best arm in the Rays rotation. However Carrasco is having a great year and has a better lineup behind him.  Carrasco has an ERA of 1.86 with 42 strikeouts.  His WHIP is below 1, which is absolutely ridiculous for a pitcher. The Rays have hit .169 off of Carrasco in their careers where he has shut down Longoria.
Targets: Carrasco
High-Scoring Plays
New York Mets @ Arizona Diamondbacks – The Diamondbacks are one of the best offenses in baseball this year. Surprisingly the Mets' numbers aren't far off from the Diamondbacks which is impressive since all the stars for the Mets are injured.  However a game out west makes me want to take the Diamondbacks.  The only pitcher for the Mets that I have confidence in is deGrom.  Wheeler will lose this game and the Diamondbacks will rack up the runs quick in this one.
Targets: Owings, Goldschmidt
Atlanta Braves @ Toronto Blue Jays – Colon is pitching for the Braves who hasn't been great this year.  Colon doesn't have a ton of firepower behind him so it's not surprising that he is 1-4 on the year.  We know that Toronto has been struggling this year, but every now and again we see glimpses of what this team could be.  Look for one of those games to be tonight.  Bautista isn't hitting for average but he is starting to pick up his home run totals.  Look for the Blue Jays to jump all over Colon over in this one.
Targets: Bautista
Undervalued Plays
Matt Kemp – ATL – OF – Kemp is having a great year, batting .320 with 6 home runs.  There aren't a ton of games today so undervalued players are hard to find.  I like the Blue Jays to win this game, however the Braves should still score some runs with Kemp being in the middle of that.
Chris Owings – ARI- SS/OF – He is targeted above but I like Owings as a play in the outfield.  He has numbers that the top priced outfielders have.  Look for Owings to be a steal today as the Diamondbacks should pound on Wheeler and the Mets.  Owings is batting .311 with 5 home runs which is great numbers for a SS/OF combo.
Sign up for Sporfolio to gain access to NFL picks and DFS, NHL DFS, and MLB DFS spreadsheets!
Featured Image Credit:  Tyler Bolken / Flickr. C.C 2.0