We almost got to see our first no-hitter of the season last night, as Greinke destroyed the Pirates.  They finally broke through with their only hit of the game which was a home run.  Poor Gerrit Cole lost again as he got no run support and pitched very well.  Look for him to maybe be on the move this deadline.
Vargas shut down the Rays to lower his ERA to 1.01 which is phenomenal at this point in the season.  However he only struck out 4 batters.  Not to take anything away from Vargas, but Kimbrel – Boston's closer- fanned 5 batters in an inning and 2/3.  Yes, closers tend to have a higher strike out percentage, but only 4 K's over 7 innings…I've seen better.
It's Free Line Up Friday so let's get it going.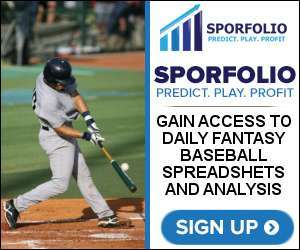 Low-Scoring Plays
New York Mets @ Milwaukee Brewers – The Dark Knight Rises! There are stories everywhere that Harvey is upset over an ex girlfriend, his mind isn't right, he's crazy.  I love Harvey in this game, where a lot of Met fans have wrote him off – as I did too.  However now that he told his team what was going on and laid everything out on the table, I like Harvey to come out and dominate.  Jay Bruce has been swinging the bat well, as the Mets are climbing the standings.
Targets: Harvey, Bruce
Baltimore Orioles @ Kansas City Royals – This game should be low scoring by the Royals.  The Royals are one of the worst teams in baseball so Bundy and the Orioles should win this game big.  Bundy has held right handed batters to an average of .246 and left handed batters of .253.  Of the batters on KC that Bundy has faced, no one has more than 1 at bat against him.  This is favorable for Bundy, and he should be a must-play today.
Targets: Bundy, Schoop
L.A. Dodgers @ Colorado Rockies – Kershaw is pitching for the Dodgers and we know how that goes.  Colorado has been strong this year, but Kershaw is the best pitcher in the game.  Every time Kershaw pitches he has to be in your lineup because you could miss out on him doing something incredible.  The Rockies have only hit .225 off of Kershaw with 7 home runs in 275 at bats.  Kershaw is a flat-out freak that should be a lock in your lineup.
Targets: Kershaw, Turner
High-Scoring Plays
Pittsburgh Pirates @ Arizona Diamondbacks – This game was low scoring last night, so I like it to go high today, at least for the Diamondbacks.  The Diamondbacks have a strong offense, with Chris Owings playing well batting .333 over the last week.  Goldschmidt has been under the radar the last week so look for him to have a big game in this one.  Tyler Glasnow is pitching for the Pirates and I'll just say it, he stinks.  Go heavy on the Diamondbacks.
Targets: Owings, Goldschmidt
Tampa Rays @ Boston Red Sox – Boston returns home after a 7 day road trip. They won yesterday thanks to Mookie hitting a 3-run dinger in the 9th inning.  Mookie has been playing great now that he is in the 1 hole.  Bogaerts had another multi hit day adding to his hitting streak.  David Price is on his way back, the line up is getting hot.  Look to start picking a lot of Boston batters.
Targets: Porcello, Betts, Bogaerts
Philadelphia Phillies @ Washington Nationals – Ever since the Nats scored 23, they haven't scored more than 7. They have the best offense in baseball, Zimmerman is playing lights out, Murphy is still hot from his postseason run with the Mets – I guess he's actually good – but the Nats are a great team.  Look for them to break out at home today vs the Phillies.
Targets: Zimmerman, Murphy, Harper
My DraftKings Lineup
SP – Kershaw – LAD
SP – Bundy – BAL
C – Posey – SF
1B – Napoli – TEX
2B – Schoop – BAL
3B – Rutledge – BOS
SS – Bogearts – BOS
OF – Ellsbury – NYY
OF – Beltran – HOU
OF – Betts- BOS
Sign up for Sporfolio to gain access to NFL picks and DFS, NHL DFS, and MLB DFS spreadsheets!
Photo Credit: Flickr user slgckgc. C.C. 2.0