Sunday is the day all Boston fans should have marked on their calendars.  David Price is making his first rehab start in Triple A.  Price coming back will be huge for Boston, as they trail the Yanks and O's in the standings. Price was dealing with a shoulder injury and anything from shoulder injuries to crossfit shin splints can put a halt on a pitcher.  The offense is there, Bogaerts had another multi-hit game last night as his hitting streak is up to 13.  Kimbrel is second in the league in saves.  Price is the last piece to the puzzle that could help Boston out.
Other than that it was a slow night in the MLB, we have only a few games today so lets break them down.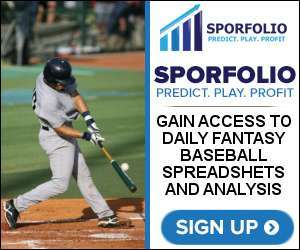 Low-Scoring Plays
Kansas City Royals @ Tampa Bay Rays – The Rays pounded the Royals yesterday 12-1 so naturally I would like them to stay low today.  It also doesn't help that they are facing Vargas who leads the league in ERA.  Longoria has 1 home run in 25 at bats against Vargas.  Tampa strikes out more than any other team in the MLB by a lot.  Vargas should be one of your pitchers as he should have a great game today.
Targets: Vargas
Baltimore Orioles @ Washington Nationals – Bundy is throwing for the Orioles who is having a great year so far.  He has faced a small amount of the Nationals, but has held them to an average of .173.  The Nats were able to squeak out a win last night to stop the 3-game losing streak.  The Orioles were able to put up runs on Scherzer and Strasburg so look for them to win this game.
Targets: Bundy, Machado
Pittsburgh Pirates @ Arizona Diamondbacks – This game should be the pitching match up of the day with Cole vs. Greinke. These two pitchers aren't the superstars that make the headlines every time they hit the mound, but they are the best pitchers for their respective clubs.  When either of these pitchers play I will put them in my lineup. Cole is 1-3 on the year only because his offense is terrible.  The Diamondbacks will win this game but it will be very low scoring by their standards.  Arizona is 10th in the league in scoring, and doing it without the long ball.  I would only play Greinke or Cole from this game and wouldn't go near the batters, as it should be a battle of the Aces.
Targets: Greinke
High-Scoring Plays 
Houston Astros @ New York Yankees – Two of the hottest offenses in the game are squaring off in the Bronx.  Dallas Keuchel is looking to move to 6-0 on the year, but he won't get there.  The Yankees have been red hot, especially at home this year.  At some point Keuchel is going to have to lose – he won't go an entire year winning, that just can't be done.  Judge hasn't hit a home run in the last 7 days so he is due for one.  He is also batting .350 off of LHP this season.  Beltran and McCann are both making their return to New York, where they should get a nice ovation. Look for the Astros to score some runs as well, but the young bucks in Pinstripes should be too much for Houston.
Targets: Judge
Seattle Mariners @ Toronto Blue Jays  – The Mariners have been hot scoring more than 8 runs 4 times in their last 6 games.  Cano left the other night with a hamstring injury which is always worrisome, however, didn't miss the game yesterday and he produced.  Cano is the best hitting second baseman in baseball. Yes, Murphy has been lights out the past 2 years but if I can take a second baseman at the plate to win me a game I'm taking Cano 11 times out of 10.  Look for Seattle to win this game with ease.
Targets: Cano, Cruz, Segura
Undervalued Plays
McCann – HOU – C – McCann is making his way back to Yankee stadium to play his former team.  I always love the storyline when the players go back to play their old teams and they usually do pretty well – like when Fowler returned to play against the Cubs.  Look for McCann and Beltran to have a good day today.
Posey – SF- 1B – Posey seems to be the only thing going for the Giants.  He doesn't have a lot of help around him in the lineup so he will be a risky play.  However for $3800 you can get a player batting .367 with 5 home runs. That's a steal.
Hamilton – CIN – OF – Hamilton is electrifying on the basepaths.  He can swipe a bag whenever he wants and turn doubles into triples.  Hamilton will be a great play against Blach, as no one has been caught stealing when he is pitching.
Sign up for Sporfolio for NFL Picks, NHL DFS picks and MLB DFS picks
Featured Image Credit: Keith Allison/Flickr C.C. 2.0