The Harvey Saga continues in Queens as his relationship with the Mets spirals out of control.  Met fans are sick of him because he hasn't backed up his actions over the past year.  Ever since the World Series where he couldn't close the door on the Royals he hasn't been the same pitcher.  After not showing up to the ballpark and spending a night out until 4 a.m. partying, Harvey is on thin ice.  Personally, I think this will be a wake up call for Harvey and he will come back from this suspension and dominate.  If he does, the Mets would be smart to trade him, however, the Mets' front office often makes questionable decisions and will probably overpay him.
We have a ton of teams in action today, with a bunch coming in the afternoon so look to get those lineups in early.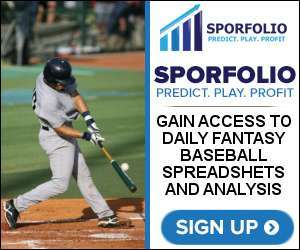 Low-Scoring Plays
Kansas City Royals @ Tampa Bay Rays – Chris Archer is pitching for the Rays and he should have a big game against the Royals.  He is the most expensive pitcher on the day, and that is because he is facing the worst offense in baseball.  Archer is 7th in the league in innings pitched so that right there will rack you up points as he goes deep into this game.  On the other side of this game, the Rays have struck out the most out of any team.  Look for this game to finish very low and either pitcher would be a good play.
Targets: Archer
San Diego Padres @ Texas Rangers – The Padres have not scored runs this year and are batting a whopping .220 on the year.  Yu Darvish should be licking his lips and looking to get a complete game in this one.  We know Darvish can be a star in this league and this could be the spark he needs this year.  This game should be nothing but a confidence booster for him pitching at home against a mediocre team.
Targets: Darvish, Odor, Napoli
Baltimore Orioles @ Washington Nationals – It isn't getting easier for the Orioles as they now have to face Strasburg one day after Scherzer.  Strasburg has faced the Orioles' stars, and has destroyed them.  Trumbo is the only one to hit a home run off of him but that is the only hit he has, batting .167 off of Strasburg.  Baltimore is one of the best teams in baseball right now and are winning games left and right.  I don't think they will win this game, the Nationals are too powerful and Strasburg is too good.
Targets: Strasburg, Harper, Murphy
High-Scoring Plays
Boston Red Sox @ Milwaukee Brewers – The Red Sox have been scoring runs, left and right these past couple of days.  The new lineup with Mookie leading off has been working for the team.  Bogaerts is on a 12-game hitting streak and is extremely hot.  Hanley didn't play last night as there was no DH so if he gets the start over Moreland at first, put Hanley in your lineup.  Kyle Kendrick is pitching for the Sox who's ERA is above 13! Thames hit a bomb last night in the first inning and look for him to get a hold of another one today.  Don't go near the pitchers in this game, if you can make a team of hitters from both teams do it.
Targets: Betts, Bogaerts, Ramirez (if starting)
San Francisco Giants @ New York Mets – The Mets have been hot, they have been scoring runs, and their starting pitching has been better.  The Giants are not good offensively, however, Tommy Milone is making his Mets debut in place of Rafael Montero.  Posey and Pence should be able to take advantage of Milone and beat the Mets.  The Mets have to come back down to earth at some point, and this may be the day.  They have an afternoon game so get your 'all-day' lineups in early to sneak in some cheap Giants players.
Targets: Pence, Posey
Pittsburgh Pirates @ L.A. Dodgers – The Dodgers should win this one big.  They are 4th in the league in runs scored and 9th in batting average.  Chad Kuhl is pitching for the Pirates who hasn't faced a lot of the Dodgers.  However both Turner and Seager have dominated Kuhl.  Maybe it's because the Dodgers usually play late at night and I'm asleep half way through their games – but they have been quiet.  Look for the Dodgers to get back to their slugging ways and take care of the Pirates handily.
Targets: Puig, Seager, Turner
Undervalued Plays
Hosmer – KC – 1B – There are a lot of 1st basemen out there that cost a ton of money.  Hosmer wouldn't be the worst play.  The Royals aren't a good team so the RBIs will have to come on home runs but Hosmer is hitting .281 off of right handed pitchers in his career.  It will be a tough game vs. Archer, but it could be a good play if you're struggling to put a lineup together.
Schoop – BAL – 2B – Schoop is batting .305 on the year with 5 home runs and 18 RBIs.  He has a tough game vs. Strasburg, but he won't be highly owned.  We have seen Stasburg struggle at times in his career and not look as strong as he could.  The Orioles have a good lineup and if players are being picked from the team it's going to be Jones, Machado, and Trumbo.  If the Orioles score Schoop will be in the middle of it and be a steal at a low owned percentage.
Shaw – MIL – 3B – Shaw is a player that I absolutely love.  Baseball enthusiast, Jared Carribis calls him the Mayor of Ding Dong City.  He was under looked coming into the league because he was in the same group of players as, Betts, Bogaerts, Benintendi and JBJ.  The Sox shouldn't have traded him because he was a great spark for their line up. At $3500 he has 7 home runs and 25 RBI's.  Shaw is a cheap 3rd baseman that will be a great play against his former team.
Beltran – HOU – OF – The Astros are sneaky good this year.  Everyone talking about the Yankees, Nats, and O's, the Astros have flown under the radar.  Beltran is hitting a little below average but at $3900 you can get a player that has put up numbers his entire career.  Look for him to have another strong game against a struggling Braves team.
Young – BOS – OF – If Young is in the line up he will be a great play.  He is extremely fast, can swipe a base, and score runs.  He has been playing in place of a struggling JBJ.  The Red Sox have been scoring runs and Young has been scoring them.  He bats at the bottom of the order which isn't bad now that Mookie is batting first.  If Young is on base there is a good shot he will be driven in by the top heavy lineup of Boston.
Sign up for Sporfolio for NFL Picks, NHL DFS picks and MLB DFS picks
Photo Credit: Keith Allison/Flickr C.C. 2.0