The Sunday Night Baseball game went 18 innings last night as the Cubs and Yankees battled it out.  Chapman blew a save last night as he drilled Anthony Rizzo in the wrist and walked in the tying run.  This sparked a major debate all over twitter on who is a better closer, Chapman or Wade Davis.  At the end of the argument, you can swing it either way, they are that close in stats.
Chris Sale had another game where he struck out 10 batters. He has 20 more strikeouts than the next highest pitcher, Clayton Kershaw.  Sale has been on a tear this season and looks to be a great acquisition by Boston.  Once Price comes back this team should be going on a run.  The Red Sox also scored 10 runs in the 9th last night to help solidify their win.
We only have a couple of games today so it should make your decision on lineups a little bit easier.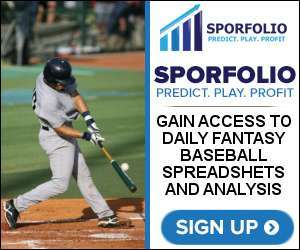 Low-Scoring Plays
Chicago Cubs @ Colorado Rockies – Jake Arrieta has had success against the Colorado Rockies.  As a team the Rockies have only hit .222 off of Arrieta.  Trevor Story has had 3 at-bats against Arrieta and they have all been strikeouts.  Antonio Senzatela is pitching for the Rockies, and he has never faced the Cubs. He is 4-1 on the on the season, with a 2.82 ERA.  You would like his ERA to be a little lower, however his WHIP is a tremendous at 1.0226.  The Cubs went into 18 innings last night and then had to travel to Colorado.  Look for them to be sluggish, and the Rockies to take this game here.
Targets: Senzatela, Gonzalez
New York Yankees @ Cincinnati Reds – The Yankees are coming off of an 18 inning game, however, their travel time between Chicago and Cincinnati isn't that far.  Tanaka is throwing for the Yanks who is having a very strong year.  The Reds aren't that great of a ball club and Tanaka should have his way with them.  The Yankees are 8-2 in their last 10 games.  After a long one yesterday and a hot streak that will have to end I like the Reds in this game, very low scoring.
Targets: Rookie Davis, Votto, Hamilton
San Francisco Giants @ New York Mets – deGrom seems to be the only thing the Mets have going in their rotation.  Syndergaard is hurt, Harvey is suspended, Matz is hurt, and they are in shambles.  Luckily the Giants are not doing anything at the plate.  The Mets got blanked last night and should score some runs tonight.  This game will be low scoring by the Giants.  Look to take a couple of Mets hitters and deGrom.
Targets: deGrom, Reyes, Bruce
High-Scoring Plays
Washington Nationals @ Baltimore Orioles – Gausman is pitching for the Orioles and he hasn't had a strong performance against the Nationals.  The Nats are hitting .341 off of Gausman and he has never got Trey Turner out. In 45 plate appearances the Nationals have only struck out 3 times against Gausman.  We know what the Orioles' lineup can do as they mash the ball.  Gio Gonzalez is having a strong season and will have to pick up a loss at some point.  However, all the National players are hitting above average and with a pitcher that can't strike them out isn't a good sign.
Targets: Murphy, Turner, Zimmerman, Werth
Kansas City Royals @ Tampa Bay Rays – Blake Snell is a young arm in the Rays rotation.  Snell is 0-2 on the year and has only made it out of the 5th inning twice this year.  This will make Tampa turn to their pen which isn't that stellar.  They have an ERA of 4.29, with a .253 batting average against.  The Royals can score either off Snell or Tampa's bullpen and be in great shape.
Targets: Cain, Hosmer, Moustakas
Undervalued Plays
Perez – KC – C – I like the Royals to win this game pretty big against the Rays.  Their catcher, Perez is batting .245 with 6 home runs.  Look for him to have a solid game with a couple of RBIs.
Bellinger – LAD – 1B – If Bellinger is in the starting lineup, take him.  He is a rookie batting .357 with 5 home runs The Dodgers are 7-3 with him in the lineup and he could be in the majors to stay for a while.  Keep on picking him until his price rises.
Cain – KC – OF – He is targeted above but he is leading the Royals in batting average this season.  A team that  should jump all over Snell and that weak bullpen in Tampa.  Cain should be the catalyst that helps the Royals win today.
Stack – In a day where the pitchers aren't that expensive, there should be a lot of money left over for your lineup.  Daniel Murphy, Trea Turner, and Ryan Zimmerman would be your best stack of the day and then build the rest around them.
Sign up for Sporfolio for NFL Picks, NHL DFS picks and MLB DFS picks
By Arturo Pardavila III from Hoboken, NJ, USA (#WorldSeries Game 2: Jacob deGrom) [CC BY 2.0], via Wikimedia Commons