The New York Yankees continue to win.  After last night's victory, they now have the best win percentage in baseball.  This makes me sick: the Yankees weren't suppose to be good this year.  They have done it without two key components in Bird and Sanchez, too.  The Yankees are rumored to land Bryce Harper when he becomes a free agent, have incredible young talent, and are another top pitcher away from winning 10 straight World Series.  Syndergaard, deGrom, Harvey are all due for contracts soon, and the Yankees won't be afraid to throw cash their way.  Enjoy baseball now everyone because the New York Yankees are here to take over.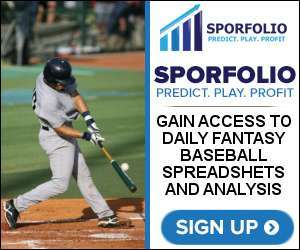 Low-Scoring Plays
Pittsburgh Pirates @ L.A. Dodgers – Ivan Nova is pitching for the Pirates who is 3-3 on the season.  Nova leads the league in walks per 9 innings at .214, the next closest is Kershaw at 1.295.  The Dodgers are 6th in the league with walks which is one of their main sources of runs as they are 24th in home runs hit.  Nova is also in the top 10 in ERA this year at 2.14.  Pittsburgh is 27th in the league in runs scored and batting .236 as a team this year.
Targets: Nova
Washington Nationals @ Baltimore Orioles – Scherzer is pitching for the Nationals who is one of the best values in Daily Fantasy Points.  Scherzer is the in the top 3 pitchers this year behind Kershaw and Sale which where he stands in the strikeout ranking.  Baltimore is a team that is number 11 in the league for most strikeouts.  Baltimore is also only batting .250 as a team which benefits Scherzer.
Targets: Scherzer, Zimmerman, Turner
San Francisco Giants @ New York Mets – The Giants are last in the league in home runs which has been a downfall for the Mets' pitching staff this season.  Zack Wheeler was once a promising star in the Mets rotation.  At 1-2 this season look back for him to get back to his promising ways.  I wrote the Mets off about a week ago but Reyes and Bruce have been playing well and are leading the team to wins.  Jeff Samazrdzija is pitching for the Giants.  He is 0-4 on the season and he is due for a good start and to pick up his first win.  I don't think he will get it because the Giants offense is that bad but he should have a good outing nonetheless.
Targets: Wheeler, Bruce, Reyes
Detroit Tigers @ Arizona Diamondbacks – Verlander vs Ray should be the pitching match up of the day.  Verlander isn't putting up his usual numbers yet, but he should be settling into a grove this season and begin to climb the leader board in stats.  Robbie Ray is a great arm in the Diamondbacks' rotation as he is tied for 5th in strikeouts.  Detroit has been striking out a lot as a team this year so Ray should have a good day pitching at home.  I think Verlander is a better play, and you should try to make him fit into your lineup.
Targets: Verlander, Cabrera
High-Scoring Plays
Boston Red Sox @ Milwaukee Brewers – Somehow Drew Pomeranz is 3-1 on the season as he has let up a ton of home runs in the first inning this year.  The Red Sox have supported him with runs all year and scored 10 in the 9th the other night.  Leon is swinging the bat better and the lineup has been altered by Farrell.  Betts is leading off followed by Pedroia who is naturally a 2nd hitter. The Brewers are crushing the ball this year and Pomeranz loves to toss batting practice and watch the ball sail out of the ball park.  This should be the high scoring game of the day.
Targets: Braun, Thames
Texas Rangers @ San Diego Padres – Jered Weaver is pitching for the Padres who is 0-3 on the year.  The Rangers should tee off against Weaver on what will be a warm night in San Diego.  Texas is 4th in the league in home runs which is what they rely on since their batting average is .219.  Look to stack Napoli, Chirinos, and Gallo in your line up.
Targets: Odor, Napoli, Gallo, Chirinos
There aren't many games that I love to be high scoring, if you can stack your team with batters from the Rangers, Brewers, Red Sox, and Nationals you should be in good shape.
Undervalued Plays
Leon – BOS – C – Leon went into a massive slump the past couple of weeks after starting the season hot.  Last game he hit two home runs and looks to be getting his swing back.  In a lineup like Boston's Leon would be a good play.
Schoop – BAL – 2B – Like Leon, Schoop is surrounded in by a great lineup.  He is batting just under .300 with 5 home runs this year.  I don't like the Orioles to do much off of Scherzer, but if you need to save money on a player look to turn to Schoop as he can get 3 singles and have a solid day without ruining your play of Scherzer.
Chris Owings – ARI – SS /OF – A player that you can fit into two different positions is always a good play.  He is batting .300 on the year on an offense that is scoring a ton of runs.  He has 5 home runs and 21 RBIs, averaging 8.7 points per game.
Sign up for Sporfolio for NFL Picks, NHL DFS picks and MLB DFS picks
Featured Image Credit: Keith Allison/Flickr C.C. 2.0