A nearly-full slate of Sunday games shifts to Saturday to avoid playing too many games on Christmas Day, and we are left with a quick turnaround between Thursday Night Football and twelve more games of NFL action. The odd schedule also allows for an abnormally high amount of contest start times from daily fantasy websites, as there are combinations of games that include everything from Saturday afternoon through Monday night and as few as only the pair of games on Sunday.
If there is a specific time slot in which you want to play, it appears clear that there will be a tournament for you.
Merry Christmas, Happy Holidays, and good luck!
Sporfolio's NFL Daily Fantasy Sports game-by-game analysis columns are driven by expected game flow. Based on a combination of our Week 16 NFL picks against the spread and our expectations for a given game, we project the actions necessary to make these picks come to fruition. We aim to pinpoint players integral to our predicted game flow for each game of the week.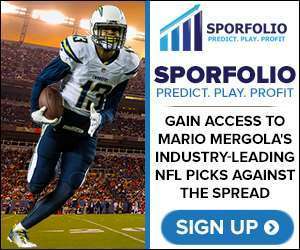 Luke May is Sporfolio's NFL DFS expert, and Mario Mergola operates Sporfolio as the expert for NFL Picks Against the Spread.
Indianapolis Colts at Oakland Raiders
Luke's DFS Take: In what should be one of the best games of the weekend for both fantasy football and actual on-field excitement, the Colts and Raiders bring their high-powered offenses and weak defenses to the field on Saturday afternoon. With points expected all around, the combinations of Andrew Luck with T.Y. Hilton and Derek Carr with Amari Cooper and Michael Crabtree are all in play. I am most intrigued by using Cooper, this weekend, as he received only three targets in Week 15 – for one reception. He has been in a relative slump, of late, but is in a fantastic position against a poor secondary on Saturday.
Mario's DFS Take: As maddeningly inconsistent as the Colts have been, all season, the centerpiece of their offense is – and will remain to be – quarterback Andrew Luck. Everything flows through his ability to move the football, and he is potentially the top quarterback of the day against a Raiders defense allowing the fourth-most net-yards-per-pass-attempt in the league. As usual, Oakland allowing points tends to lead to it scoring points, where the offense thrives in shootouts. Derek Carr slides in as another quarterback to consider, with Michael Crabtree and Amari Cooper looking to benefit. Cooper is the player that has my attention, as he is averaging 3.67 catches-per-game and 41.8 yards-per-game over his last six contests, and is poised to break out at any moment. With Denver on deck to close the season, Cooper would be wise to take advantage of a weak secondary on Saturday.
Denver Broncos at Kansas City Chiefs
Luke's DFS Take: Although Sunday Night Football brings one of the best matchups of the weekend, I am not as excited about the fantasy prospects that would emerge. With playoff implications on the line for both teams, the Chiefs and Broncos will need to rely on their respective strengths – their defenses. Clearly, both defenses are in play for what-should-be a tight, low-scoring matchup. Offensively, the yards will need to come from the ground game, as passing on either secondary is nearly impossible. Spencer Ware is the play from Kansas City, but the duo of Devontae Booker and Justin Forsett is a little too tricky to project. Booker had success against the Chiefs a few weeks ago, but Forsett has been stealing touches, lately. Monitor this situation prior to Sunday night for any suggestions on usage but, if nothing appears clear, stay away.
Mario's DFS Take: I am all-in on Denver playing a competitive game on national television and beating the spread – if not winning outright – but such an event would have to fall completely on the Broncos' defense. Thankfully, this is a reasonable exception, as Denver completely shut down Kansas City's offense when the two teams last met. Indeed, the final score indicates that Denver allowed 30 points, but nine came from special teams and defense, while another six were tacked on in overtime. During the 60 minutes of regulation, only 15 points were scored by Kansas City's offense. Since points need to come from somewhere, I am strangely intrigued by rolling with Devontae Booker, even though Justin Forsett led the team in touches, last week. Kansas City has allowed at least 99 rushing yards to opponents in nine consecutive games, and Booker's most productive game of the season – in yards from scrimmage with 101 – came against the Chiefs.
Read More Daily Fantasy Football Content On Sporfolio
By Erik Drost (Flickr) [CC BY 2.0], via Wikimedia Commons