With six teams on bye weeks and an early-morning Sunday game in London, we have one of the lightest slates of the year in Week 8. Only eleven games – ten if you partake in DraftKing's Millionaire Maker tournament – are featured in this week's column.
As was our belief in Week 7, there are a relatively large number of 'equal' matchups, where strength is pitted against strength on opposite sides of the ball. Of course, there are the exceptions, and this is where we aim to find the buying opportunities. Thankfully, while there might be a shorter list of teams to target, those worth mentioning are absolutely worth owning, as well.
Sporfolio's NFL Daily Fantasy Sports game-by-game analysis columns are driven by expected game flow. Based on a combination of our Week 8 NFL picks against the spread and our expectations for a given game, we project the actions necessary to make these picks come to fruition. We aim to pinpoint players integral to our predicted game flow for each game of the week.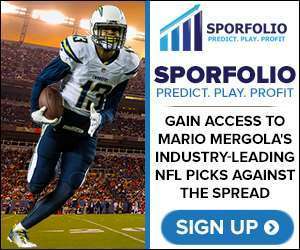 Luke May is Sporfolio's NFL DFS expert, and Mario Mergola operates Sporfolio as the expert for NFL Picks Against the Spread.
Arizona Cardinals at Carolina Panthers
Luke's DFS Take: Who would have guessed that the 15-1 Panthers of last season would be 1-5 at this point of the season? While it is appearing more and more unlikely for them to make the playoffs, I'm not fully ready to give up. And Sunday would be as good an opportunity as any to rebound. Carolina is coming off its bye week and facing one of the better teams in the conference. If the Panthers could find a way to win – I think they will – they just may be able to string together some victories and make a run at the division title. For this to happen, it will almost certainly be on the shoulders of Cam Newton and Jonathan Stewart – fully healthy now – even though Stewart does not have the best statistical matchup, this week. The other route to victory will need to be through the receiving game of Kelvin Benjamin and Greg Olsen. For Arizona, David Johnson is matchup-proof and, while the Panthers' run defense has outplayed its pass defense, Johnson is a dual-threat running back that can tear apart defenses in numerous ways. Larry Fitzgerald is another top choice by virtue of being the only wide receiver that has remained healthy and a focal point of the offense, so far. Depending on the statuses of John Brown and Michael Floyd, J.J. Nelson could be an interesting 'sleeper' on Sunday. His workload increased dramatically, last week, and was able to turn a few extra snaps into big plays. Such an asset is key for both the Cardinals' high-flying plan-of-attack and the Panthers' vulnerability through the air.
Mario's DFS Take: While my initial thoughts about the Carolina Panthers coming off a bye week involved the opportunity to recover from a putrid start, I slowly converted to the beauty that is the Cardinals' matchup. Arizona is coming off one of the most inept offensive performances of the season – a 6-6 tie – but was playing one of the league's best defenses from Seattle. Conversely, the Panthers feature the fourth-worst scoring defense and provide the perfect rebound opportunity for the Cardinals. All of Arizona's typical fantasy options are in play – Carson Palmer, David Johnson, and Larry Fitzgerald, among the top choices – as the Cardinals are generally dominant prior to a bye week – in Bruce Arians' three previous season, his teams are 3-0 before heading into a bye week, averaging 28 points-per-game in said contests.
Seattle Seahawks at New Orleans Saints
Luke's DFS Take: Sunday's contest between the Seahawks and Saints presents one of the easiest decisions of the week – tight end Jimmy Graham is essentially a must-play. Seattle is coming off an absolutely futile effort on Sunday Night Football and gets a significantly easier matchup, this week. Graham has asserted himself as a key cog in the Seattle offense and, most importantly, is going back to New Orleans to play the team that traded him away after asserting himself as one of the premier pass-catchers in the game. Everything that we look for in a player for fantasy purposes points to the use of Graham on Sunday. Just one week ago, we made the claim that Drew Brees and the Saints' offense was a good play against virtually any defense, but he will be put to the test against Seattle on Sunday. The 'Legion of Boom' has been absolutely dominating teams in 2016 and, while I expect the Saints to do something on Sunday, it won't be enough to justify the risk. In fact, the explosiveness of Graham and the Seattle offense against the horrible Saints defense suggests a potentially one-sided game in which Christine Michael has a big impact both during and after the Seahawks' attack of the scoreboard. Graham and MIchael are no-doubt options for me in Week 8.
Mario's DFS Take: Strength against strength. On Sunday, the Seahawks will take their top-ranked scoring defense on the road to face Drew Brees and the Saints' top-three offense – in both yards and points. Quite frankly, it appears unlikely that one side completely dominates the other, but the sneaky side of the game is Seattle's bottom-five scoring offense against the league's worst scoring defense in New Orleans. After Seattle scored a total of six points through 75 minutes of game time on national television in Week 7 – only three points through regulation – an explosion is in the works. In fact, the last time the Seahawks were held to a single-digit final score – Week 2 against the Rams – they rebounded with 37 points against the poor defense of San Francisco. Sunday will be no different, but it is highlighted by the near-perfect 'revenge play' of tight end Jimmy Graham. Graham was traded from New Orleans prior to the 2015 season after having fantastic success in the Saints' offense, and now returns to face his former squad and its horrific defense. In fairness, almost everyone from Seattle is in play – Russell Wilson, Christine Michael, and Doug Baldwin – but Graham is arguably the must-start player of the week.
Photo Credit: Michael Wifall/Flickr https://www.flickr.com/photos/xoque/3927612457