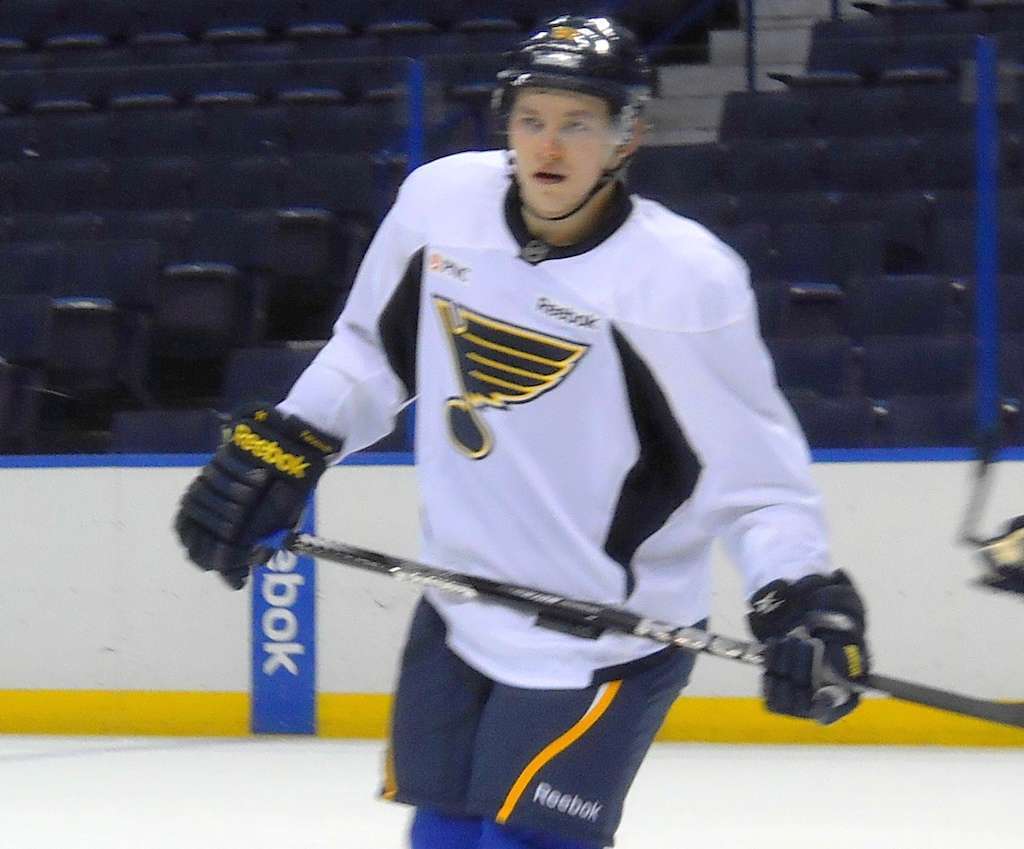 Latest posts by Tom Fitzgerald
(see all)

Tonight's daily fantasy hockey tournaments feature an eleven-game slate with some teams we can easily target and pick on. It also gives us a chance to embrace some of the risk we have mentioned in previous DFS hockey morning coffee pieces.
The three games I am most interested in tonight are:
Calgary Flames @ St. Louis Blues
Carolina Hurricanes @ Detroit Red Wings
Winnipeg Jets @ Dallas Stars
Morning Coffee Caveat: players like Patrick Kane – and his line – Tyler Seguin, Alex Ovechkin, Steven Stamkos, Sidney Crosby, Jamie Benn, Conor McDavid are always in play even if I don't specifically list them. We know they are the top scorers in the league and their price tags reflect that – I'll leave it to you how much cap space you want to use on any one player.
The reason I chose these games is because they have some of the biggest favorites on the board, I can see goals from both sides, and I also see an opportunity to ride an underdog to the top of some GPPs.
St. Louis is the favorite at home against Calgary. I'm going to attack both sides of this game. Calgary is fifth in the league with 20 goals and dead last in goals against with 28. They are on the second night of a back-to-back and should be ripe for the picking by a St. Louis offense that's eighth in the league with 19 goals.
St. Louis has a power play percentage of 26.1% and is tied for second in the league with six power play goals. Calgary is second-worst in the league with eight power play goals against. You can see where this is going — I'm stacking some version of the first power play unit of the Blues:
Jaden Schwartz $5.1K (1A, 5 SOG) — only two games played
Paul Stastny $5.6K (3G, 4A, 2 PPP, 4 PPP, 9 SOG)
Vladimir Tarasenko $7.9K (4G, 3A, 1 PPG, 3 PPP, 31 SOG)
Alex Steen $6.6K (2G, 5A, 2 PPP, 12 SOG)
(D) Kevin Shattenkirk $5.5K (1G, 3A, 1 PPG, 4 PPP, 13 SOG)
or
(D) Alex Pietrangelo $5.9K (1G, 3A, 1 PPG, 3 PPP, 12 SOG)
David Perron ($5K) had a hat trick when these two teams played on Saturday night leading St. Louis to the 6-4 victory. Keep him on your radar tonight.
(keep your eye on the most up to date lines to take full advantage of the St. Louis PP)
Because St. Louis is such a big favorite (-200 at the time of this writing) I think we can get some of Calgary's offensive fire power at a greatly reduced ownership percentage. I am certainly going to embrace the risk of using Calgary skaters in GPPs.
Johnny Gaudreau (1G, 2A, 24 SOG)
Sean Monahan (3G, 1 PPG, 1 PPA 15 SOG)
Troy Brouwer (3G, 2A, 1 PPP, 1 SHG, 11 SOG)
Sam Bennett (1G, 2A, 1 PPG, 10 SOG)
(D) Dougie Hamilton (2A, 1 PPP, 19 SOG)
(D) Mark Giordano (1G, 4A, 1 PPP, 16 SOG)
are the players I'll look to for DFS goodness tonight.
This brings us to the Calgary goaltender situation, and it's not a situation for the faint of heart – although Elliott was damn good last night and made one hell of save against Panik in the waning seconds against Chicago. No one is going to be on Chad Johnson (or Brian Elliott) — make sure you check who is starting tonight. Even last night, on a two-game slate Brian Elliott was only 9.3% owned. As we saw last Thursday when Varlamov was the massive underdog — he was able to put up a shutout at .06% ownership — and it took down FanDuel's $3 GPP for a cool $10,000. Of course the risk is big, but it could be the bold move that drives a winning lineup.
Click here to sign up for Sporfolio to see more daily fantasy hockey picks and get Mario Mergola's NFL picks against the point spread. 
Featured Image Credit: By Scott Haselius (Flickr: vladimir tarasenko 5) [CC BY-SA 2.0], via Wikimedia Commons