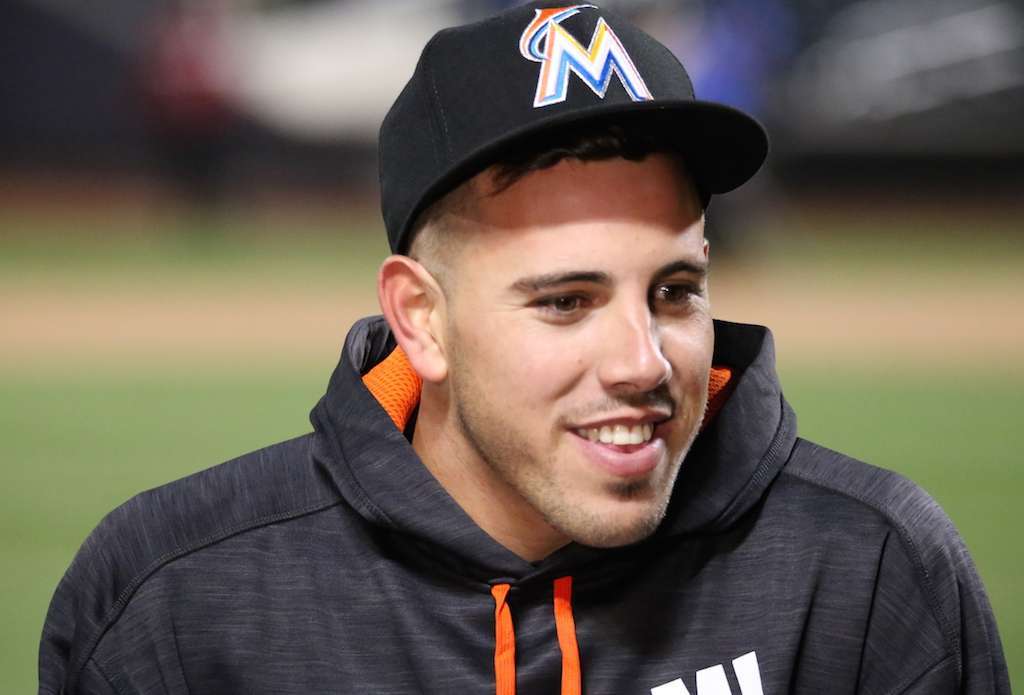 Latest posts by Michael Clifford
(see all)

Live for any length of time and tragedy is sure to follow. This is just a fact of life. Usually, though, there is a natural order of things. First, it is grandparents, or great-grandparents, or a friend's grandparents, then parents or a friend's parents, and so on. This natural order helps, in a way. It is the way things are supposed to happen. When these tragedies hit, it is surely a loss for all affected, but it is nonetheless an expected aspect of life. These losses in life, and of life, are a bit easier to swallow when it's something that is expected.
Waking up to texts on Sunday morning that were some variation of, "HOLY SH*T JOSE FERNANDEZ" wasn't necessarily abnormal. As Ben Lindbergh pointed out in his column for The Ringer, if you work in sports, these types of texts are par for the course. I knew Fernandez wasn't scheduled to pitch Saturday night, so maybe it was a long extra innings game where he had to come into pitch and did something extraordinary? Was it a pinch-hit home run? What did I miss?
The ensuing Google search was a gut-punch.
There is no real way to put into words the reaction to this. Here is a young man, just turned 24 years old this MLB season, that wouldn't return to the field. But it's a young man I did not know personally. I hadn't watched him pitch live. The connection between Fernandez and myself was limited to MLB.TV and the next day's highlights.
Why did this feel different? This isn't a grandparent, a parent, a friend, a teammate, or a co-worker. This is someone I had never seen outside of the pixels of a laptop or a television. But this didn't feel like the passing of any athlete.
It is a loss that hasn't really been seen before. In a year that has seen the passing of all-time legends like Muhammad Ali, Gordie Howe, and most recently Arnold Palmer, this felt different. This was a kid that we can remember hearing his story, being drafted, dominating as a rookie, overcoming Tommy John surgery, and becoming a face of baseball. In an era where almost everything is recorded, this was a young man whose journey we felt a part of, even from thousands of miles away.
And it wasn't just another ace. There are aces like Clayton Kershaw and Max Scherzer who are dominant just like Fernandez was. Watching them pitch can be as electric as watching anyone in baseball. But watching Fernandez wasn't just watching an ace pitch; it was an experience.
That experience of watching Fernandez was what made him special. As Grant Brisbee wrote, it was the sheer joy exuded from Fernandez while playing the game he loved. Anyone who watched him pitch couldn't help but have that joy wash over them for five, six, seven or eight innings. For those innings, Fernandez reminded fans and viewers with the reason why we love sports in the first place: they're fun.
The reminder of how fun sport can be is why this is a loss that is hard to come to terms with. "Never meet your heroes," the saying goes. Sports heroes can disappoint. Now that almost everything is recorded, we find out when players are charged with domestic/sexual assault. We find out when they fail drug tests. We find out when they're generally poor examples to set for the children who look up to them. Fernandez was none of these things. He was the example for children to look up to. Go out, play your hardest, but have fun. Even in a bench-clearing brawl, Fernandez managed to provide us with a fantastic moment of reprieve, an example to look up to, when it was chaotic all around:
— Michael Baumann (@MJ_Baumann) September 25, 2016
This is selfish, of course. The real loss here is to the young family he leaves behind, the mother and grandmother who helped shape the wonderful young man he would become, the teammates who viewed him as a brother, and all the people he touched personally along the way. He helped organizations who fight childhood cancer, he invited kids to the ballpark for every Sunday home game the Marlins had, and just generally provided the positive example that we hope for from athletes. In a world filled with people pretending to be the good guy, he was the good guy.
All of this is what makes the passing of Fernandez so difficult. This isn't the natural order of things. He wasn't supposed to be taken from his family, and from us, just yet. And good things are supposed to happen to good people.
And that's the worst part of this, from a selfish baseball fan. We were supposed to have years to enjoy Fernandez's enthusiasm. We were supposed to watch him grow from a rookie, to a young face of the game, to a reliable veteran, and likely to the Hall of Fame. We were supposed to follow him from Rookie ball to Cooperstown. And now we're left with highlights.
"HAPPY FERNANDEZ DAY," was something I would often tweet on days of his starts. Again, it wasn't just watching an ace go to work on the mound. It was watching a young man dominate the opposing lineup, with an ear-to-ear grin while doing it. He didn't do this out of malice, or to provoke the opposing lineup. It was done because he was so happy to be where he was, doing what he loved, in a community that embraced him.
These words wash over what he meant to others, of course. He was specifically a great role model for the Cuban community. I can't speak to this personally, so it's best said by those who were directly affected by him.
Life goes on. As with tragedies we endure in our personal lives, eventually, the pieces have to be picked up, and we move on. There are baseball games today, and there will be more tomorrow. There will be another ace that comes along and captivates fans. But not like Fernandez.
This loss hurts. In a world where we are constantly bombarded with the negative, he was a constant bombardment of positive. This was a player who brought joy to Marlins fans and non-Marlins fans alike. It is some small consolation that this sheer joy will be his lasting legacy.
Featured Image Credit: By Arturo Pardavila III on Flickr [CC BY 2.0], via Wikimedia Commons