One of the focal points of Week 3's NFL picks column was the misalignment between a team's record and its actual on-field play. The theme is enhanced when carrying it into fantasy football analysis, as the league's respective rankings fail to consider each team's strength of opponent.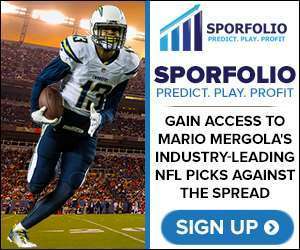 Baltimore has, statistically, an incredible defense. That is, until we factor in the offenses the Ravens faced – Buffalo and Cleveland. Conversely, Washington has been torched – comparatively speaking – until we consider that Pittsburgh – one of the game's elite offenses – opened up the scoreboard in the second half on Opening Day. These disconnects continue to yield outstanding buying opportunities for fantasy owners.
Sporfolio's NFL Daily Fantasy Sports game-by-game analysis columns are driven by expected game flow. Based on a combination of our Week 3 NFL picks against the spread and our expectations for a given game, we project the actions necessary to make these picks come to fruition. We aim to pinpoint players integral to our predicted game flow for each game of the week.
Luke May is Sporfolio's NFL DFS expert, and Mario Mergola operates Sporfolio as the expert for NFL Picks Against the Spread.
Arizona Cardinals at Buffalo Bills
Luke's DFS Take: Despite the Cardinals' explosive demonstration last week and the Bills' defense getting carved up by the Jets, Arizona's offense is still a risk. Rex Ryan is a defensive specialist and, with his team clearly not playing up to its caliber, it is hard to imagine the Bills would fall to 0-3 without, at least, putting up a fight. Both teams posses strong enough defenses to use, with Arizona getting the slight edge due to its matchup with the Bills' offense.
Mario's DFS Take: I am all-in on the Bills locking up the Cardinals in a tight game, if not an outright win. I mentioned Rex Ryan's success against Carson Palmer in my Week 3 picks article, so downgrading the Cardinals' offense is a must. Buffalo's defense is a nice 'sleeper' pick, with LeSean McCoy standing along as the only offensive player to consider.
Atlanta Falcons at New Orleans Saints
Luke's DFS Take: Monday Night Football between the Atlanta Falcons and New Orleans Saints screams, "Shootout," as it features two strong passing offenses against two weak defenses. This was also the case, last week, when the Saints played the Giants, where both offenses proved to be major disappointments. In keeping with the comparison, I'm not 100 percent convinced that we will see a shootout, but the usual suspects would benefit if one does emerge. For the Falcons, it's Matt Ryan, Julio Jones, and maybe Mohamed Sanu. For the Saints, Drew Brees, Brandin Cooks, and Willie Snead are the first looks. If I were to buy into the game and its high-scoring potential, a deeper look produces upside for the tight ends. Atlanta's Jacob Tamme has 16 targets through two weeks, and New Orleans' Coby Fleener had 8 targets in Week 2, despite little production. Brees' confidence in Fleener is a great indication that he has not yet reached his value. Don't be surprised if that changes on Monday night.
Mario's DFS Take: Like the Colts and Chargers, the Falcons and Saints elicit the feeling that a high-scoring affair is on the horizon, but will likely fail to deliver as expected. Five of the last seven meetings between these two NFC South rivals have included one team scoring no more than 17 points, while last season's Week 17 contest yielded a final score of 20-17. If an exception exists, it is Drew Brees, as his Saints have been utterly dominant in home Primetime games. Brees, specifically, has a career average of 319.25 yards-per-game with a 69.2 completion percentage, 32 total touchdowns and ten interceptions when New Orleans hosts Monday Night Football.
[Sign Up For Sporfolio For More Daily Fantasy Football Insight]
Featured Image Credit: By Georgia National Guard (Flickr: Playoff Pass) [CC BY 2.0], via Wikimedia Commons