After Friday's showcase of 'aces,' Saturday provides significantly fewer pitchers to target. However, with games spread out through the afternoon and night, options are still plentiful.
Currently, we are using xFIP and wOBA simply to compare one pitcher's performance against another – especially against opposite-handed hitters. We aren't using these numbers for calculation. To help with some calculations, we have assumed that each hitter and pitcher has played at least one game. Each pitcher was assigned an innings total relative to his average projection.
Check the starting lineups and weather reports prior to making any plays, as these change without notice.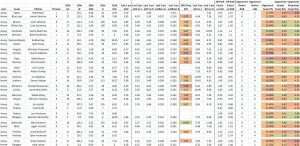 Projected Low-Scoring Games
Atlanta Braves at Chicago White Sox – One day after Matt Wisler and Chris Sale combined for fourteen earned runs – remarkably, Sale had the lion's share with eight – Julio Teheran and Jose Quintana are tasked with stopping the bleeding. Thankfully, both offenses popped on Friday night, and are poised to regress against two of the most quietly effective pitchers in the game. Both pitchers tout excellent ERAs and high strikeout rates, and the setup is ideal for a low-scoring game throughout.
Targets: Julio Teheran and Jose Quintana
New York Yankees at Cleveland Indians – The inevitable slip by CC Sabathia is now well underway, as the Yankees' starting pitcher has watched his 2.20 ERA balloon to 3.48 via 16 earned runs over his last three starts. While the regression was expected, so, too is the recovery. Sabathia has, indeed, thrown a large number of gems in 2016 – four scoreless outings and seven games in which he has allowed two earned runs or fewer – and his overall season work should outrank his recent speedbump. Danny Salazar is traveling a similar path, although starting at an even more impressive point. Despite raising his ERA since mid-May, Salazar is still in the middle of truly dominant campaign. Both pitchers shine on Saturday.
Targets: CC Sabathia and Danny Salazar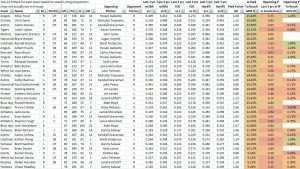 Projected High-Scoring Games
Minnesota Twins at Texas Rangers – The return of Kyle Lohse to Major League Baseball should send Minnesota's hitters sprinting to the stadium. When Lohse last toed the rubber, it was to conclude a horrific 2015 season with a 5.85 ERA. Conveniently enough, Ricky Nolasco's 2016 ERA is only slightly better, sitting at 5.26. Neither pitcher projects to stifle the opposing offense, leaving bats from Minnesota and Texas as prime targets, especially in a hitter-friendly ballpark.
Targets: Minnesota Twins and Texas Rangers Hitters
Seattle Mariners at Kansas City Royals – With Friday's matchup failing to produce the expected high-scoring contest, Saturday presents the next opportunity to buy hitters in Kansas City. Once again, neither Edinson Volquez nor Wade Miley sport high strikeout rates, and the lower of the two ERAs sits at 4.87. In addition, of Friday's five combined runs, two were scored on a wild pitch, leaving hitters out of the equation. Both offenses thrive on Saturday.
Targets: Seattle Mariners and Kansas City Royals Hitters
Undervalued Plays
Robbie Ray – Any offense that rarely strikes out is always a risk to oppose with a starting pitcher. That is, unless the pitcher, himself, carries an exceptionally high strikeout rate. Robbie Ray fits the mold on Saturday, and gains the undeniable boost of pitching in San Francisco – baseball's most extreme park in limiting power – after throwing in his own hitter-friendly ballpark for the last two games. Ray's ceiling is as high as anyone's on Saturday, carried largely by his sneaky strikeout potential.
Tampa Bay Rays Hitters – Tampa Bay's propensity to go on streaks leaves its offense as a high risk-reward target. When facing a pitcher whose performances are nearly as inconsistent, a buying opportunity arises. Since the beginning of May, Rick Porcello has pitched to a 4.30 ERA, allowing at least four earned runs in four of his last ten starts. Most importantly, Porcello just dominated the Rays two starts ago, with a repeat performance highly unlikely in such a short span.
Featured Image Credit: By Keith Allison (001H0783) [CC BY-SA 2.0], via Wikimedia Commons