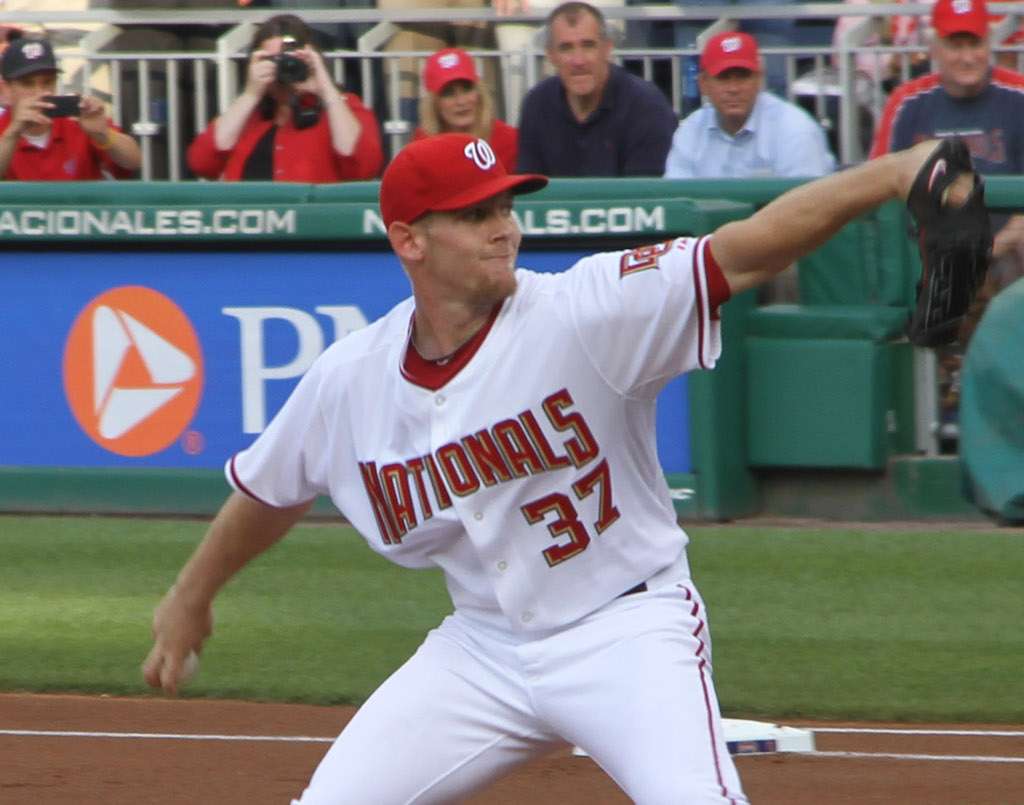 Latest posts by Mario Mergola
(see all)
There is no shortage of pitching on Friday, as 'top aces' highlight a full night slate. In addition, some of the best pitchers in the game will be throwing in perceived 'one-sided' contests, where caution should be used before diving in completely.
Currently, we are using xFIP and wOBA simply to compare one pitcher's performance against another – especially against opposite-handed hitters. We aren't using these numbers for calculation. To help with some calculations, we have assumed that each hitter and pitcher has played at least one game. Each pitcher was assigned an innings total relative to his average projection.
Check the starting lineups and weather reports prior to making any plays, as these change without notice.
Projected Low-Scoring Games
Washington Nationals at New York Mets – Two of the National League East's best young pitchers square off on Friday night in what is arguably the best pitching matchup of the day. Noah Syndergaard pits his electric fastball and 2.41 ERA against the Nationals' powerful offense, while Stephen Strasburg and his obscenely high strikeout rate face the strikeout-prone Mets. Adding to the beauty of this matchup is the combined sixteen runs the Mets and Nationals scored on Thursday, setting up for a game-wide regression for both offenses.
Targets: Stephen Strasburg and Noah Syndergaard
Arizona Diamondbacks at San Francisco Giants – While Patrick Corbin struggles to get back to the pitcher that posted a 3.41 ERA in 2013, Jeff Samardzija simply wants to return to May – where he finished the month with a 2.84 ERA. Both pitchers have a rebound in their future, and the pitcher-friendly ballpark of San Francisco should provide the perfect venue. In addition, both pitchers' personal strikeout rates are below their respective career averages, adding to the value of each in a return to the mean.
Targets: Patrick Corbin and Jeff Samardzija
Projected High-Scoring Games
St. Louis Cardinals at Milwaukee Brewers – While Michael Wacha and Jimmy Nelson both carry respectable ERAs into Friday's matchup, the two will be pitching in an extreme hitter's park that includes one of the highest-scoring offenses in baseball – St. Louis. Milwaukee returns home after a six-game road trip that included three games in which the Brewers scored one run or fewer. Bats will be out in full force on Friday night.
Targets: St. Louis Cardinals and Milwaukee Brewers Hitters
Seattle Mariners at Kansas City Royals – The pitcher-friendly ballpark won't do any favors for hitters in Kansas City on Friday night, but the two pitchers will. Hisashi Iwakuma and Yordano Ventura enter play with a combined 9.69 ERA on the season. In addition, both offenses are difficult to strike out, negating each pitcher's already-low personal strikeout rate. Adding in the relatively mild 4-3 contest from Thursday, Friday stands to yield runs for both offenses.
Targets: Seattle Mariners and Kansas City Royals Hitters
Undervalued Plays
Dan Straily – The eternal 'bargain pitcher,' Dan Straily erased a clunker two starts ago with a seven-inning, three-run outing the last time he took the mound. Straily's 4.34 ERA is actually high considering how well he has pitched in 2016 – he has allowed three runs or fewer in eleven of his fifteen starts – and he shifts from the hitter-friendly ballpark of Cincinnati to the pitcher's park of Miami. Straily also gets the added bonus of opposing Jose Fernandez, where the heightened level of competition should raise Straily's performance..
Oakland Athletics Hitters – Any time an offense that plays its home games in a pitcher's park shifts to a hitter-friendly ballpark, it is noteworthy. Such is the case for the Athletics, shifting to Houston to face Collin McHugh. McHugh is currently riding an impressive four-game stretch in which he has allowed seven total earned runs, despite a 4.50 ERA on the season. Oakland is averaging a mere 2.6 runs-per-game over its last seven contests and stands to revert back toward its average.
Photo Credit: By dbking (IMG_6927) [CC BY 2.0], via Wikimedia Commons