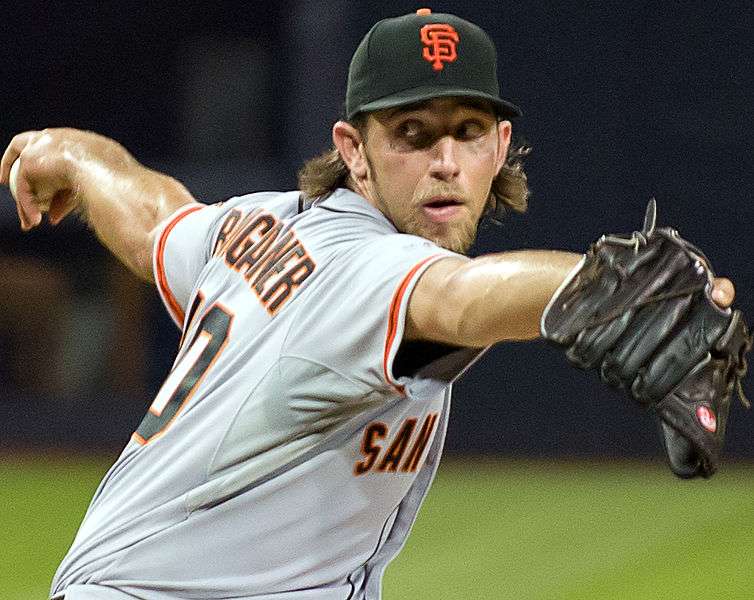 Latest posts by Mario Mergola
(see all)
With the All-Star Break beginning at the conclusion of Sunday's games, the upcoming slate of action acts as the end of the metaphorical first half of the 2016 season. Fittingly, one of our favorite targets – Madison Bumgarner – has the honors of closing out the weekend.
Currently, we are using xFIP and wOBA simply to compare one pitcher's performance against another – especially against opposite-handed hitters. We aren't using these numbers for calculation. To help with some calculations, we have assumed that each hitter and pitcher has played at least one game. Each pitcher was assigned an innings total relative to his average projection.
Check the starting lineups and weather reports prior to making any plays, as these change without notice.
Projected Low-Scoring Games
Arizona Diamondbacks at San Francisco Giants – It would only be appropriate for the de facto 'first half' of the season to conclude with Madison Bumgarner on the mound. The Giants' 'ace' has been a reliable source of fantasy points nearly every time he pitches, and Sunday night should be no exception. As always, his opponent gains a boost, making Archie Bradley an equally enticing pitching target. Bradley was once considered one of the better prospects in the game, but has yet to put everything together. He had made progress, however, limiting to opponents to three runs or fewer in three of his last four outings.
Targets: Archie Bradley and Madison Bumgarner
Washington Nationals at New York Mets – Earlier in the season, a matchup between Gio Gonzalez and Steven Matz would have sent fantasy owners running to their respective websites to slot each into his or her lineup. Now, with each pitcher trending downward, of late, the perception of a pitcher's duel has vanished. Thankfully, Gonzalez and Matz have proven capable of delivering, and this recent speedbump for both is nothing more than a correction before rising, once again.
Targets: Gio Gonzalez and Steven Matz
Projected High-Scoring Games
Minnesota Twins at Texas Rangers – The Twins and Rangers continue to produce runs – 36 combined runs in the first three games of the series – and Sunday projects to continue the trend. Tommy Milone has simply been a gift to opposing bats – a 5.45 ERA on the season – but A.J. Griffin was cruising through lineups before hitting the disabled list. Now three starts removed from injury, Griffin has yet to allow more than two earned runs – in fact, he has only allowed three earned runs in a game twice in 2016. However, even when healthy, Griffin topped out at 108 pitches earlier in the season, with only three games in which he has broken the 100-pitch barrier. A regression is in the works, and both Griffin and Milone contribute to yet another high-scoring affair.
Targets: Minnesota Twins and Texas Rangers Hitters
Philadelphia Phillies at Colorado Rockies – While targeting hitters in a game played in Colorado is neither groundbreaking nor surprising, Sunday could have been one of the times when avoiding hitters was a better route to take. The exception would have come from Tyler Chatwood, Colorado's starting pitcher with a fantastic 3.08 ERA on the season. Unfortunately for Chatwood, Sunday marks the first time he will be pitching in the hitter-haven of Colorado in nearly one month – due to injury and road starts – and his return is unlikely to be dominant. Rockies' hitters thrive, as well, as the high-scoring run environment develops for both teams, especially with Philadelphia's Zach Eflin struggling to tally strikeouts.
Targets: Philadelphia Phillies and Colorado Rockies Hitters
Undervalued Plays
Cody Reed – Like the aforementioned Archie Bradley, Cody Reed was also considered one of the better pitching arms in Minor League Baseball prior to his call-up. Unlike Bradley, Reed's sample size is so small that a suddenly-great performance is not out of the question. His opportunity comes in the pitcher-friendly ballpark of Miami, where he will face a Miami offense that has won back-to-back games while totaling only seven runs. As Miami has managed to win despite low-scoring efforts, Reed steps in to limit the Marlins further.
Milwaukee Brewers Hitters – As the Cardinals poured on eight runs in Saturday's contest, the Brewers managed only a single runner crossing the plate. Milwaukee – in it's hitter-friendly ballpark – has the opportunity to rebound quickly on Sunday. St. Louis' Mike Leake has been wildly inconsistent throughout the season, and enters the game with a 4.33 ERA and eleven earned runs over his last three starts. Milwaukee's bats enter the All-Star Break in style.
Photo Credit: Flickr user SD Dirk C.C. 2.0