With at least 82 games played for each team, we have officially reached the halfway point of the 2016 season. All thirty teams will be in action in the encore of Independence Day, concluding with one of the best pitching matchups of the past few weeks.
Currently, we are using xFIP and wOBA simply to compare one pitcher's performance against another – especially against opposite-handed hitters. We aren't using these numbers for calculation. To help with some calculations, we have assumed that each hitter and pitcher has played at least one game. Each pitcher was assigned an innings total relative to his average projection.
Check the starting lineups and weather reports prior to making any plays, as these change without notice.
Projected Low-Scoring Games
Colorado Rockies at San Francisco Giants – Madison Bumgarner assumes his typical placement on our list of pitchers to target, as does his counterpart on Tuesday night. Tyler Chatwood gains the same boost as most pitchers opposing Bumgarner, although Chatwood is a potentially emerging star in the middle of a 'breakout' campaign – a 3.15 ERA on the season, arguably inflated due to an injury-shortened outing in his last start. For Chatwood, Tuesday affords the opportunity to continue his fantastic season. For Bumgarner, the Rockies' offense shifting from the hitter-haven of Colorado to pitcher-friendly San Francisco is simply the icing on the cake.
Targets: Tyler Chatwood and Madison Bumgarner
New York Yankees at Chicago White Sox – When Masahiro Tanaka and Carlos Rodon meet on Tuesday night, it will come immediately after relatively disappointing starts. Tanaka's last start included a season-high six earned runs allowed, while Rodon allowed two home runs and four earned runs without completing six innings. Both approach Tuesday with a 'bounceback' opportunity looming, especially against offenses that score runs at a comparatively average pace, but have over-extended recently – over their last six contests, the Yankees have scored 4.3 runs-per-game, while Chicago has tallied 5.7 runs-per-game. Both Rodon and Tanaka steal the show on Tuesday night.
Targets: Masahiro Tanaka and Carlos Rodon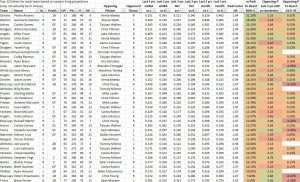 Projected High-Scoring Games
Oakland Athletics at Minnesota Twins – While Sean Manaea's rookie season continues to include a roller coaster of performances, Tommy Milone has simply struggled throughout. Milone has completed five innings of work only once in his seven starts, but he has allowed a total of 21 earned runs in the process. Manaea is coming off a scoreless performance over five-and-two-thirds innings in his last start, but has followed up each of his previous one-run outings by allowed five earned runs in the encores. In the right-handed-hitter-friendly ballpark of Minnesota, bats should thrive against two southpaws.
Targets: Oakland Athletics and Minnesota Twins Hitters
Kansas City Royals at Toronto Blue Jays – With a combined 29 starts between the two, R.A. Dickey and Chris Young enter Tuesday in the middle of completely disappointing seasons. Dickey's 4.21 ERA is is tied for his highest average over the past six seasons, while Chris Young holds a career-worst 6.24 ERA. Neither appear to be on the verge of a quick recovery, as Dickey faces an offense that rarely strikes out while Young takes on the powerful Toronto bats.
Targets: Kansas City Royals and Toronto Blue Jays Hitters
Undervalued Plays
Anibal Sanchez – A nightmare season continues for Anibal Sanchez as the Tigers' pitcher holds a 6.05 ERA in early-July. His opportunity as a starting pitcher reemerges on Tuesday, however, as he faces the formerly unstoppable Indians. Sanchez has a tall task in Cleveland, but his career numbers suggest that 2016 has been a massive outlier. Any return towards his averages will result in a top-notch showing. For his price, the risk is well worth the potential reward.
San Diego Padres Hitters – After the Padres tallied eight runs on Monday night, they would normally be avoided for a risk of regression. Instead, the expected return to the mean comes from Zack Godley, Arizona's starting pitcher with a deceiving set of statistics. Godley's only start of the year was a surprisingly effective, six-inning, two-run showing nearly one month ago. Since then, Godley has worked in relief, and now gets thrust back into a position to start Tuesday's game. San Diego's bats are already enjoying Arizona's hitter-friendly ballpark, and the trend should continue.
Photo Credit: Flickr user SD Dirk C.C. 2.0