Independence Day's baseball festivities begin with an exceptionally early afternoon contest that likely will not be included in most daily fantasy baseball slates. Afterwards, the rest of the league is in action almost entirely in the afternoon, with an unusually small four-game night slate.
Currently, we are using xFIP and wOBA simply to compare one pitcher's performance against another – especially against opposite-handed hitters. We aren't using these numbers for calculation. To help with some calculations, we have assumed that each hitter and pitcher has played at least one game. Each pitcher was assigned an innings total relative to his average projection.
Check the starting lineups and weather reports prior to making any plays, as these change without notice.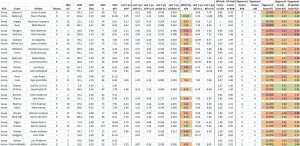 Projected Low-Scoring Games
Miami Marlins at New York Mets – After Matt Harvey's last start was cut short due to a lengthy rain delay, the Mets' starting pitcher returns to action at home on Monday afternoon. The conditions are ideal for Harvey to build off the small foundation of his last start, as he holds a 3.13 career ERA in day games, 2.40 career ERA at home, and a 1.29 ERA in 2016 against Miami. Tom Koehler's accolades are significantly less powerful than Harvey's, but he had a nine-game stretch with a 2.59 ERA prior to his last two starts. Koehler is easily capable of matching Harvey in what should develop into a pitcher's duel.
Targets: Tom Koehler and Matt Harvey
Los Angeles Angels at Tampa Bay Rays – Matt Moore makes our list of pitchers to target for the second consecutive start after turning in a gem five days earlier. Moore continues to show flashes of brilliance, and has maintained a high strikeout rate throughout the season. In addition, like the Red Sox in Sunday's series finale, the Rays – specifically, Moore – should benefit from the Angels' entire offense continuing to regress after an epic outburst over the weekend. Nicholas Tropeano takes the mound for the Angels, fresh off relatively short stints on both the disabled list and in AAA. Tropeano had been in the middle of a potential 'breakout' campaign with a 3.25 ERA and high strikeout rate. Against the second-most strikeout-prone offense in the league, Tropeano's success should continue.
Targets: Nicholas Tropeano and Matt Moore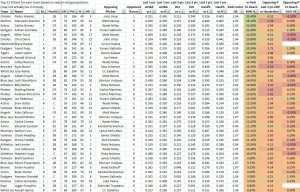 Projected High-Scoring Games
New York Yankees at Chicago White Sox – As James Shields attempts to lower his astronomical ERA as a member of the White Sox, CC Sabathia attempts to sustain the unsustainable. Both have room to travel in order to approach his more realistic averages, but it will not be at the expense of offense on Sunday. Specifically, James Shields can continue to allow runs and still watch his ERA shrink.
Targets: New York Yankees and Chicago White Sox Hitters
Kansas City Royals at Toronto Blue Jays – Aaron Sanchez survived pitching in Colorado in his last start, and now gets to return home. Unfortunately, he draws a Royals offense that rarely strikes out and has hit a recent skid. With 3.8 runs-per-game over its past 13 contests – compared to a season average of 4.06 – and immediately following a series loss to the Phillies, Kansas City will be ready for a venue change and poised to explode on Monday. Toronto's 17-run outburst on Sunday puts the offense at risk for a regression, but it should keep pace in a potential slugfest against Edinson Volquez and his 4.80 ERA.
Targets: Kansas City Royals and Toronto Blue Jays Hitters
Undervalued Plays
Tyler Anderson – Whenever a Rockies pitcher is removed from throwing in the hitter-haven of Colorado, he deserves some consideration. Tyler Anderson is now the ideal 'buy-low' candidate for Monday, as he carries an impressive 2.66 ERA into his fifth career start. The shift from Colorado to San Francisco is the most extreme from a hitter's park to a pitcher's park for power potential, where Anderson's success should continue, yet again.
Atlanta Braves Hitters – While we normally target Jerad Eickhoff as one of our potential pitchers to use, Monday presents the opportunity to buy bats that will oppose him. Eickhoff just completed a fantastic month of June – a 2.23 ERA through six starts – but faces an Atlanta offense that just tallied 24 runs over its last four games. With the Braves striking out at a relatively low pace, Eickhoff is walking into a potential 'trap.' Atlanta's hitters stand to benefit.
Featured Image Credit: Flickr user slgckgc. C.C. 2.0