Eleven games open a new week of baseball, although the lone afternoon contest will likely not be included in all daily fantasy baseball slates. The top story of Monday is easily Noah Syndergaard's return to the mound, as he left his last start due to a potential issue with his elbow.
Currently, we are using xFIP and wOBA simply to compare one pitcher's performance against another – especially against opposite-handed hitters. We aren't using these numbers for calculation. To help with some calculations, we have assumed that each hitter and pitcher has played at least one game. Each pitcher was assigned an innings total relative to his average projection.
Check the starting lineups and weather reports prior to making any plays, as these change without notice.

Projected Low-Scoring Games
Boston Red Sox at Tampa Bay Rays – A matchup of two rookies pitching in a game that includes the league's highest-scoring offense immediately suggests that runs will be found everywhere. A further look suggests that we might get a glimpse of the future pitcher's duel between Eduardo Rodriguez and Blake Snell as the two division opponents meet on Monday. Rodriguez has the strikeout advantage against Tampa Bay's lineup, but Snell has limited runs in his short outings, so far. Most importantly, the game's over/under run total has moved down since its open, suggesting that offensive production will be scarce.
Targets: Eduardo Rodriguez and Blake Snell
Houston Astros at Los Angeles Angels – Matt Shoemaker's early 2016 struggles have saddled him with an ERA that appears impossible to lower. In reality, the Angels' starting pitcher holds a 2.09 ERA over his last seven starts and faces the second-most strikeout prone offense playing on Monday. On a less severe scale, Collin McHugh has turned in back-to-back solid outings, allowing three total earned runs while striking out twelve batters. The two should deliver excellent performances, especially in the pitcher-friendly ballpark.
Targets: Collin McHugh and Matt Shoemaker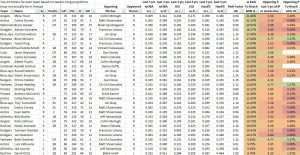 Projected High-Scoring Games
Toronto Blue Jays at Colorado Rockies – As dangerous as it is to take any matchup at face value, the Blue Jays and Rockies – two of the league's best power teams – playing in Colorado's hitter-friendly ballpark is simply too good to ignore. Jon Gray's 5.02 ERA at home combines nicely with Marco Estrada's ERA jumping more than one full run on the road for an ideal setup to buy hitters.
Targets: Toronto Blue Jays and Colorado Rockies Hitters
Philadelphia Phillies at Arizona Diamondbacks – Vincent Velasquez took the fantasy baseball world by storm after his sixteen-strikeout performance in April, but slowly declined prior to missing a few starts with an injury. His return comes against high-scoring Diamondbacks offense in a hitter-friendly ballpark. Robbie Ray is arguably as dangerous in the strikeout department as Velasquez – and has a better matchup against the Phillies – but sees his overall ERA of 4.59 balloon to 5.89 when pitching in Arizona.
Targets: Philadelphia Phillies and Arizona Diamondbacks Hitters
Undervalued Plays
Dan Straily – In addition to the boost we often give to pitchers opposing some of the best in the game – in this case, Jake Arrieta – Dan Straily has been a top value play, all season. With a 3.83 ERA on the year, Straily has allowed two earned runs of fewer in seven of his thirteen starts. He has hit a recent skid – ten earned runs allowed over his last two games – but has proven resilient enough to warrant consideration. Facing off with Arrieta is the final push in his favor.
Atlanta Braves Hitters – With the Indians stretching their winning streak to nine games, there is an expectation that the team will roll through Atlanta. Naturally, this creates a level of danger and, thus, a buying opportunity. Despite a shutout, Atlanta's offense averaged 3.75 runs-per-game in its four-game set with the Mets, well above its pathetic season average of 3.33 runs-per-game. The Braves' bats, not the Indians' winning ways, continue on Monday.
Featured Image Credit: By Arturo Pardavila III [CC BY 2.0], via Wikimedia Commons