A full slate of baseball returns with a complete night schedule to begin the weekend. Highlighted by Max Scherzer, the pitching class includes valid options at nearly every price level, allowing for hitters to become the priority in select matchups.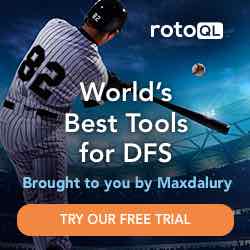 Currently, we are using xFIP and wOBA simply to compare one pitcher's performance against another – especially against opposite-handed hitters. We aren't using these numbers for calculation. To help with some calculations, we have assumed that each hitter and pitcher has played at least one game. Each pitcher was assigned an innings total relative to his average projection.
Check the starting lineups and weather reports prior to making any plays, as these change without notice.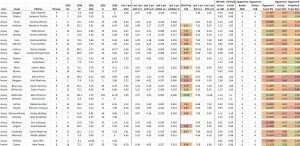 Projected Low-Scoring Games
Minnesota Twins at New York Yankees – Tommy Milone did not do any favors for himself by struggling through short outings to start his 2016 campaign – he pitched at least five complete innings only once in his five starts – and, consequently, was demoted. He has apparently used his time wisely, as he his numbers in AAA are absolutely staggering – nine earned runs with 41 strikeouts in 48-and-two-thirds innings pitched. He will look to carry his success back into Major League Baseball when he faces a Yankees lineup that has struggled against left-handed pitching, this year. Masahiro Tanaka and his 2.91 ERA simply have an excellent matchup with the strikeout-happy Twins. Tanaka even hit an obligatory speed bump two starts ago, only to return along his excellent path.
Targets: Tommy Milone and Masahiro Tanaka
Washington Nationals at Milwaukee Brewers – At first-glance, the matchup between the Nationals and Brewers would lead one down the road to focus solely on Max Scherzer. Indeed, the Nationals' 'ace' is in a nearly perfect position – excluding the hitter-friendly ballpark – against the strikeout-prone Brewers, but Zach Davies' personal numbers are simply too good to ignore. Davies is sporting a 1.34 ERA over his last five starts – including four home games in the aforementioned hitter's park of Milwaukee – and is more than capable of matching Scherzer in a pitcher's duel on Friday.
Targets: Max Scherzer and Zach Davies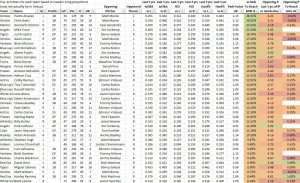 Projected High-Scoring Games
Arizona Diamondbacks at Colorado Rockies – The combined thirteen-run showing between the Diamondbacks and Rockies would normally lean towards a regression in the encore, but the two teams – already proficient on offense – draw a more favorable hitting matchup than Thursday's and remain in the hitter's haven of Colorado. Both Archie Bradley and Tyler Anderson are coming off solid performances, but the games were in Philadelphia and Miami, respectively. In addition to the ballpark factors, the quality of the offenses – specifically, the run-scoring ability – is a significant step up on Friday night. Bradley and Anderson will take a step back, while the bats of Arizona and Colorado move forward.
Targets: Arizona Diamondbacks and Colorado Rockies Hitters
San Diego Padres at Cincinnati Reds – San Diego continued its offensive success in a hitter's ballpark on Thursday, and the Padres will go right back onto the target list for hitters one day later. Cincinnati joins the discussion, as well, as the two starting pitchers each carry ERAs over 5.00. Cincinnati's Cody Reed will be making his second career start, so the small sample size should be taken into account – therefore, limit over-exposure to Padres' hitters – but San Diego's Colin Rea has thirteen starts under his belt and an ERA that is threatening to pass his relatively low strikeout rate.
Targets: Cincinnati Reds Hitters, then San Diego Padres Hitters
Undervalued Plays
Tampa Bay Rays Hitters – Entering Friday on the heels of a seven-game losing streak, the Tampa Bay Rays have gone cold after hitting a nice offensive stretch. A total of one run over the last two games creates a 'bounceback' opportunity against Yovani Gallardo's 6.26 ERA in a hitter-friendly ballpark. Tampa Bay is poised to pop.
Carlos Rodon – Despite their power potential, the Blue Jays were a relatively easy target for opposing pitchers during the early portion of 2016 thanks to a high team strikeout rate. The pace has stabilized and Toronto now sits toward the league average in strikeouts-per-game, but Carlos Rodon's personal strikeout rate is dangerous enough to limit the Blue Jays. Rodon has also allowed more than two earned runs only once in his last five starts, and sits as a high risk-reward play for Friday night.