Sixteen games will be played throughout Saturday with a double-header likely causing confusion for all-day slates. Madison Bumgarner stands as the headliner of the day, but a packed schedule yields opportunities everywhere.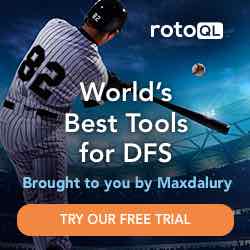 Currently, we are using xFIP and wOBA simply to compare one pitcher's performance against another – especially against opposite-handed hitters. We aren't using these numbers for calculation. To help with some calculations, we have assumed that each hitter and pitcher has played at least one game. Each pitcher was assigned an innings total relative to his average projection.
Check the starting lineups and weather reports prior to making any plays, as these change without notice.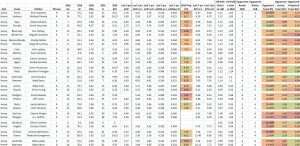 Projected Low-Scoring Games
Philadelphia Phillies at San Francisco Giants – Matchups do not get much more favorable than a strikeout pitcher with an insane ERA facing a strikeout-prone, low-scoring offense – actually, the lowest scoring team in the league – in a pitcher-friendly ballpark. Madison Bumgarner almost always gets the recommendation when he is starting, and using him on Saturday is a must. Of course, there is a risk that the game is 'too easy,' but it is also 'too good to ignore.' While Bumgarner is almost always targeted in this column, so is the pitcher he opposes. The same is true for Jeremy Hellickson. Hellickson has been eerily consistent, although below average, on the season. However, when he does put it all together, he delivers a gem – he has allowed one run or fewer over seven innings three times, this season. His matchup with Bumgarner gives Hellickson the boost to deserve consideration.
Targets: Jeremy Hellickson and Madison Bumgarner
New York Mets at Atlanta Braves – By virtue of the Mets' pitching staff and the Braves' typical inability to score runs, the general belief surrounding a series between Atlanta and New York was that pitchers would thrive. The offenses of both teams already broke the mold to the tune of 14 combined runs on Friday. Now, the chance to regress is higher, as Jacob deGrom and Julio Teheran pin their sub-3.00 ERAs against one another. Teheran has both the better 2016 numbers and matchup – as the Mets strike out at a much higher rate than the Braves – but both pitches should dominate the opposing lineup.
Targets: Jacob deGrom and Julio Teheran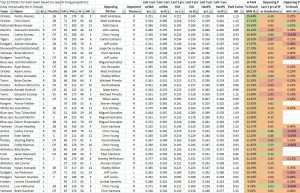 Projected High-Scoring Games
Tampa Bay Rays at Baltimore Orioles (Game One) – The Rays and Orioles played two completely separate games on Friday night. Tampa Bay arrived first, exploding for three runs out of the gate, then took the rest of the night off. Baltimore cleaned up in the latter innings, eventually pushing six runs across. The potential for runs were high on Friday night, but it wasn't quite reached. Instead, two half-innings housed seven of the game's nine runs. Saturday brings the next opportunity, as the pressure has mounted to prepare for a pop. Kevin Guasman's 4.37 ERA should help contribute to Tampa Bay's bats, while Matt Andriese's 2.88 ERA over a short span remains unsustainable.
Targets: Tampa Bay Rays and Baltimore Orioles Hitters
Boston Red Sox at Texas Rangers – The Rangers and Red Sox are in nearly identical situations on Saturday. Both pitchers – A.J. Griffin and Steven Wright – are in the middle of fantastic, but surprising seasons. More specifically, both pitchers are having success via unconventional offspeed pitches – Griffin's curveball and Wright's knuckleball. The risk with each is that any dip in effectiveness could quickly end the hot streak. With a hitter-friendly ballpark hosting the game, Griffin throwing for the first time in weeks, and Wright in the middle of a stretch of three scoreless outings over his last four starts, the game has set up for an offensive outburst.
Targets: Boston Red Sox and Texas Rangers Hitters
Undervalued Plays
Shelby Miller – After an impressive 2015 campaign that ended with a 3.02 ERA, Shelby Miller has struggled mightily with a change of both the calendar and scenery. Now with a 6.36 ERA through eleven starts, Miller has the unfortunate fate of pitching in hitter-friendly Colorado. If his price wasn't discounted by the poor start to the season, it would have plummeted with the venue, anyway. This does, however, allow for an incredible buying opportunity, as Miller has proven to be far better than his current pace – in addition to the aforementioned 2015 season, Miller had 3.06 and 3.42 ERAs over the 2013 and 2014 season, respectively.
Miami Marlins Hitters – If John Lackey's five earned runs over his last two starts can be considered a 'regression,' it is a testament to how well he has pitched in 2016. Entering Saturday with a 2.78 ERA, Lackey has been utterly dominant. However, his current campaign is so far beyond his career averages that even the slightest tilt towards his mean will allow a buying opportunity for his opponent. The aforementioned two-game hiccup could just as likely be the beginning of a downslide, and Miami's offense stands to benefit at a nice discount.
Photo Credit: Flickr user SD Dirk C.C. 2.0