A nine-game day of baseball features a relatively even split between day and night contests, beginning with an early afternoon tilt. Prices are shifted heavily towards hitters on Thursday, as few teams will send their respective 'ace' to the mound.
Currently, we are using xFIP and wOBA simply to compare one pitcher's performance against another – especially against opposite-handed hitters. We aren't using these numbers for calculation. To help with some calculations, we have assumed that each hitter and pitcher has played at least one game. Each pitcher was assigned an innings total relative to his average projection.
Check the starting lineups and weather reports prior to making any plays, as these change without notice.

Projected Low-Scoring Games
Philadelphia Phillies at Minnesota Twins – It appears as if Jerad Eickhoff flies under-the-radar every time he takes the mound. Now pitching to a 3.49 ERA on the season with two scoreless performances in his last six starts, Eickhoff draws the strikeout-happy Twins. Minnesota has tallied 20 runs over the last two games, despite an average of 4.06 runs-per-game on the season. Similarly, Philadelphia – averaging 3.23 runs-per-game – has scored 15 runs over the last two games. Both offenses regress on Thursday, allowing Eickhoff and Ricky Nolasco – coming off a two-run, seven-inning outing – to thrive.
Targets: Jerad Eickhoff and Ricky Nolasco
Oakland Athletics at Los Angeles Angels – Tim Lincecum's successful return to Major League Baseball yields a recommendation for his second start of the season. Throwing 98 pitches and allowing only one run through six innings, Lincecum delivered an inspired performance, albeit with only two strikeouts. His matchup against the same team as his first start carries a level of concern, but his basement is still high, especially for his price. While Kendall Graveman's season ERA sits at 4.87, his ERA over his last six starts is a more respectable 3.73. Like Lincecum, Graveman's last start – one run allowed over seven innings of work – was against the same opponent as Thursday night, but the two pitchers have decent matchups against comparatively low-scoring offenses.
Targets: Kendall Graveman and Tim Lincecum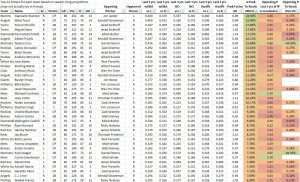 Projected High-Scoring Games
San Diego Padres at Cincinnati Reds – San Diego's offense has made it a habit to enjoy its trips to hitter-friendly ballparks. After Baltimore, the Padres visit Cincinnati and will be greeted by John Lamb's 4.75 ERA and virtually non-existent strikeout rate. The Reds will also find an avenue to feast, as they will be opposed by Christian Friedrich. The Padres' starting pitcher finally imploded to the tune of six earned runs and two home runs allowed in his last start, after a 2.12 ERA to start the year. The downtrend continues on Thursday.
Targets: San Diego Padres and Cincinnati Reds Hitters
Arizona Diamondbacks at Colorado Rockies – Of course, the hitter-friendly ballpark of Colorado should suggest that hitters will deliver, but the insanely hot pace of Zack Greinke acts as an opposing force. Greinke has now allowed a total of three earned runs through four June starts, and has already reached a level of short-term unsustainability. A 'down day' was already needed, but the ballpark – and high-flying offense of Colorado – is the perfect opportunity for a speedbump. Greinke slows down, and the Rockies take off. Colorado's Eddie Butler has already exhibited this phenomenon, as his statistics in home games are far worse than when he pitches on the road.
Targets: Colorado Rockies Hitters, then Arizona Diamondbacks Hitters
Undervalued Plays
Matt Harvey – On a day when pitching is relatively thin, Matt Harvey carries an incredible discount. Indeed, Harvey was just beaten by this same team, but he also managed five strikeouts – he had only averaged four strikeouts-per-game over his previous five starts. More importantly, Atlanta sports one of the worst offenses in the game, scoring the league's second-fewest runs-per-game. Harvey rebounds and over-delivers on his low price.
Seattle Mariners Hitters – After Seattle's seven-run outburst on Monday, the Mariners totaled three runs in the following two games. Thursday projects as a more favorable offensive game, where Detroit starts Daniel Norris for the first time, this season. With the over/under run total exceptionally high, yet the odds for the game relatively even, the greater upside play hails from Seattle.
Featured Image Credit: Flickr user slgckgc. C.C. 2.0