Father's Day features the typical Sunday schedule of all afternoon games followed by a primetime nightcap. Pitching options are relatively limited, although the upper tier for Sunday is crowded without any discernable discounts.
Currently, we are using xFIP and wOBA simply to compare one pitcher's performance against another – especially against opposite-handed hitters. We aren't using these numbers for calculation. To help with some calculations, we have assumed that each hitter and pitcher has played at least one game. Each pitcher was assigned an innings total relative to his average projection.
Check the starting lineups and weather reports prior to making any plays, as these change without notice.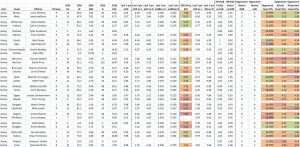 Projected Low-Scoring Games
Atlanta Braves at New York Mets – Julio Teheran has come such a long way since the start of the season that he is arguably the best pitcher of the day – at least, he is one of the best pitchers that is also in an excellent position against the strikeout-prone Mets. Jacob deGrom continues to creep towards his career averages, and draws the low-scoring Braves in what should develop into the pitcher's duel of Sunday.
Targets: Julio Teheran and Jacob deGrom
Seattle Mariners at Boston Red Sox – Taijuan Walker is continuing his impressive campaign, but faces arguably his most difficult opponent when he takes on the league's highest-scoring team. Unfortunately for Walker, the high-powered Red Sox rarely strike out, but his personal strikeout ability helps raise the ceiling of his projections. David Price appears to have finally settled into Boston, as he sports a 2.68 ERA over his last seven starts with no more than three earned runs allowed in any game during that stretch.
Targets: Taijuan Walker and David Price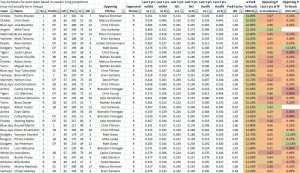 Projected High-Scoring Games
Los Angeles Angels at Oakland Athletics – The Jered Weaver era might finally be coming to an end. Now with a 5.71 ERA on the season, Weaver is in position to get blasted by an Oakland offense shut down by Tim Lincecum in his return to Major League Baseball one night prior. Eric Surkamp has been even less effective, with an 8.07 ERA and basically non-existent strikeout rate.
Targets: Los Angeles Angels and Oakland Athletics Hitters
Arizona Diamondbacks at Philadelphia Phillies – After Jerad Eickhoff and Zack Greinke allowed a combined four earned runs in nearly fourteen innings of work on Saturday, the offenses for Philadelphia and Arizona will gladly welcome Archie Bradley and Zach Eflin to the ballpark. Eflin's Major League Baseball debut was horrific and, while some sort of regression is to be expected, there is little evidence that his encore will be any better. Archie Bradley carries a decent enough strikeout rate to limit the damage of the strikeout-prone Phillies, but he holds a 5.66 ERA through his six starts in 2016.
Targets: Arizona Diamondbacks and Philadelphia Phillies Hitters
Undervalued Plays
Jordan Zimmerman – The lone bargain on the mound Sunday, Jordan Zimmerman faces the Royals one day after a massive offensive explosion. The likely regression for Kansas City plays right into the hands of Zimmerman, who has seen his ERA inflate dramatically after a phenomenal April. Zimmerman's only weakness is his comparatively low strikeout rate, but the Royals strike out at such a low pace that it hardly matters. Instead, he can contribute in other fantasy baseball categories by simply outperforming his price.
Minnesota Twins Hitters – After a 3.71 ERA through May, Nathan Eovaldi has struggled mightily in June. He toes the rubber on Sunday as the Yankees attempt to sweep the four-game series in Minnesota, but he has shown little to suggest that he will flip the switch and dominate again. Instead, Minnesota's bats – dangerously close to breaking through on Saturday – finally put it all together on Sunday.
Featured Image Credit: By Arturo Pardavila III from Hoboken, NJ, USA (#WorldSeries Game 2: Jacob deGrom) [CC BY 2.0], via Wikimedia Commons