In addition to the full day of baseball, Saturday features a pair of storylines on the mound. Cincinnati will be calling up Cody Reed to make the start for the Reds in Houston, while the Angles will unveil Tim Lincecum in his first start in nearly one calendar year.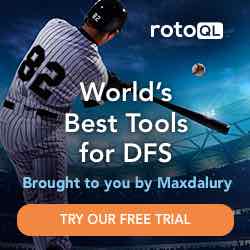 Currently, we are using xFIP and wOBA simply to compare one pitcher's performance against another – especially against opposite-handed hitters. We aren't using these numbers for calculation. To help with some calculations, we have assumed that each hitter and pitcher has played at least one game. Each pitcher was assigned an innings total relative to his average projection.
Check the starting lineups and weather reports prior to making any plays, as these change without notice.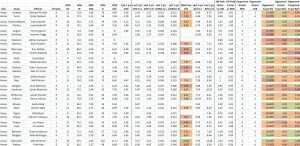 Projected Low-Scoring Games
Washington Nationals at San Diego Padres – The Padres lineup is typically such a gift to pitchers that, whenever the team plays in its relatively pitcher-friendly ballpark, the opposing arm must be considered. The fact that said arm belongs to Max Scherzer – touting the highest strikeout rate among Saturday's starter – is enough to make the Nationals' 'ace' one of the best plays of the day. Colin Rea's statistics suggest that he will be thoroughly overmatched in the contest, but a few of his best games have come from head-to-head matchups with pitchers such as Jerad Eickhoff and Jacob deGrom.
Targets: Max Scherzer and Colin Rea
Arizona Diamondbacks at Philadelphia Phillies – After Zack Greinke posted a 9.90 ERA after his first two games with the Diamondbacks – and, ultimately, a 5.50 ERA through April – it was a near-guarantee that he would go on a hot stretch that lowered it significantly. June has been the bearer of such a stretch, as he has allowed a total of two earned runs through three starts – including a complete game shutout. He draws Philadelphia's low-scoring, high-strikeout offense on Saturday, and gains the recommendation. As usual, he is not alone in the list of targets from the game, where Jerad Eickhoff looks to match Greinke for June and Saturday, alike. Through his three June starts, Eickhoff has allowed only three earned runs, and sports a 1.93 ERA over his last five games.
Targets: Zack Greinke and Jerad Eickhoff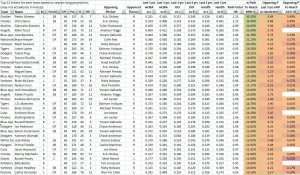 Projected High-Scoring Games
Seattle Mariners at Boston Red Sox – At this point, it needs to be accepted that Boston's offense – leading the league in runs-per-game – is a threat to explode on nearly any given night. Against a rookie making his Major League Baseball debut, all of Boston's hitters are on the list of targets. On the other side of the game, Rick Porcello is enjoying arguably the best season of his career, but faces a Mariners' offense that is both high-scoring and difficult to strike out. Boston won't be the only team putting runs on the scoreboard.
Targets: Seattle Mariners and Boston Red Sox Hitters
Toronto Blue Jays at Baltimore Orioles – It will be asking a lot for the Blue Jays to repeat an offensive performance anything like Friday night's, but runs should still be in high supply on Saturday. Specifically, the 13-run showing – the highest among teams on Friday – suggests a regression that leaves Toronto's lineup as the second option for Saturday, but hitters should enjoy facing two pitchers with a combined 11.16 ERA.
Targets: Baltimore Orioles Hitters, then Toronto Blue Jays Hitters
Undervalued Plays
Tim Lincecum – This is not a drill. The two-time Cy Young Award winner will be making his return to Major League Baseball on Saturday, and his status as a complete wild card brings a high risk-reward scenario. Even with an incredibly rapid decline over the past few years, Lincecum's career numbers are fantastic – especially his strikeout rate. Against a comparatively low-scoring team in a pitcher's park, Lincecum has the chance to make his season debut a stellar outing.
Wei-Yin Chen – Wei-Yin Chen is not the type of pitcher to grab the attention of most when he takes the mound – his 4.68 ERA is neither flashy nor disastrous – but the relatively invisible pitcher usually comes with a discount. Chen has scuffled a bit, of late, but he has a tendency to limit damage on his worst days – he has yet to allow more than five earned runs in an outing. As noted in Friday's column, Colorado's offense away from its hitter-friendly ballpark usually puts the opposing pitcher on the radar. Saturday is no exception.