One afternoon and one late-night game bookend a relatively light slate of baseball to begin the week. It is, however, highlighted by a few of the game's best pitchers, two of which will face one another to close out the night.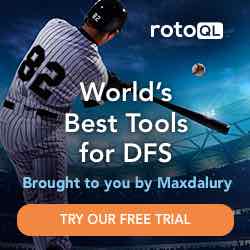 Currently, we are using xFIP and wOBA simply to compare one pitcher's performance against another – especially against opposite-handed hitters. We aren't using these numbers for calculation. To help with some calculations, we have assumed that each hitter and pitcher has played at least one game. Each pitcher was assigned an innings total relative to his average projection.
Check the starting lineups and weather reports prior to making any plays, as these change without notice.

Projected Low-Scoring Games
Washington Nationals at Los Angeles Dodgers – Once again, Clayton Kershaw dominates the list of targets by taking the mound, but he is not the only pitcher to watch in Los Angeles on Monday night. Stephen Strasburg has been utterly dominant in 2016, and enters Monday with a 2.90 ERA and a perfect 10-0 record with double-digit strikeout totals in seven of his last twelve games. Kershaw and Strasburg should deliver a fantastic pitcher's duel on Monday.
Targets: Stephen Strasburg and Clayton Kershaw
San Francisco Giants at Pittsburgh Pirates – Like Keshaw, Madison Bumgarner is an automatic recommendation simply by being listed as the day's starting pitcher. Throwing in pitcher-friendly Pittsburgh should only aid the Giants' 'ace.' Jeff Locke gets the typical boost associated with facing an opponent as dominant as Bumgarner, and has allowed nine earned runs over his last three home starts – while most of his horrific performances have come on the road.
Targets: Madison Bumgarner and Jeff Locke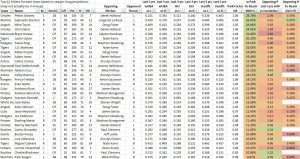 Projected High-Scoring Games
Seattle Mariners at Detroit Tigers – After each team managed a single run on Sunday, the offenses for the Mariners and Tigers are ready to explode as they open a series on Monday. Both Nate Karns and Mike Pelfrey enter the day with ERAs over 4.00, with Pelfrey carrying a suspiciously low strikeout rate. Conversely, Karns is averaging more than one strikeout-per-inning, but Detroit sits as one of the least strikeout-prone offenses of the day. With both offenses averaging nearly five runs-per-game, a high-scoring contest is in the works.
Targets: Seattle Mariners and Detroit Tigers Hitters
Los Angeles Angels at Houston Astros – Doug Fister has delivered one impressive performance after another en route to a 3.26 ERA on the season. He does, however, face an Angels offense that typically plays its games in a pitcher-friendly ballpark, and is traveling from another pitcher's park – Oakland – to Houston. The change of scenery should help keep the Angels' bats rolling – Los Angeles is averaging 5.2 runs-per-game over its last five contests – while Fister – rarely pitching deep into games – regresses. Houston's bats will have their share of success, as well, as Jhoulys Chacin has finally hit a speed bump with the Angels. His peripherals against left-handed hitters remain atrocious, but the majority of Houston's biggest threats bat right-handed.
Targets: Los Angeles Angels Hitters, then Houston Astros Hitters
Undervalued Plays
Kevin Gausman – Kevin Gausman's ERA eclipsed 4.00 for the first time in 2016, yet it was largely due to a matchup with the league's highest-scoring offense. Prior to his clunker in Boston, Gausman had pitched to a 3.45 ERA. His personal strikeout rate remains high, and a rebound is in order for a pitcher that followed up his only five-run outing of the season with a six-inning, one-run performance.
Tampa Bay Rays Hitters – The Tampa Bay Rays are often threatened by strikeout pitchers, but Josh Tomlin is not known for his strikeout prowess. Instead, Tomlin has been outstanding at limiting runs, of late, but meets a Rays lineup that had been heating up prior to a three-game sweep at the hands of the Giants. Most importantly, the run total over/under has already moved up, yet the odds for the game have remained fairly even. A potential bargain is in the works for Tampa Bay's hitters.