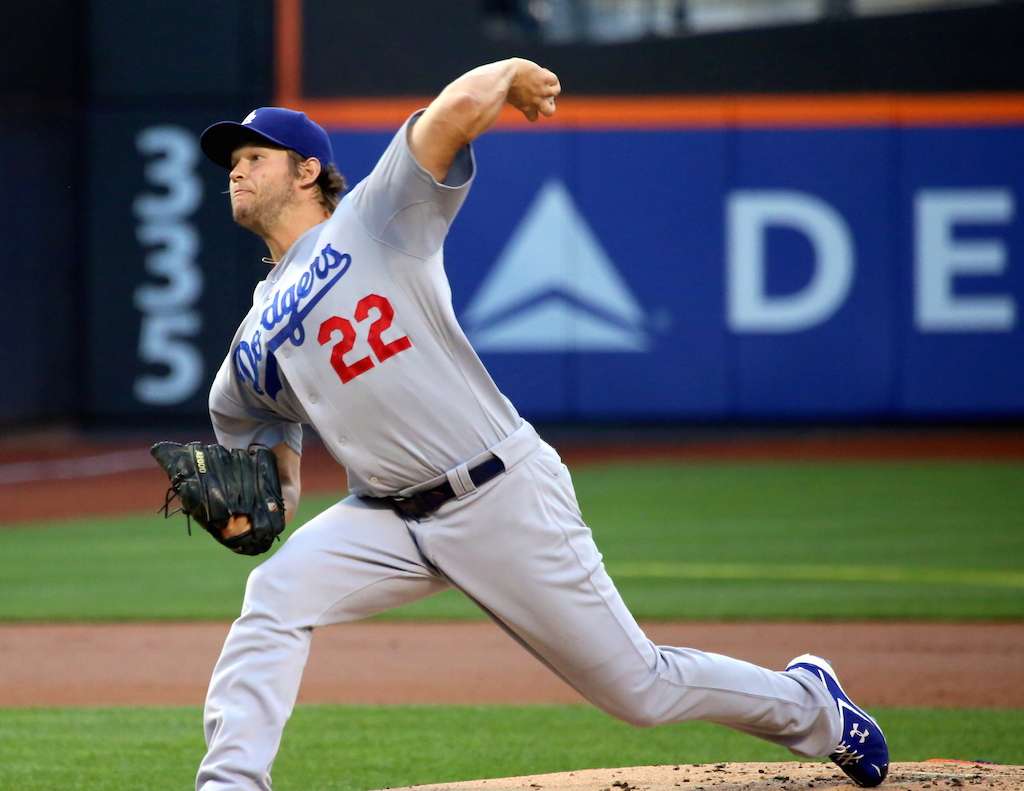 Latest posts by Mario Mergola
(see all)
A weekend of baseball begins with a handful of 'top aces' on Friday night. Prices for pitching are through the roof, but, due to the quantity of quality arms, missing on one is not an option.
Currently, we are using xFIP and wOBA simply to compare one pitcher's performance against another – especially against opposite-handed hitters. We aren't using these numbers for calculation. To help with some calculations, we have assumed that each hitter and pitcher has played at least one game. Each pitcher was assigned an innings total relative to his average projection.
Check the starting lineups and weather reports prior to making any plays, as these change without notice.
Get the latest MLB Odds on XN Sports
Projected Low-Scoring Games
Los Angeles Dodgers at San Francisco Giants – With Clayton Kershaw on the hill, Clayton Kershaw makes his way onto the list of pitchers to use. Amazingly, the league's best pitcher might actually not be the best pitcher on Friday, as he faces a Giants team that strikes out at the second-lowest rate in the league. In addition, Kershaw has seen a slight regression – considering how high he was flying, this is natural – and he has now had games of seven-and-two-thirds-innings and six innings after three consecutive games of at least eight complete innings. Perhaps the most important facet of the matchup is the odds for the game, itself, which sit at a curiously low number in favor of the Dodgers. Not only does the setup represent a 'trap,' but the game features a pitcher in Johnny Cueto that could potentially be the best of the night – his strikeout performance is aligned with his projections, and his 2.16 ERA is evident of how well he has pitched, to date.
Targets: Clayton Kershaw and Johnny Cueto
Philadelphia Phillies at Washington Nationals – After a phenomenal April, Stephen Strasburg had a more realistic – albeit, great – May. Now leveled off at a 2.85 ERA, Strasburg is in position to thrive, again, as the Phillies enter Friday with the second-fewest runs-scored-per-game. Jeremy Hellickson is several levels below Strasburg in terms of recognition for his 2016 success, but the Phillies' starting pitcher holds an impressive 2.53 ERA with an average of one strikeout-per-inning in his last five starts.
Targets: Stephen Strasburg and Jeremy Hellickson
Cleveland Indians at Los Angeles Angels – Like Kershaw, Corey Kluber will be opposed by an offense that is nearly impossible to strike out – in fact, the Angels are the least strikeout-prone team in the league. Thankfully for Kluber, the Angels are still not a major threat to explode, and the shift from hitter-friendly Yankee stadium to their own pitcher's park should limit an already-low scoring potential. Hector Santiago has the exact opposite side of the matchup, where Cleveland does strike out enough to warrant the use of an opposing pitcher, but also scores runs at an above-average pace.
Targets: Corey Kluber and Hector Santiago
Projected High-Scoring Games
Boston Red Sox at Minnesota Twins – The league's highest-scoring offense travels to Minnesota's right-handed-power-hitting ballpark to face Tyler Duffy and his 4.79 ERA. Runs should be plentiful. As lopsided as the matchup appears, however, the bats of Minnesota should experience an equal – if not better – opportunity against Steven Wright. Wright's first six starts of 2016 were outstanding – 1.52 ERA – but he has effectively trailed off since – a 3.24 ERA, including three unearned runs in his last start. Minnesota's offense has been heating up, and the success stands to continue on Friday.
Targets: Minnesota Twins Hitters, then Boston Red Sox Hitters
New York Mets at Milwaukee Brewers – Projected to produce runs on Thursday – only to fail – the Mets and Brewers enter another potentially high-scoring affair the following day. Matt Harvey has now delivered back-to-back gems – one earned run allowed over his last 14 innings in two starts – but he is not striking out batters at a high enough rate to suggest that contact will be limited. In the hitter's haven of Milwaukee, this often leads to runs. The Mets' bats should contribute to the party, as well, where, specifically, left-handed hitters get the edge against Junior Guerra.
Targets: Left-handed New York Mets and Milwaukee Brewers Hitters
Undervalued Plays
San Diego Padres Hitters – The prices may not necessarily bring a 'discount,' but any time a team that plays its home games in a relative pitcher's park travels to Colorado, it hits our radar. Such is the case for San Diego on Friday. Colorado's Jon Gray absolutely dominated this same Padres lineup in his last start, but the change of venue – along with likely regression – should provide vastly different results – Gray's ERA is nearly two runs higher at home compared to his road starts. San Diego's bats will be ready for revenge on Friday night.
Featured Image Credit: By Arturo Pardavila III on Flickr [CC BY 2.0], via Wikimedia Commons