A smaller slate on Thursday that includes an afternoon and early evening game greatly reduces the number of options for the night's main slate. Specifically, the projected high-scoring game in Colorado is out of the equation, but the crop of pitchers is so relatively weak that viable hitters exist in most games.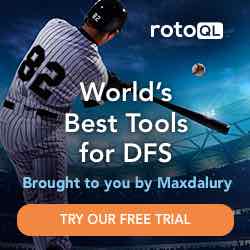 Currently, we are using xFIP and wOBA simply to compare one pitcher's performance against another – especially against opposite-handed hitters. We aren't using these numbers for calculation. To help with some calculations, we have assumed that each hitter and pitcher has played at least one game. Each pitcher was assigned an innings total relative to his average projection.
Check the starting lineups and weather reports prior to making any plays, as these change without notice.
Projected Low-Scoring Games
St. Louis Cardinals at Cincinnati Reds – As usual, Brandon Finnegan hits our radar after another solid outing. Unfortunately for fantasy baseball purposes, Finnegan's strikeouts have been down and he faces a Cardinals offense that rarely strikes out, but he should play his role in a potential pitcher's duel. Adam Wainwright is still carrying a 5.40 ERA from his dreadful start to the season, but he has pitched to a 3.04 ERA in his last four games, including 20 strikeouts.
Targets: Adam Wainwright and Brandon Finnegan
Los Angeles Angels at New York Yankees – The Angels and Yankees played exactly the type of game we expected on Wednesday, as the teams combined for 18 runs. The series finale presents a regression, as both offenses should calm down. As noted prior to his last start, Ivan Nova was poised for a solid outing, and delivered six shutout innings before imploding in the seventh. His matchup with the typically low-scoring Angels affords him another chance to build on the momentum gained from the majority of his last start. Jhoulys Chacin has been surprisingly effective since shifting to the American League, and sports a 3.73 ERA in his five games with the Angels.
Targets: Ivan Nova and Jhoulys Chacin
Projected High-Scoring Games
Pittsburgh Pirates at Colorado Rockies – If playing an all-day slate, there is no other place to look for hitting than Colorado. The game might not be an outward explosion to the tune of double-digit runs by both teams, but Chad Bettis and Jeff Locke have a combined 9.86 ERA. Locke's personal strikeout totals are so low that Colorado hitters will have no trouble putting the ball in play. In the thin air of Colorado, this typically leads to runs.
Targets: Pittsburgh Pirates and Colorado Rockies Hitters
Washington Nationals at Chicago White Sox – After the Nationals blasted James Shields and the White Sox for six runs in the first two innings – and eleven, overall – the possibility of a regression in the encore is high. With that, Chicago's bats – silenced by Max Scherzer – draw Gio Gonzalez. Gonzalez enters Thursday with a 3.94 ERA on the season, but a whopping 10.34 ERA over his last three starts. Both teams will find success at the plate, but the edge goes to Chicago's bats after missing out on Wednesday's offensive party.
Targets: Chicago White Sox Hitters, then Washington Nationals Hitters
New York Mets at Milwaukee Brewers – The Brewers certainly enjoyed their brief two-game home set against the Athletics, but the hitter-friendly ballpark actually yielded a relatively low amount of runs. Despite Bartolo Colon and Jimmy Nelson both pitching to ERAs under 3.50, each are opposed by an offense that is itching to breakout. New York did manage six runs in its finale in the pitcher's ballpark of Pittsburgh, but only after scoring a single run in back-to-back games. Limit too much exposure to either side, but use hitters in Milwaukee on Thursday.
Targets: Carefully, New York Mets and Milwaukee Brewers Hitters
Undervalued Plays
Ervin Santana and Minnesota Twins Hitters – The Twins continue to improve on their formerly horrific offensive numbers. As they host Tom Koehler – with a 4.50 ERA and low strikeout rate – the Twins' bats will show no signs of slowing down. On the other side of the game, Ervin Santana's own 4.50 ERA begs to be lowered, and has the opportunity against a Miami offense that averages the fewest runs-per-game of any team playing on Thursday.
Marcus Stroman – Slowly, Marcus Stroman has fallen out of the good graces of the fantasy baseball world, and his price has effectively crashed along with his performance. In reality, Stroman's last two starts – absolute disasters composed of thirteen earned runs – were against the Red Sox, who lead the league in runs-per-game. Prior to his back-to-back duds, Stroman was touting a 3.89 ERA. Baltimore's offense is explosive enough to damage Stroman again, but they also strike out at such a high rate that a gem from the Blue Jays' starting pitcher is certainly possible.
Featured Image Credit: By Johnmaxmena2 (Own work) [CC BY-SA 4.0], via Wikimedia Commons