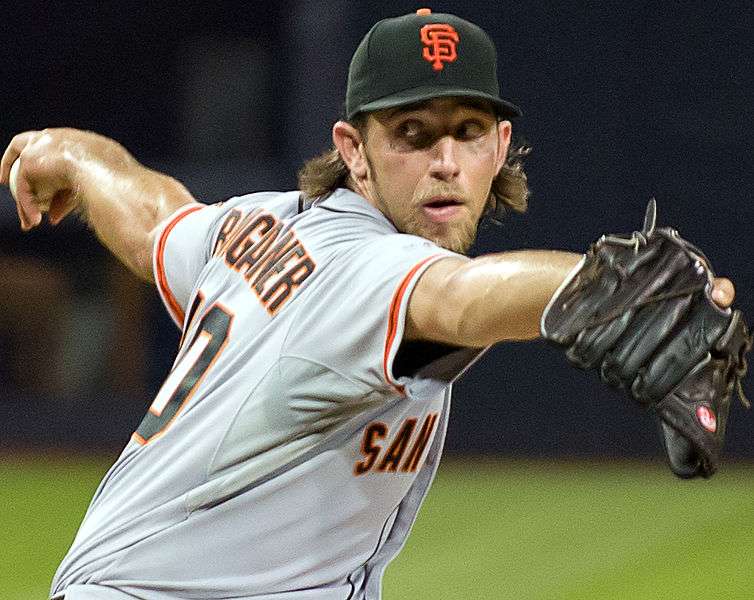 Latest posts by Mario Mergola
(see all)

A slightly smaller slate of games provides a somewhat imbalanced split between the afternoon and night contests. Specifically, most of the highest-priced – and, arguably, best – pitchers will be throwing in the afternoon, with the night full of risk on the mound.
Currently, we are using xFIP and wOBA simply to compare one pitcher's performance against another – especially against opposite-handed hitters. We aren't using these numbers for calculation. To help with some calculations, we have assumed that each hitter and pitcher has played at least one game. Each pitcher was assigned an innings total relative to his average projection.
Check the starting lineups and weather reports prior to making any plays, as these change without notice.
Projected Low-Scoring Games
San Francisco Giants at Atlanta Braves – The stage is set for another masterful performance by Madison Bumgarner as he begins the day facing the low-scoring Braves in a pitcher's park. The recommendation of Bumgarner is a constant for this column, but Thursday's matchup is too good to ignore. Of course, the one-sided perception of the game does make it a slight risk, but the best way to offset this concern is by targeting Aaron Blair, as well. The Braves' rookie was obliterated by the Pirates two starts ago, but the one outlier – on the road – remains his biggest blemish. In his other five starts, Blair holds a much more respectable 3.86 ERA.
Targets: Madison Bumgarner and Aaron Blair
Milwaukee Brewers at Philadelphia Phillies – Jerad Eickhoff continues to draw attention each time he takes the mound, although his last outing was a relative dud immediately after a scoreless performance. Thursday presents a major 'bounceback' opportunity, as Eickhoff draws the strikeout-prone Brewers outside of their own extremely hitter-friendly ballpark – granted, Philadelphia leans towards the hitter, but not as heavily as Milwaukee. Eickhoff should thrive, and, given the small selection of pitchers for the night slate, he is arguably one of the best options.
Target: Jerad Eickhoff
Seattle Mariners at San Diego Padres – After Wednesday's offensive explosion – a combined 20 runs – the Mariners and Padres are ready to take a breath and relax. Wade Miley has the opportunity to capitalize, as the Padres still strike out at an incredibly high-rate, and San Diego's ballpark limits right-handed power. Colin Rea is a less-intriguing option due to this generally short outings and somewhat poor ERA, but it is worth noting that the two games in which he allowed more than three earned runs were in the hitter-friendly ballparks of Colorado and Chicago – Wrigley Field.
Targets: Wade Miley, then Colin Rea
Projected High-Scoring Games
Cincinnati Reds at Colorado Rockies – Ultimately, Wednesday's game in Colorado played out perfectly to set up a potential outburst for Thursday. The Reds and Rockies have both enjoyed offense in Colorado over the first three games of their series, but they have alternated which team gained the advantage. Thursday should yield runs for both, with the high over/under run total already creeping up. At first glance, Rockies hitters get the edge – as Reds starting pitcher Alfredo Simon has an astronomical ERA – but Colorado's Eddie Butler has had all of his success on the road – a 2.66 ERA compared to 6.57 at home.
Targets: Cincinnati Reds and Colorado Rockies Hitters
New York Yankees at Detroit Tigers – The Yankees continue to search for their bats while starting pitcher Michael Pineda continues to search for a lower ERA. The former should be found on Thursday, as New York faces Matt Boyd in his second start of the season. The Yankees' offense was completely shut down by Marco Estrada, J.A. Happ, and Aaron Sanchez over the last three days, and the change of scenery to face the less-established Boyd should pay dividends. On the other side of the game, Tigers hitters should be the next group of bats to benefit from Michael Pineda's dismal season, but his strikeout rate remains so incredibly high that he does have the ability to limit damage.
Targets: New York Yankees Hitters, then Detroit Tigers Hitters
Undervalued Plays
Julio Urias – Based on the outward excitement displayed in anticipation of his first career start, Julio Urias was a complete disappointment. His matchup on Thursday is significantly worse than his start against the Mets, but it also brings a massive buying opportunity for a pitcher that is severely undervalued. Urias still managed more than one strikeout-per-inning-pitched in his debut, and his ability to miss bats should be the focal point in future starts. The floor is incredibly low against a dangerous Cubs lineup, but Urias' ceiling has not yet been established. He stands as the ultimate high risk-reward play on Thursday.
Minnesota Twins Hitters – The Minnesota Twins are almost always undervalued, however, it is for the simple reason that they do not produce. Now, with Miguel Sano on the disabled list, the lineup shrinks further. Even with the perceived scale titled against them, the Twins are barely underdogs on Thursday, with a relatively high over/under run total for the game, itself. Perhaps this is due to a few dangerous bats still in the lineup – Brian Dozier, Byung-ho Park, and Trevor Plouffe – and the return of Byron Buxton to Major League Baseball. The young phenom appears to be off to another slow start in his second stint with the Major League club, this season, but he does have one double and only three strikeouts in his first eight at-bats – compared to four doubles and 24 strikeouts in his previous 45 at-bats.
Photo Credit: Flickr user SD Dirk C.C. 2.0 https://en.wikipedia.org/wiki/File:Madison_Bumgarner_on_September_3,_2013.jpg